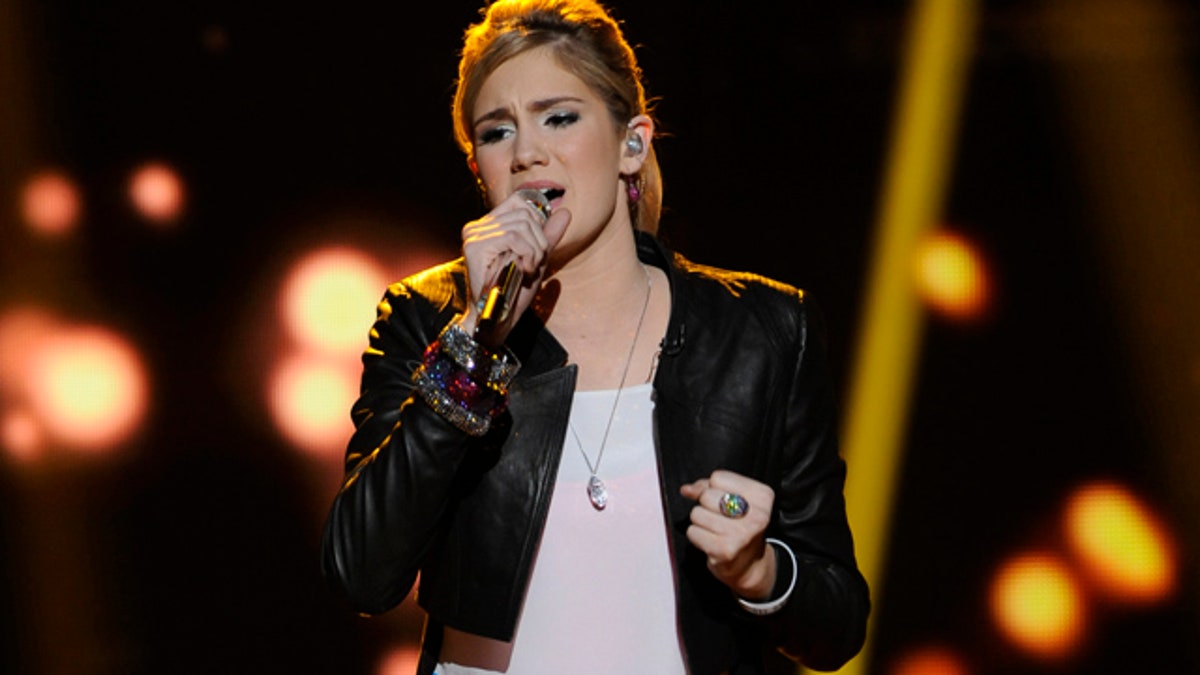 LOS ANGELES – Judge Steven Tyler's favorite contestant, Shannon Magrane, won't be joining the Top 10 "American Idol" finalists for their nationwide tour this summer.
Instead, the "hot, humid and happening" 16-year-old is headed home to Tampa, Florida, where she'll join her family–including her father, former major league baseball pitcher Joe Magrane.
"I thank you guys so much because you guys have been so loyal to me and so honest with me–you three especially," Magrane told the judges after her elimination, as her mom and dad looked on from the audience. "I just want to say it feel so good standing on this stage–it feels so good."
Heejun Han, who received a lukewarm reception from the judges for his wobbly version of Richard Marx's "Right Here Waiting" on Wednesday night, was seen wiping away tears after Magrane's elimination.
Magrane took a fatal misstep when she attempted an ambitious ballad, Mariah Carey and Boyz II Men's "One Sweet Day" on Wednesday night's two-hour live broadcast.
"Shannon's at her best when she doesn't push too hard," mentor Jimmy Iovine explained after reviewing her performance. "Unfortunately, I think she pushed too hard last night. When she pushes, she shows her weaknesses."
Fans agreed, and facing stiff competition, Magrane ranked dead last in votes from "American Idol" viewers.
After hearing the bad news from host Ryan Seacrest, Magrane had a chance to save herself and attempt to "sing for her life." If the judges had deemed Magrane's performance worthy, they could have chosen to "save" her using a once-a-season pass.
"This is a big moment," Seacrest told the towering 6' teen. "This is it–give it everything you've got, put your heart and soul into this."
Magrane gamely took the microphone from Seacrest, and got off to a good start singing "One Sweet Day" for the second time. Unfortunately, Magrane screeched her way through some of the more powerful moments of the song, which did not do much to impress the judges.
"We're not going to use (the save) tonight, Shannon," judge Randy Jackson flatly told Magrane. "Thank you."
While judge Jennifer Lopez chose not to spare Magrane from elimination, that doesn't mean she agreed with how the fans voted. Despite solid performances from Erika Van Pelt and Elise Testone, they joined Magrane as America's three least favorite "American Idol" hopefuls.
"I'm not happy with the bottom three, especially with the performance that Elise had last night," Lopez told Seacrest, noting Testone's memorable comeback singing a bluesy version of "Let's Stay Together" on Wednesday night's show.
With Magrane's elimination, Testone was safe, as was with Van Pelt. The two girls will travel the U.S. with DeAndre Brackensick, Hollie Cavanagh, Colton Dixon, Han, Skylar Laine, Joshua Ledet, Phillip Phillips, Jeremy Rosado, and Jessica Sanchez on tour this summer.
Up next: The Top 10 tackle songs from Billy Joel's vast catalogue, and we finally get to see the results of "image advisor" Tommy Hilfiger's attempt to spiff up the contestants and "shape them towards stardom."