Who's Behind the Push for Electric Cars?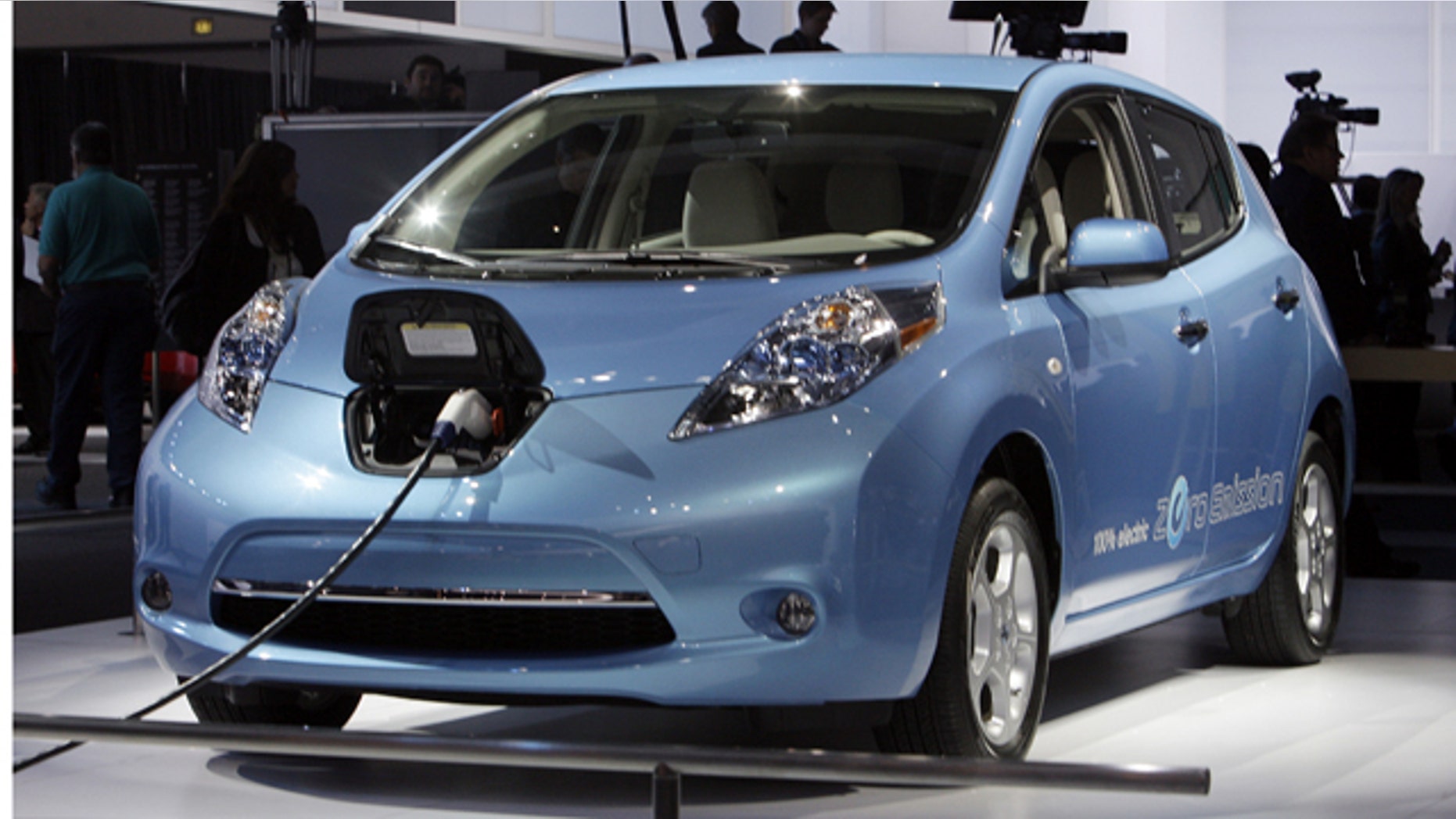 What would happen if we all drove electric cars? That's the burning question automakers have been asking for the past year. Companies like GM, Nissan, BMW, and Ford are keenly interested in seeing whether this emerging niche market can eventually replace the century-old internal combustion engine.
Yet, there's another "special interest group" that's salivating at the idea of widespread EV adoption. Power companies like NRG Energy, Xcel Energy and California's PG&E would see sky-rocketing power usage if we all started "fueling up" in the garage.
NRG has even gone so far as to invest in an electric vehicle start-up company called Aptera, and the energy giant's CEO David Crane made it clear, in speaking to FoxNews.com, that the power utilities do stand to profit from EV adoption. He said electric power is also cleaner than other forms of energy and is domestically produced, so there is extra incentive to switch from gasoline-powered cars to electric cars beyond just the new business opportunity.
John O'Dell of Edmunds.com says that while he thinks electric companies are not the primary force pushing the sales of electric cars, they do stand to gain the most. He says power companies are actively encouraging companies to buy electric cars for their fleets – and it's working.
GE recently announced that it would purchase 25,000 electric cars for its field technicians and maintenance workers, including 12,000 of its Chevy Volt, which was recently crowned the Motor Trend Car of the Year. Last August, the Department of Energy helped fund a mass roll-out of EV stations in San Francisco and is working with cities across the nation to do the same. Even the electronics retailer Best Buy is planning to install charging stations in its parking lots.
These announcements are no coincidence, says Tony Posawatz, GM's vehicle line director for the Chevrolet Volt, who insists the EV infrastructure will pop up in the U.S. once the cars become available.
Posawatz says car dealers will offer free charging stations and you will see them at shopping malls. "This is a free perk for people. If it costs the company $1.50 for a full charge [based on the energy draw], but people stay in the store an extra hour and buy more stuff, it's a good business opportunity," he says.
GE is a major force pushing the electric car and its infrastructure. The company not only builds EV charging stations, but also makes many of the transformers, sensor equipment and generators used by power companies. GE even makes some of the electrical components used in EVs.
"Fleets like GE can help speed along adoption of the technology," says Aaron Singer, the EV Infrastructure Manager for BMW. "These large purchases accomplish a few key tasks for the EV -- they move the technology further along the learning curve, which has the potential to lower the production (and ultimately purchase) cost, and they increase awareness of the vehicle. Market penetration is possible without large fleet purchases, but the technology is greatly enabled because of them."
It's clear that the electric industry is supporting the adoption of electric cars – which could mean more power plants scattered across the countryside, and more charging stations on every street corner. But selling more power for these cars is not quite as cut and dry as it might seem, and the infrastructure is still in its infancy.
Power companies are eager for EVs to succeed. Yet, they are quick to point out that their earnings will not be astronomical if we all drive electric cars -- at least in the near term -- because of state regulations. Greg Palmer, a director of power use account management at Xcel Energy, says they are working with local charging station companies to balance the power load. Xcel will need to generate more power from existing plants, or buy more power, to keep up with EV demand.
"The more you drive electric cars the more power we sell -- depending on the fuel source," says Palmer. "We are hoping some stations are powered by solar. We add sales without adding new investments – we do not have to build new power plants, but can get more capacity out of existing power plants.
At the same time, more sales do not translate to higher earnings, he says, but can be used to provide lower rates. EVs also hold a key advantage: many will charge at night, during off-peak usage times, which means power companies can make more use of existing power plants.
Palmer says revenue from electric cars' power usage varies by state. Texas is not regulated, but a state like New Jersey is, so the electricity rates are fixed according to the assets of the power company. If a power company sells more electricity without building more plants, they have to lower their rates.
Philip Gott, the Managing Director at IHS Automotive Consulting, says there are several other entities pushing the electric car. The Environmental Protection Agency prefers electric cars because the power plants can be more closely monitored than millions of internal combustion engines and even shut down if they go out of spec.
"The automakers want them because it frees them from complex and expensive emissions-related calibration programs for new models, and reduces to zero their life-of-vehicle warranty exposure for emissions-related equipment failure. EVs also promise long term to be the lower cost solution (compared to complex high-efficiency internal combustion drivetrains and related systems) to meeting the upcoming rounds of tough fuel economy and emissions compliance requirements," says Gott.
Some argue that power companies are too hampered by regulations to back the EV fully.
"Ironically, most utilities don't have an incentive to sell more electricity -- as most utilities get a regulated return on their asset base," says Mike Tinskey, the global manager for EV infrastructure at Ford. "Additionally, some of the state regulators are looking for efficiency gains from the utilities in the form of lower energy usage. Therefore, I think state regulators are going to have to reframe some of these mandates and tariffs to account for a shift of transportation to electricity."
At the same time, a radical shift from gas-powered cars to electrics will alter the energy industry. Mike McQuary, the CEO of EV start-up Wheego (www.wheego.net), says this shift away from fossil fuels would be monumental. "Of course this has everything to do with wanting to sell more energy. It has the potential to be the biggest opportunity for electric companies since the personal computer," he says.
Of course, before any switch from gas engines to electric power can occur, power companies will need to do more than just get more usage from existing plants or expand the infrastructure, says O'Dell. "Electric companies will have to improve power delivery systems, install smart meters and start using more renewable energy sources like wind, hydro and solar to be real players," he says.
And, standing on the fringes of this debate over how much power companies are backing EV use, and the car companies hoping the infrastructure materializes, is the consumer – aka, the proud owner of a new Nissan Leaf who hopes she can drive across town without finding herself with a dead battery and nowhere to plug it in.