Volkswagen goes back to the future with I.D. Buzz self-driving electric van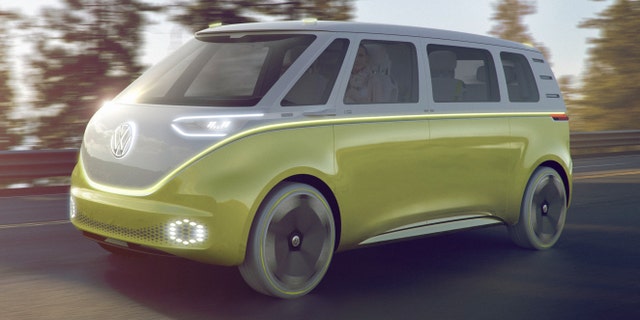 Let's just call it the Micro-buzz.
Volkswagen's new I.D. Buzz concept is a self-driving, battery-powered minivan with a style that hearkens back to the Type 2 "Microbus" of the 1950s and 1960s.
The very green machine can go 270 miles on a full charge and also sprint to 60 mph in 5 seconds, thanks to the combined 369 horsepower of its front and rear electric motors.
When its autonomous I.D. Pilot mode is engaged, a rectangular, spokeless steering wheel tucks away into the dashboard as small disc-shaped laser scanners rise up from the four corners of the roof. This LIDAR system works along with cameras, ultrasonic sensors and cloud-connected navigation to take full control of the vehicle.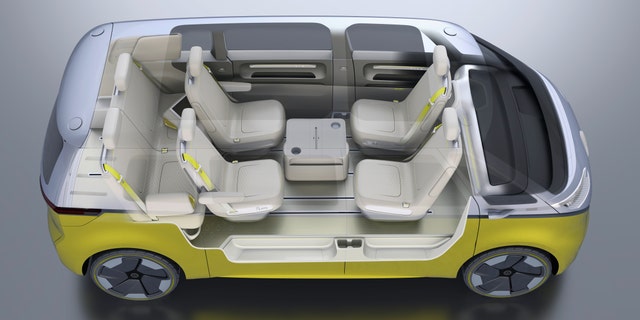 The three-row interior allows for both front captain's chairs to be turned toward the rear of the vehicle when it's doing the driving to create a lounge space, complete with a central table. The seating can also be turned into a variety of footrests and beds, as desired.
The exterior features a modern take on the Type 2's iconic "V" face with an enormous illuminated VW logo in the middle of it, ambient lighting instead of chrome delineating its two-tone paint zones, and many windows – 10 here, plus a mostly glass roof. The headlights appear to close when the car is parked, and can move side-to-side, "looking" at pedestrians it passes to let them know it sees them.
As for when you'll see the I.D. Buzz on the street, Volkswagen isn't confirming anything, but says a vehicle using its modular electric platform will be in production by 2020, and head designer Klaus Bischoff tells Fox News the company hopes to have a version of the van in showrooms by 2022-2024, with the self-driving capability following when the technology is ready for the road.