Toyota trucks top resale value awards for 2018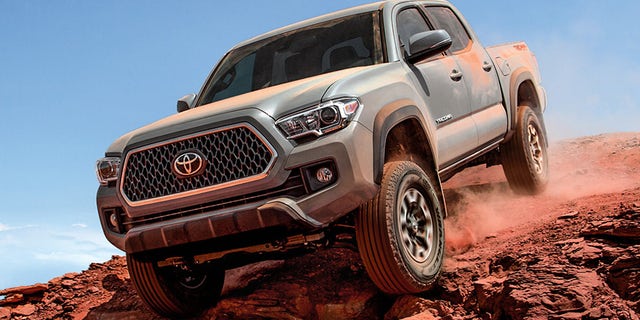 Trucks may be expensive these days, but they'll protect your money better than any other vehicle.
Just don't leave any cash sitting in the bed.
According to the latest report from Kelly Blue Book, the top nine vehicles for resale value are pickup trucks and SUVs.
FOLLOW FOX NEWS AUTOS ON FACEBOOK
Toyota took the top three spots with the Tacoma and Tundra pickups followed by the 4Runner. The Tacoma is predicted to retain 69.6 percent of its value at the end of three years and 61.1 after five, with the other two trucks coming in at 64.7/54.2 and 65.8/54.2.
The Toyotas were followed by the Jeep Wrangler, GMC Sierra, Chevrolet Silverado, Ford F-Series, Chevrolet Colorado and Honda Ridgeline. Even the Honda's marks of 60/7/46.7 were better than the top car on the list, which was the low-volume Subaru WRX that the report says will be worth 56.8/46.2 of its original price by the time you're done making payments on it.
Toyota won the award for best brand overall for the second year in a row, notching three additional category wins, but its Lexus division was dethroned as the top luxury brand for the first time in five years by Porsche.