Top Gear's James May Shifts His Career Into Overdrive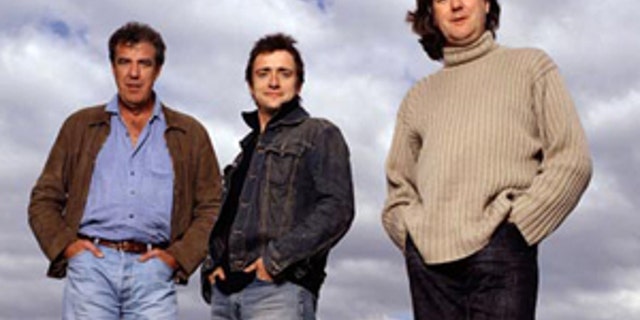 He has been described as looking like a washed-up roadie - with the hangdog expression of a man whose life ends at the pub door. But British TV presenter James May has carved a career out of confounding those who underestimate him, the Herald Sun reported Wednesday.
As a kid in Bristol, his future seemed mapped out.
When other boys were lying awake wondering how girls worked, young May was thinking about the Triumph TR6. So much for those who believed this keen flautist and pianist was destined for a career in music.
Thirty years later May, who hosts cult TV show "Top Gear" with Jeremy Clarkson and Richard Hammond, still defies categorisation.
He's called Captain Slow because of his driving on Top Gear, but he's been responsible for some nail-biting episodes - including taking a Bugatti to its top speed, 253 mph.
May is more than happy with the perception he's calm and affable. But he's been quietly establishing himself as a highly paid one-man TV industry.
He has "Top Gear" on Australia's Channel 9 as well as "James May's Toy Stories" and "Oz and James's Big Wine Adventures" on SBS.
In 2009, he did "James May on the Moon", "James May at the Edge of Space" and "Oz and James Drink to Britain". Other hit shows include "James May's 20th Century" and "James May's Big Ideas".
No wonder May, who pockets about US$73,500 per episode of "Top Gear", was recently signed to a multi-million dollar contract with the BBC.
May's personal life is not as racy as the cars he drives.
He has been with dance critic Sarah Frater since 2000 and has no plans to marry or, at this stage, have children.
"Top Gear", with Clarkson and Hammond, shot May to fame (he co-presented "Top Gear" in 1999 before it was axed and then replaced Jason Dawe on the series in 2003).
Nine poached "Top Gear" from SBS last year and it has paid dividends. The first episode of the 14th series grabbed nearly 1.7 million viewers nationally. Nearly half were women.
May says "Top Gear" is like a "complicated machine'' compared with Toy Stories and Wine Adventures.
"The ideas have become complicated, there are three presenters, there's lots of staff, you've got to get the cars right, and so on. It's quite competitive, too, with the races," he said.
"We (Clarkson, Hammond, May) all have our own subject area and we're just unpleasant to each other because we really don't like each other!''
May has used his fame wisely. The motoring show remains his priority, but he loves that his BBC contract allows him to branch out into a range of areas that take his fancy.
"I don't know that it's been a plan (to do more than just "Top Gear") because I never really plan anything,'' May says.
"With things like "20th Century", the science department at the BBC said 'we want to do something on the last century and you're into quite a lot of stuff we'd be talking about' - transport and aeroplanes and space - so I said 'that would be great'.
"The wine thing came about because the production company wanted to do some sort of car program but couldn't think of a good idea.
"They were also dealing with Oz (Clarke) so they thought 'let's put them together and see what happens'.''
Each series features a road trip through a wine region with Clarke trying to convince beer-guzzling May that wine is a subject worth investigating.
The pair bicker as much as the "Top Gear" team, but May insists there are differences.
"Wine Adventures is based on a very simple premise - we set off, drink some wine and argue about it,'' he says.
"It's more relaxed (than "Top Gear") and there's only a small crew, but it's also gruelling because the days are long, we only have two days off the entire month, there's a lot of travelling and we're hung-over. With Oz, there's this relationship where he's the teacher and the master and I'm the student.''
Then there's the Big Ideas series.
"Big Ideas started with me saying we should do a show about energy. It all sort of happens in a pub really,'' he said.