The Lucid Motors Air might be the fastest-ever American car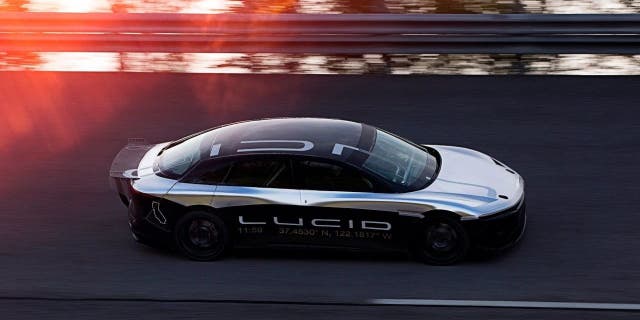 NEWYou can now listen to Fox News articles!
Tesla made a name for itself with a series of increasingly quick 0 – 60 mph sprints that currently stands at 2.28 seconds. Now one competitor is taking a different approach to grabbing headlines with its upcoming electric car.
California-based startup Lucid Motors brought its 1,000 hp Air luxury car to the Transportation Research Center's 7.5-mile high speed oval in Ohio and set a top speed mark of 217 mph. That would make it the fastest-ever American production car, besting the new Ford GT by 1 mph.
It wasn't entirely production spec, however. The four-door hatchback was fitted with a large rear spoiler, roll cage, and had its interior trim stripped out to accommodate testing equipment. The visit to the track was primarily to test the high speed stability of the car.
FOLLOW FOX NEWS LIFESTYLE ON FACEBOOK FOR MORE AUTO NEWS
In fact, Lucid says the speed was electronically-limited, suggesting it could go faster. The Tesla Model S P100D has a limiter, but it's set at 155 mph, so there's no telling what speed it could achieve if it were let off the leash.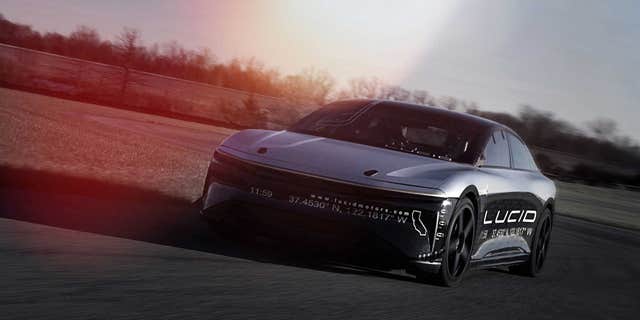 The Air is also quick, with a claimed 0-60 mph time of 2.5 seconds, and has the world's largest battery pack at 130 kilowatt-hours and an estimated range of 400 miles per charge, besting the best Tesla today by 65 miles.
Pricing for the top end model is expected to be over $100,000 if it goes on sale as planned in 2019, while slower, shorter range versions of the Air will start closer to $60,000.
THE 2018 DODGE DEMON IS THE MOST-POWERFUL AMERICAN CAR AND THE QUICKEST IN THE WORLD