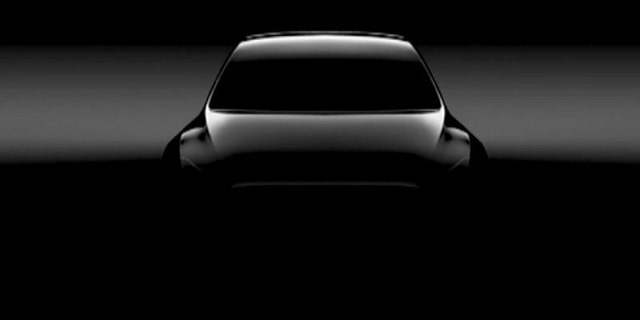 NEWYou can now listen to Fox News articles!
Elon Musk has revealed the first photo of Tesla's upcoming Model Y.
The compact SUV will complete the autmaker's S3XY lineup when it goes on sale in 2019.
The shadowy teaser image depicts a conventionally-shaped vehicle with a hood and swept-back windshield, and the top of what appears to be a new front fascia design.
Notably absent from the vehicle are side view mirrors. Musk didn't reference them during the Tesla shareholders meeting where the photo was released, but the design could indicate plans to replace them with video cameras, if regulations are updated to allow it.
Although not evident in the image, Musk has previously promised that the Model Y will feature the same type of "Falcon Wing" rear doors used on the Model X.
TESLA SEMI-TRUCK DEBUTS IN SEPTEMBER, PICKUP IN 2019
The Model Y will be built on an all-new platform, rather than the Model 3s. As with many of the things Tesla does, this flies in the face of auto industry convention, where platform sharing among different vehicle types is a common cost-saving measure. Musk said he thinks it makes more sense to design an SUV to be an SUV, rather than convert a sedan platform, as Tesla did with the Model X, which was based on the Model S.
Musk added that the Model Y will use a next-generation platform that not only uses new technologies, but will be cheaper to produce than the Model 3 and may require an all-new factory, although specific plans for one were not revealed.
By the way, if you ever wondered where Musk gets his ideas, this Tweet may give away his secret: