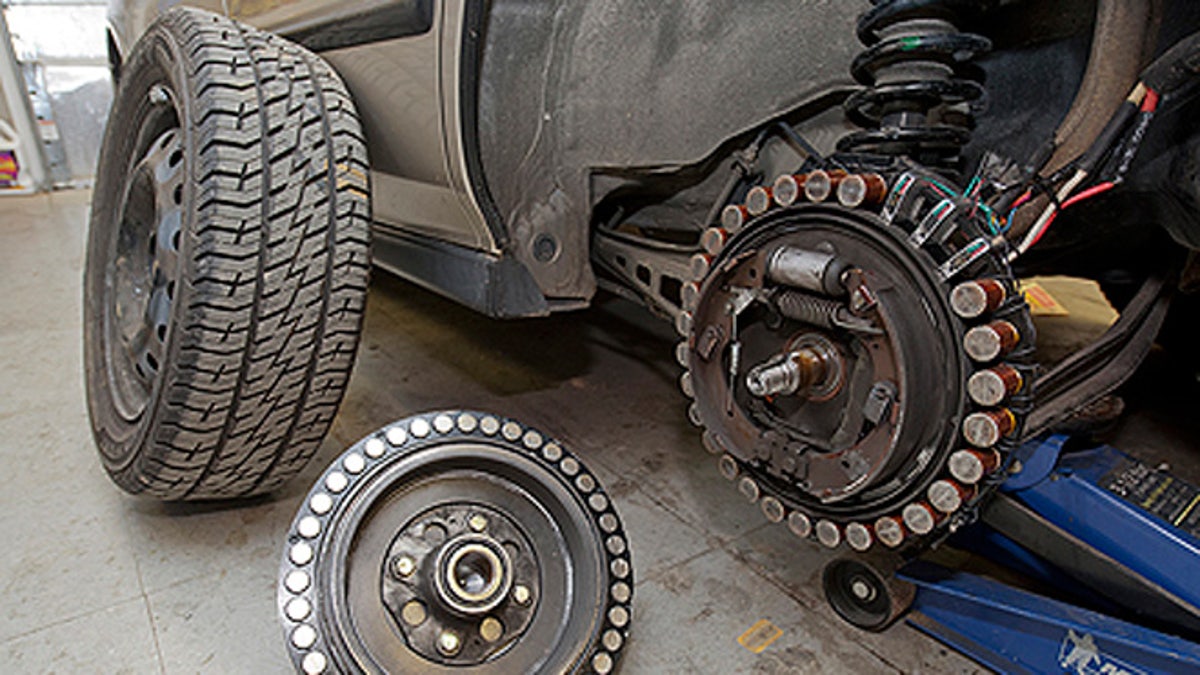 Could the next Gatorade be a hybrid car?
That's what one professor at Middle Tennessee State University is hoping as he looks to commercialize a plug-in hybrid conversion kit developed with the help of engineering students at the school.
Dr. Charles Perry, a 28-year IBM veteran with "a lot" of patents to his name and current holder of the school's Russell Chair of Manufacturing Excellence, has been working with students over the past five years on a practical learning project to engineer an electric propulsion system that he says can be retrofitted onto just about any vehicle and double its fuel economy.
The innovative system is based on compact electric motors that have been designed to fit into the existing space between the wheel and brakes, wrapping around the rotors similar to the way a dust shield is installed. The goal was to be able to add the motors without making any changes to the original equipment brakes, bearings or suspension. They are essentially attached to the hub before the wheel is put on and wired up to a small battery pack and power control module about the size of a piece of a carry-on luggage installed in the trunk.
Not meant as a primary propulsion system, a pair of DC brushless electric motors, good for about 10 hp and 200 lb-ft of torque, are installed on two wheels and used to assist the existing powertrain at speeds below 45 mph over a range of 30 to 35 miles per charge. Originally envisioned as a retrofit kit, it could also be potentially integrated into a vehicle as original equipment by an automaker.
Perry says a prototype of the system installed on a 1994 Honda Accord station wagon was able to improve its in-town fuel economy by 100 percent, and believes the simplicity of the system's design will allow it to be sold for as little as $3,000, significantly less than the typical premium paid to buy a production hybrid car over its conventional counterpart. Other companies offering more complex conversion kits often charge upward of $10,000 per vehicle.
The project was inspired by a request from Perry's daughter, who once asked him if he could invent a cheap way for her to save money on gas.
Four patents are currently pending on the technology, which Perry says will be owned by the university, opening the possibility for the school to reap substantial rewards from the project. He points to the invention of Gatorade at the University of Florida which has reportedly netted that institution more than $80 million in royalties since 1973.
The school is in discussions with an unnamed industrial partner – that Perry will only reveal makes electric motors for General Motors and other automakers -- to commercialize the technology, and is also in negotiations with a major fleet operator to implement the system in a real world test.
Philip Gott, senior director for industry analysis firm IHS Automotive, tells FoxNews.com that simply licensing the patent to a major automaker could be worth about $1 per car, potentially generating millions of dollars for the university if it is widely adopted.
Perry won't discuss the details of the extent of the partnership under discussion, but says that one prerequisite of any deal is that the systems be built in Tennessee. This would live up to the university's school color-inspired slogan of staying "True Blue" to the community, even as it rolls in various forms of green.