Semi-truck gets stranded on North Carolina beach after GPS gives wrong directions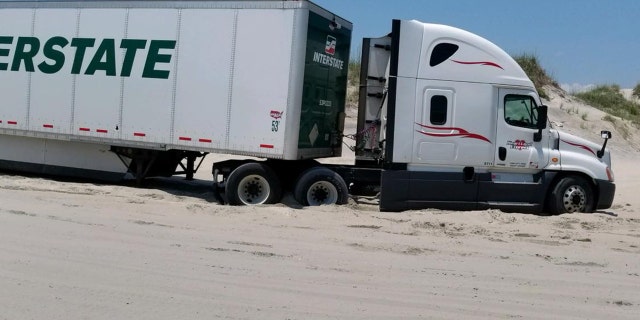 A truck driver took a ride on the wild side after his GPS apparently led him onto a North Carolina beach.
The driver of the Interstate Van Lines truck told WVEC-TV he was supposed to be driving south on Route 12 Monday but somehow ended up travelling north. He tried to find a place to turn around but instead reached the end of the road – quite literally – and ended up stuck on the beach in Corolla, North Carolina, a small village in the Outer Banks.
"He sees the ocean and knows he's gone the wrong way," Currituck County Sheriff Matt Beickert told The Coastland Times, adding the driver thought he could do a U-turn on the beach.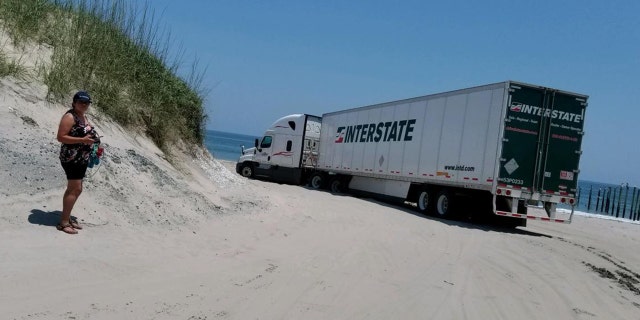 A 60-ton tow truck did eventually get the beached tractor-trailer out of the soft sand after it had been stranded for about two hours, according to The Virginian-Pilot.
Carl Seto, owner of Seto's Towing and Service Center in Kitty Hawk told the newspaper it costs approximately $2,000 to get a tractor-trailer off a beach but did not disclose the exact cost of getting this particular truck free.
"They don't follow signs. They keep going. They just keep going," Seto said.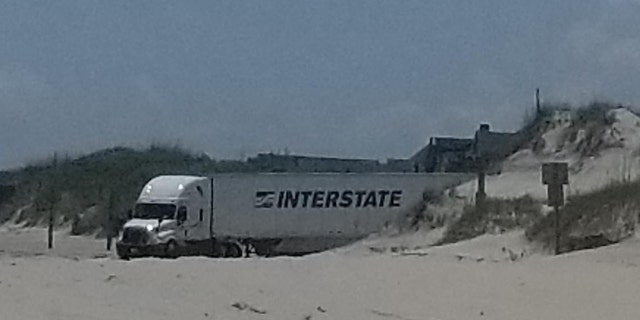 MAN DIES RECOVERING CAR STUCK ON BEACH
Drew Kilkenny, an Outer Banks resident who shot a video of the truck rescue efforts, said he's witnessed many vehicles get stuck on the beach, but this was the first time he's seen an 18-wheeler.
"I've seen motor coaches, Corvettes, normal cars, etc.," Kilkenny told Fox News. "People get stuck up there all the time [because] they don't air their tires down to 15 [pounds per square inch] so the tow companies love that."
Some beachgoers are able to drive onto the beach if they have four-wheel drive, according to Outer Banks regulations. In Currituck County specifically, where Corolla is located, there is an "air down" ordinance in place. That ordinance gives specific rules for what a vehicle's air pressure should be per weight.
TIPSY DRIVER GETS CAR STUCK TEETERING ON POLE
Signs are posted for visitors who might not be aware of the rules.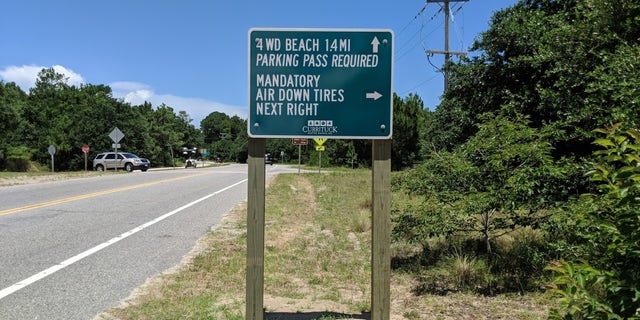 Rules also require cars to be parked perpendicular to the water and not exceed 15 or 25 mph in certain places.
The Outer Banks also recommends drivers have tow straps and traction mats with them in case they get stuck.