Ram Builds a Pickup for Police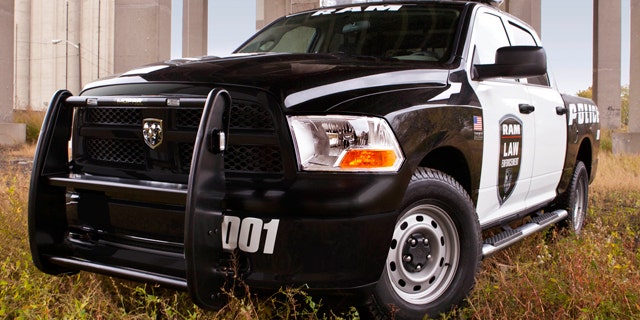 Pull over. Now!
If you think the sight of a Dodge Charger police car lurking your rearview mirror is intimidating, this might just make you cry.
The Ram Special Services Police Truck is the only pickup currently offered by a major automaker that's specifically outfitted for law enforcement duty.
Slideshow: The New Police Car Posse
Based on the 1500 Crew Cab 4x4, the Ram with a badge is fitted with a 220 amp alternator to support electronic accessories like lights and computers, attachment points for bullet-proof door inserts and a 390 hp 5.7-liter HEMI V8 to pull it all around.
It also has a tow rating of 10,000 lbs, so you can bring the horses or a police boat along for the ride, and can be ordered with lockable RamBox storage compartments in the sides of the beds, which can be fitted with mounts for guns or fishing poles.
Hey, you've got the Zodiac with you, right?
Along with police departments, the added functionality makes it suitable for use in other applications, such as fire departments, emergency services or at airports, where its combination of people and equipment carrying specifications plus off-road and all-weather capability can't be matched by many other vehicles.
Of course, the "Special Services" name indicates a vehicle that's not intended to be used for pursuit, so you can breathe a little easier the next time you see one pull in behind you on the highway.
Just don't even think about making a break for it on that dirt road coming up on the right.