Nissan Rogue powers up ski slopes on tracks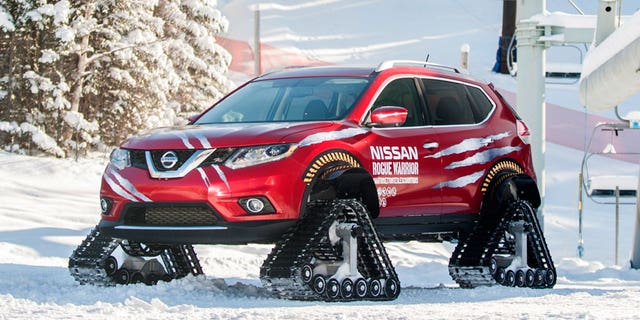 It is not every day that you see a road-going vehicle rolling along on anything other than wheels.
But, as Nissan Canada demonstrates in this video, our every-day grocery getters can have a choice when it comes to mobility.
This one-off prototype Nissan "Rogue Warrior" was unveiled earlier this week at the 2016 Montreal International Auto Show, featuring heavy-duty snow tracks.
"Nissan has a well-rounded suite of all-wheel drive crossover vehicles to master the toughest winter roads. In fact, Nissan's all-wheel drive (AWD) system adapts to road conditions 30 times faster than the blink of an eye," says Joni Paiva, president of Nissan Canada Inc. "The Rogue Warrior symbolizes the essence of our popular crossover and sport utility vehicle family, while also reminding show goers what Nissan is all about - being bold, pushing the limits, and exciting capability that's anchored in quality."
The Rogue Warrior, shown above plowing through 15 inches of freshly fallen snow and up a 30-degree incline, is capable of driving up to 62 mph and scaling a 45-degree grade in groomed snow, according to Nissan.
Modifications to the vehicle include higher ground clearance and a wider gear ratio range, allowing for stronger acceleration.
Click here for more automotive news and features from Fox Sports