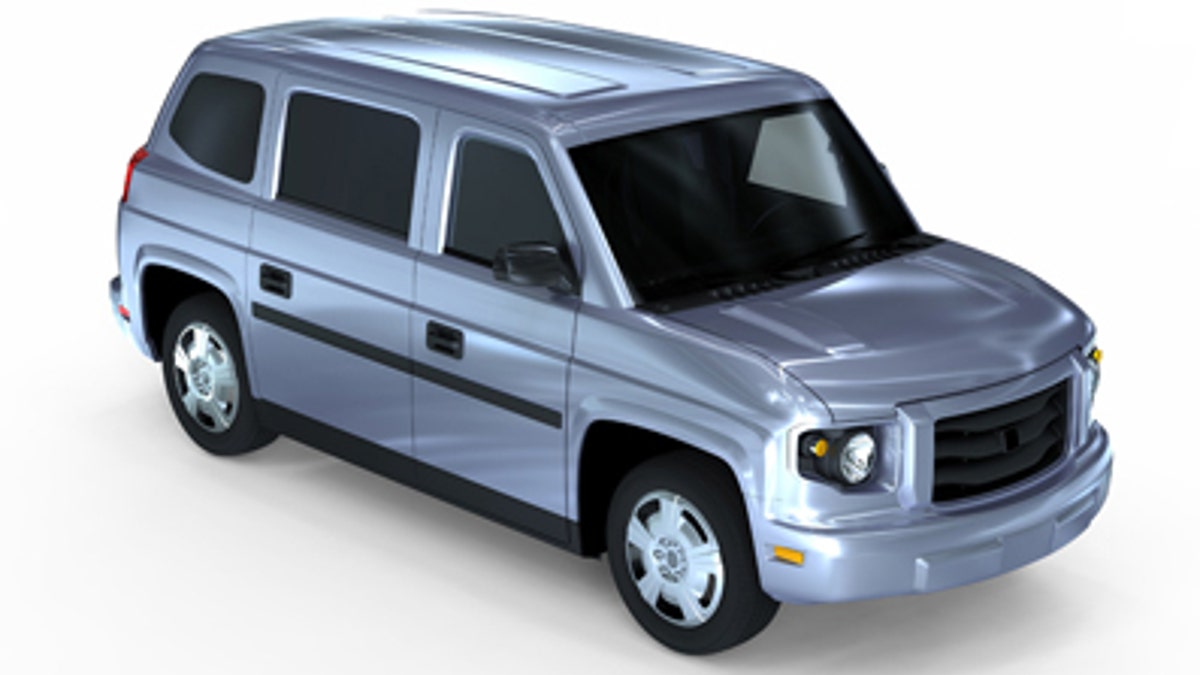 It's not every day that a new American automaker is born, but it is happening more often than it used to.
After years of market dominance by The Big 3, startups like Tesla, Fisker and Coda Automotive are hitting the scene, hoping to fill niches with their high-tech battery-powered cars before the big guys can.
But today they were joined by another U.S. company going after a very different segment of customers with something a bit more old-fashioned: a van.
Not just any van, the MV-1 is billed as the first vehicle designed from the ground up with the Americans with Disabilities Act guidelines in mind. Featuring a sliding door, built-in ramp and a wheelchair restraint system, it can accommodate passengers using wheelchairs and other assistance devices without requiring an aftermarket conversion. The name stands for Mobility Vehicle One.
The company behind the MV-1, Miami-based Vehicle Production Group, has contracted AM General to produce the minivan-sized vehicle at its Mishawaka, Indiana facility where it once built Hummers.
At a press conference marking the official launch of the MV-1, AM General's President of Commercial Business, Rick Smith, hailed the effort as an innovative example of creating jobs for Americans, adding that "everyone at AM General is proud to be a part of the MV-1 story."
Development of the MV-1 began in 2007 when it was known as the Standard Taxi, before being redesigned as a retail vehicle. It survived the collapse of the U.S. automotive industry with backing from Perseus, a Washington, D.C.-based venture capital firm.
Along with private individuals, VPG is still targeting the MV-1 at municipal paratransit systems and the taxi market. New York City will decide next month whether or not to approve it for use in the city's yellow cab fleet.
FoxNews.com Autos is on Twitter. Follow us @foxcarreport
According to VPG CEO Dave Schembri there are 10 million people in the United States that need an ambulatory aid, including 4 million who use wheelchairs. With 1.5 million adapted vehicles currently on the road, VPG's goal is to sell 12,000 in 2012 and up to 30,000 per year after that.
Sales of the MV-1 began today online and at 41 dealers across the nation, and deliveries are set to begin this month. The base price is $39,950, which VPG says is $10,000 less than a typical conversion van.
The first production MV-1 was given to Mark Buoniconti, a former college football player who suffered a paralyzing injury during a game and now works as an advocate for the disabled and the MV-1.
FoxNews.com was one of the first media outlets to drive a pre-production MV-1 last year and found it to have the interior ambiance of a commercial van and the ride quality of a full-size SUV, but with easy to use assistive equipment that allowed our passenger in a wheelchair to maneuver into it and throughout the cabin without any problems.
As of now, VPG does not offer the MV-1 with hand controls, but says that it can be modified to use them. And while the gasoline-fueled Ford V8 that powers the MV-1 isn't as cutting edge as the other new American cars hitting the road these days, it does have green credentials. Thanks in part to a $50 million loan from the Department of Energy, a version of it is available that runs on cheap, clean-burning compressed natural gas. It's a $9,000 option, but one of only two factory-direct cars that runs on CNG.
And the only one that has a ramp.