N.Y Company Unveils Electric School Bus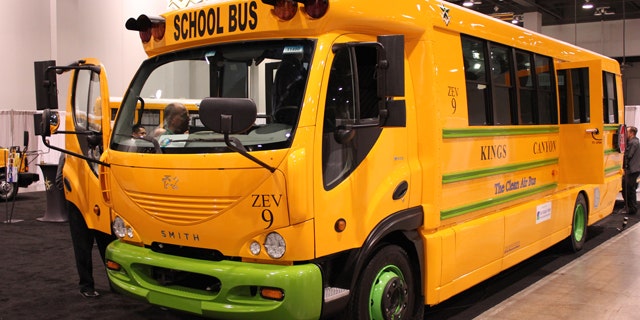 The U.S. education system is about to be electrified. At least the trip to school is.
New York-based bus manufacturer Trans Tech Bus has unveiled a battery-powered school bus that it plans to start selling next year.
The 42-passenger Type-A bus, known as the eTrans, is being engineered in conjunction with Smith Electric Vehicles, a Kansas City-based electric vehicle specialist with a facility in Britain. The company currently sells the largest electric commercial truck in the U.S., the Newton, on which the eTrans will be based.
Read: Electric DeLorean coming in 2013
Trans Tech Bus CEO Dan Daniels tells FoxNews.com that the eTrans will be available in several models with battery sizes from 40-120 kWh. Maximum range will be between 45 and 120 miles per charge, making it most suitable for school systems with "short, defined, repetitive routes." A full recharge should take less than eight hours and a separate generator that running on natural gas or propane will power the climate control system to help improve range. The top speed is 50 mph.
Pricing has not been set, but will be competitive with the other alternative-fuel and hybrid buses currently on the market, according to Daniels. Such vehicles can cost anywhere between $200,000 and $750,000.
Daniels says that the idea to develop an electric bus came from one of Trans Tech Bus' existing customers and that a pilot program will take place in early 2012, with series production expected to commence just in time for the 2012-2013 school year.