Motorcycle racer banned and fired after grabbing competitor's handbrake
Italian motorcycle racer Romano Fenati has been banned for two races and kicked off his team for good after grabbing competitor Stefano Manzi's handbrake during a race, putting him in grave danger.
The incident took place at Sunday's Moto2 San Marino Grand Prix, following a collision between the two which led to them running off the track that Fenati felt was Manzi's fault.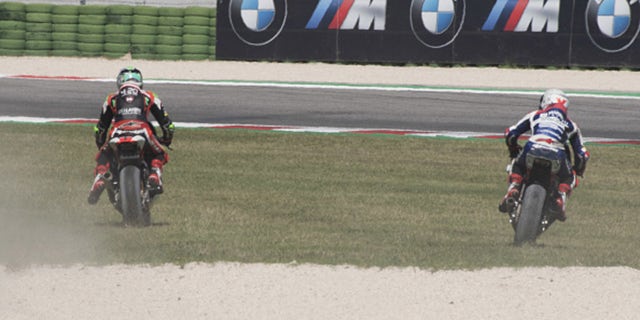 The accident knocked them out of contention for the win, but uninjured and with no damage to their bikes, they were able to continue the race.
Video of the subsequent incident shows Fenati pulling alongside Manzi, reaching over and squeezing the handbrake as they enter a turn at approximately 130 mph. Manzi's bike wobbled, but he was able to maintain control.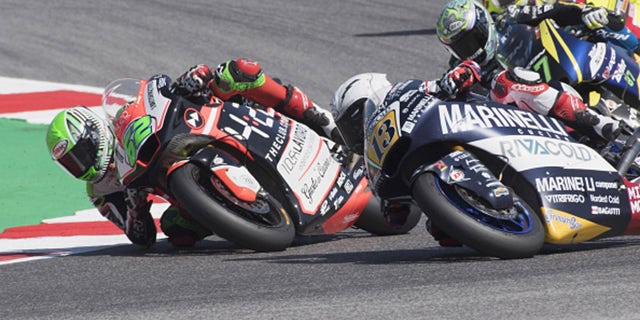 Race stewards quickly disqualified Fenati and the series gave him a two-race ban. The 22-year-old's team, Marinelli Snipers, then terminated his contract for the remainder of the season.
"With extreme regret, we have to note that his irresponsible act endangered the life of another rider and can't be apologized for in any way," the team said.
Fenati tried to make amends in a statement issued on Monday, saying he should've sought justice for the crash from the race directors.
"My intention was certainly not to hurt a rider like me rather I wanted to make him understand that what he was doing was dangerous and how I could also have done something similar to what he did to me!" he wrote.
"I do not want to justify myself, I know that my actions were not justifiable, I just want to apologize to everyone. Now I will have time to reflect and clear my head."
It's not the first time Fenati has been sanctioned for dangerous riding. In 2015 he was spotted kicking another rider during practice for a Moto3 race, which resulted in a points penalty.
Fenati was set to ride for MV Agusta in 2019, but the motorcycle company said it now plans to revoke the contract.
"This has been the worse and saddest thing I ever seen in a bike race. True sportsmen would never act this way," MV Agusta president Giovanni Castiglioni posted to Instagram.