Monster riot control vehicle can take over streets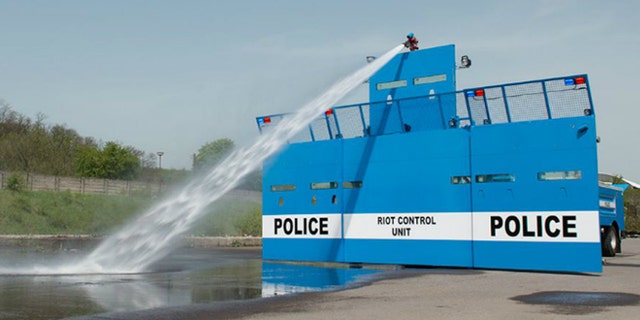 Riot control police looking for cover now have a mobile wall that can follow them into dangerous situations.
The Bozena Riot is a tactical vehicle designed by a Slovakian company that formerly specialized in demining equipment. The imposing machine is comprised of a small wheeled vehicle with movable arms, like a front loader has, and a complex barrier that attaches to it.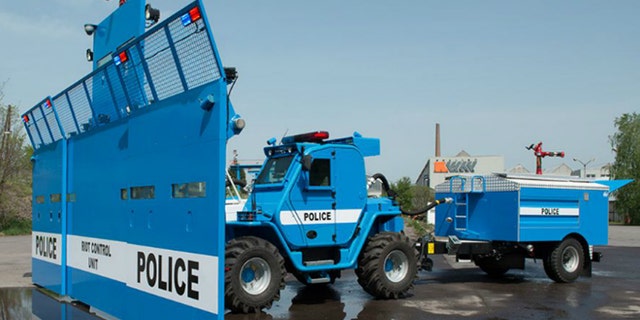 The 12-foot tall shield has wings that can extend its width from 15 feet to 24 feet, which is wide enough to entirely block some city streets. It's fully armored and flameproof, and has bulletproof windows and ports for police using teargas guns and firearms.
The central section is equipped with a smaller shielded platform that can be elevated to a height of 15 feet and can be fitted with spotlights, teargas cannons and water cannons that are fed by a towed tank.
The operator sits in an armored compartment in the vehicle and has a video feed of what's on the other side of the shield. The vehicle is equipped with a four-wheel steering system that allows it to make tight turns and even "crab" from side to side. A drone version of the vehicle is also available that can be remotely controlled from over one mile away.
Bozena says that it can hold its ground against 100 people pusing against it, and can also be used to shove large obstacles out of the way. When police need to get past it, the shield can be lifted into the air.
The Riot was first unveiled in 2010, but has received recent updates and a new marketing push. Along with riot control, the company is pitching it as an anti-terrorism tool.