London Slaps Obama Motorcade With $193 Congestion Charge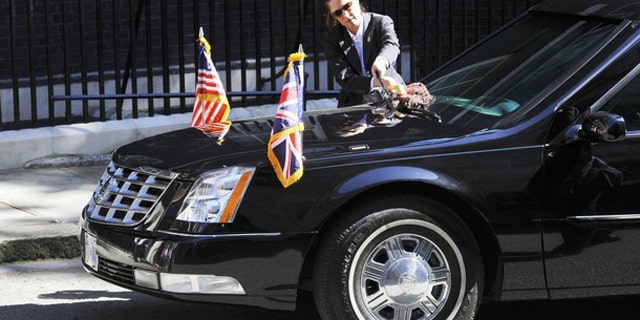 LONDON -- President Barack Obama was fined $193 for not paying the London congestion charge during his state visit to Britain, The Sun reported Wednesday.
The President was hit with the penalty for his motorcade.
London mayor Boris Johnson wanted the $16 congestion fee to be paid for the President's armor-plated limo -- dubbed "The Beast" -- and all other cars during his visit in May.
But cameras only managed to photograph one of the vehicles in Obama's motorcade because they were driving so close together. That is the subject of the $193 fine.
Johnson is understood to have raised the issue with Obama at a Buckingham Palace banquet during his visit.
Foreign embassy staff owe $81.5 million in unpaid congestion charge fines -- plus $800,000 in parking fines.
The US is at the top of the list with a £8.1 million bill, followed by Russia on $7.2 million.
The US embassy said it was not aware of a fine -- and claimed that diplomatic rules prevented one from being issued.
Click here for more from Fox Car Report