General Motors proposing national electric car mandate to spur industry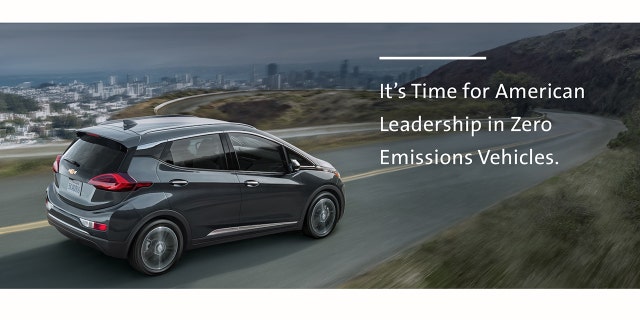 General Motors will ask the federal government on Friday to mandate the sale of electric cars across the nation.
The automaker is proposing that Washington adopt a version of an existing California regulation that requires that a certain number of cars that an automaker sells are emissions-free.
The move would coincide with the establishment of a national set of standards that would end the California Air Resources Board's ability to set its own regulations, which are followed by several other states.
"A national zero emissions program will drive the scale and infrastructure investments needed to allow the U.S. to lead the way to a zero-emissions future," GM Executive Vice President of Product Development Mark Reuss said.
The plan is being submitted as GM's response to the Trump administration's proposed rollback of an Obama-era fuel economy roadmap that originally set a targeted fleet average of 54.5 mpg by 2025, but allowed California to continue to set its own laws and did not require a certain number of electric cars in the mix.
Reuss said that a compromise between the federal government and California over a new national rule would be preferable to a drawn-out legal battle.
GM sells three plug-in cars today, the Chevrolet Bolt EV, Volt hybrid and Cadillac CT6 plug-in, and plans to expand its EV range to 20 models by 2023.
Automakers who exceed their quota in California are able to sell credits to other automakers who are coming up short, while plug-in hybrids are given partial credit, based on their pure electric range.
GM's proposal starts with a 7 percent mandate in 2021 that grows to 25 percent by 2030, under the condition that battery manufacturing costs have reached a level of $70 per kilowatt-hour, which is approximately one-third of their current cost.
The program would expire once the 25 percent goal is met -- by which time GM calculated there will be 7 million zero-emission cars on the road -- up from just over 1 million today -- and the EV market will presumably be in a position to sustain itself.
The GM proposal does not address the issue of tax credits for electric car purchases, which stand at $7,500 per automaker for up to 200,000 vehicles each. Tesla has already surpassed that threshold, and GM expects to follow it before the end of this year.
Through September, GM had sold a total of 25,000 plug-in cars in 2018 and Tesla over 110,000.
The Associated Press contributed to this report