From WWII to Wrangler: Video shows evolution of Jeep 4x4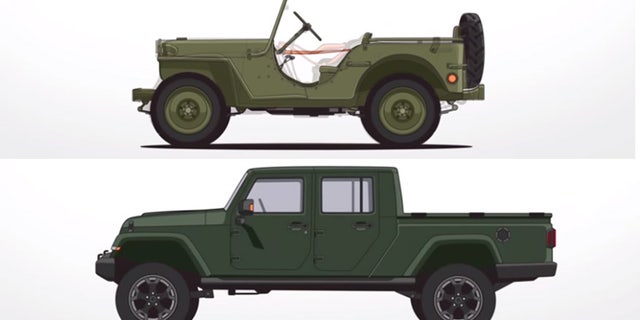 A new Jeep Wrangler is on the way this year, and while it still resembles the original WWII-era vehicle that it traces its lineage back to, it's gone through a dramatic, if evolutionary change over the decades.
You can see it in new video created by Donut Media that goes through dozens of iterations of the SUV, from the Bantam Reconnaissance Car that was the first test vehicle delivered to the U.S. Army to the upcoming 2018 Wrangler Unlimited Four-door that's scheduled to make its public debut at the 2017 Los Angeles Auto Show. (Keep watching and you'll see a speculative rendering of the 2019 Wrangler-based pickup that's also on the way.)
Full details on the 2018 Wrangler have not yet been revealed, but while it's set to be the most high tech one ever made, it remains a body-on-frame truck with two solid axles and a fold-down windshield, just like the first CJ.
2018 JEEP WRANGLER CABIN GETS A RETRO LOOK