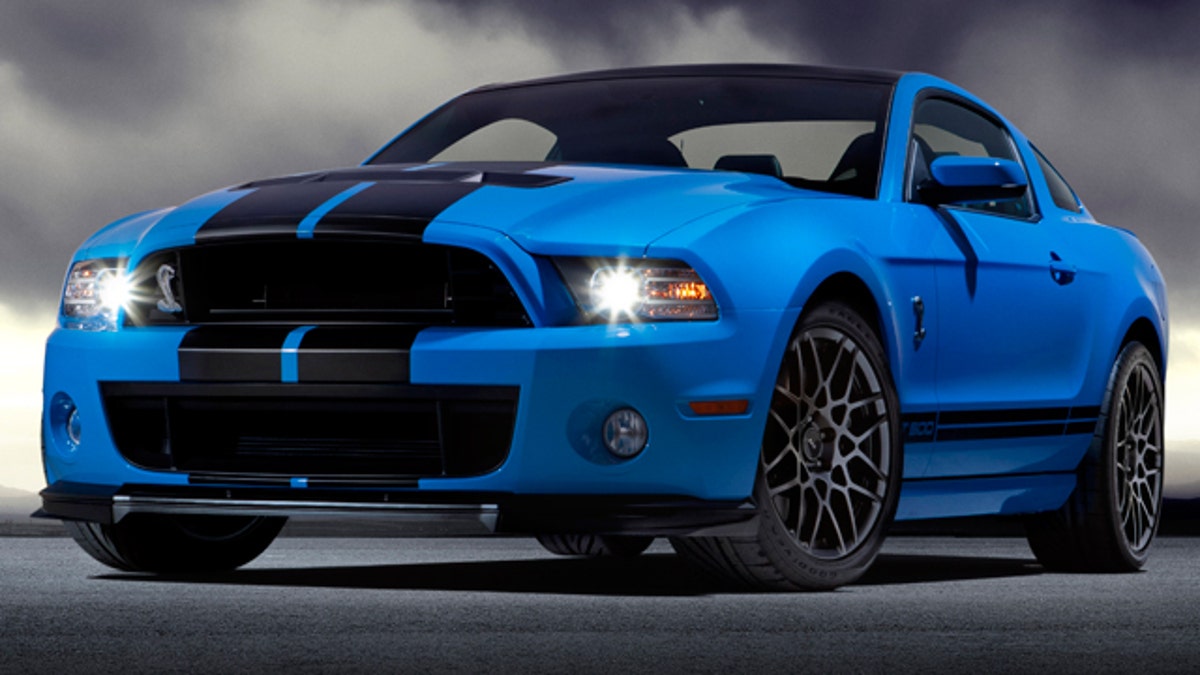 When Chevrolet unveiled the 580 hp 2012 Camaro ZL1 and its high-tech magnetically-adjustable suspension, ostensibly claiming the title of king of the pony cars, the folks from Ford were oddly unfazed.
"Don't worry," they said, "wait until you see what we have in the works."
They weren't kidding.
The 2013 Shelby GT500 will come packing a 650 hp supercharged engine that Ford says is the most powerful production V8 in the world. The 5.8-liter mill sends its 600 lb-ft of torque to the rear wheels via a carbon fiber driveshaft.
Even more impressive, the top speed of the new Shelby is said to be over 200 mph, making it the first Ford since the GT supercar capable of breaking the double century mark. And it does it without incurring a gas guzzler tax, according to Ford, although it hasn't yet revealed what the exact fuel economy is. The current, 550 hp GT500 manages to squeak by the tax with a 15 mpg city, 23 mpg hwy rating.
Read: 2011 Ford Mustang Shelby GT500
Nearly every major component of the drivetrain was altered to achieve these goals. There's a new supercharger, intake system, intercooler, clutch, transmission gearing, the works.
Most important for daily drivers, Ford is for the first time on a Mustang offering an active suspension option with an electronically-adjustable Bilstein dampers that promise a smooth ride to the track and world class handling on it. A retuned stability and traction control system, now with launch control, are also included.
The entire Mustang lineup is being refreshed for 2013 with updated lights, grille, rear fascia and body color rocker panels, but the GT500 gets a unique front splitter to better handle the speeds it is now capable of. A new in-dash performance computer can clock acceleration times and features a drag strip-style "Christmas Tree" countdown timer.
The Shelby GT500 is set to go on sale in spring 2012.