Ford Focus Production Reportedly Slowed By Parts Shortage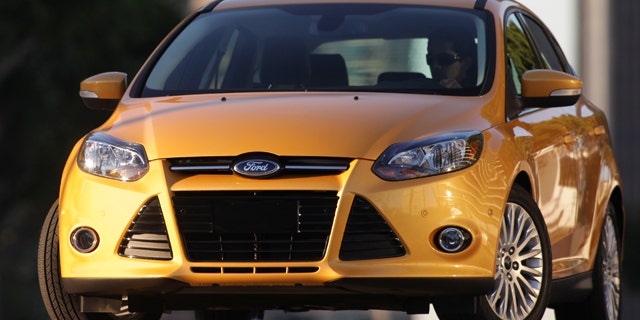 DETROIT — Ford can't make enough Focus cars to keep up with rising demand because of equipment problems that have caused a shortage of dashboards, two people familiar with the situation told The Associated Press.
Machinery that makes the skin that covers dashboards at a Ford parts factory outside Detroit works intermittently. That is forcing the company to take the unusual and costly step of flying in parts from Europe to keep its assembly lines moving, the people said. Despite those efforts, the Focus plant near Detroit can't run at full speed, they said.
The problem comes at a time when high gas prices and shortages of Japanese small cars have driven up demand for the Focus. Dealers say they're having trouble getting the newly redesigned compacts, and they've been forced to put customers on waiting lists.
The people, who didn't want to be identified because they're not authorized to speak about the matter, said Ford is working to fix the equipment problem at the parts plant in Saline, Mich., but so far the company hasn't found a solution.
Ford spokesman Todd Nissen said company policy is not to comment on internal workings at its plants. But he said the Saline factory continues to make dashboards for the Focus.
Despite the problem, Ford sold more than 21,000 Focuses last month, making it the company's top-selling passenger car. But its sales were 3,500 below rival General Motors' Chevrolet Cruze compact. The Cruze is made at a factory in Lordstown, Ohio, that is operating three shifts around the clock to meet demand. Ford's assembly plant in Wayne, Mich., where the Focus is made, is running on two shifts.
GM has been better able to capitalize on small-car shortages at Honda and Toyota, which have had to slow their factories due to parts shortages caused by the March earthquake in Japan. GM and Ford have been largely unaffected by earthquake-related problems.
It's unclear just how long it will take to fix the problem and whether Ford will raise Focus production. Mark Fields, Ford's president for the Americas, wouldn't comment last week but said the Focus plant is producing at a rate the company expected.
"For the most part, whenever you have a (new model) launch there are always some launch issues that you deal with," he said. "I won't say it's been flawless, but the good news is there's a lot of demand for it and we'll continue to get those cars out."
Jim Gillette, an analyst with the firm IHS Automotive who advises auto parts suppliers, said the problem could hit Ford's bottom line because it's expensive to fly in the parts. He said it is relatively rare to have such an equipment problem, and there would be a lot of pressure on the equipment maker to fix it quickly.
The five-seat Focus, which hit showrooms in March, has a starting price of $16,500 and can run more than $27,000 depending on how it's equipped. With an automatic transmission, most models get 28 miles per gallon in the city and 38 on the highway. Dealers report selling them at sticker price.
Sam Pack, owner of four Ford dealerships in the Dallas-Fort Worth metro area, said he has been told by Ford executives that he can't get full orders of Focuses because the factory has run into shortages of several parts.
"I know they're working 24/7 trying to address whatever component issues they have," Pack said. "It's a high-visibility issue with Ford Motor Co., and senior management is very concerned and very involved."
Pack, like many dealers across the country, said all the Focuses he has are spoken for, and it takes about 60 days to get one for a customer who's on the waiting list.
"We are virtually out of inventory," he said.