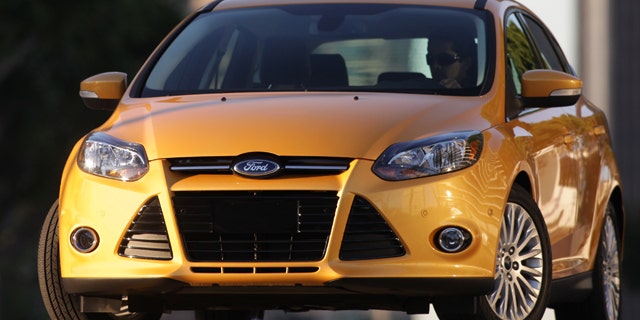 The New World Order is upon us.
Well, not The New World Order, just Ford's.
Known as "One Ford," it is the company's plan to streamline its lineup by making fewer different cars around the world and selling each of them in more places in order to increase economies of scale on a global one.
The first salvo in this effort was last year's Fiesta subcompact, a plucky little greenhorn in a segment that's popular overseas, less so here. But it's done pretty well over the past few months, establishing a nice little beachhead where one didn't exist before, mostly spurred along by rising gas prices.
Now the big guns are coming in, and they have the name Focus written on them.
Yes, you've heard it before. In fact, you've heard this story before. Ford tried the same thing about a decade ago, but went back to its old ways a few years later, letting that original Focus soldier on in the U.S. with a mild refresh while the rest of the world got an all-new car. Seems we SUV-addicted types were deemed unworthy of what many consider the finest compact of its era. Don't believe it? Just look at the praise heaped upon the Mazda3 in recent years – it's based on the same platform as the Focus we didn't get.
Now, with those gas bills getting bigger and people looking for smaller cars, Ford is giving us its latest and greatest version of the Focus. But can it play in Peoria?
If they like quality there, it should. The Focus in no way resembles the "economy" cars that came before it. Granted, the fuel economy part of the equation is still there - the Focus gets between 36 mpg and 40 mph highway, depending on the model – but everything else about it is several planes of existence away from that Escort you drove in college.
Built in Michigan – and twelve other countries - the Focus was designed and engineered primarily in Germany and lives up to any positive stereotypes that description carries with it. This could be the new yardstick for the phrase "fit and finish."
Over there the Focus starts at $25,000, so the $16,995 base price we get here seems like something of a bargain. Load it with options to make up the difference – as my top of the line Titanium model was – and low-hanging luxury compacts need to watch their backs.
Put it this way: the Focus can steer itself into a parking space, and that may be the least impressive thing about it.
The exterior is a more grown-up version of the Fiesta's so-called "kinetic" design, with lots of character lines visually lengthening and muscling-up what would otherwise be a typical jellybean. The collection of triangles and trapezoids adorning the front of the car are almost too aggressive for what's sitting behind it.
For now, our Foci come with just one engine, a 160 horsepower 2.0-liter four-cylinder that compares well to the competition and is lively enough, but hardly a tire-squealer (that arrives next year when the 247 hp Focus ST assaults our shores.) Efficiency is its primary mission, which better completes when matched to Ford's new high-tech dual-clutch automatic than the five-speed manual available on entry level models that 90 percent of Americans will take a pass on, anyway.
Quickly populating the company's lineup, the Focus' version of the six-speed automatic operates much more smoothly than the one I experienced in the Fiesta last year. Practice does make perfect. This time around it's the new Sport setting that could use a little tweaking. Programmed to let the engine rev higher and hold on to gears longer for increased performance, it seems to be better at making noise than anticipating your needs when approaching a hairpin turn.
It's a beautiful noise, though, whether you are sitting in the driver's seat, listening to the exhaust as the car drives by or sticking your head under the hood where few engines ever sound pleasant, what with all of the ticking and squeaking going on. This is one of the most refined four-cylinder engines out there today. It doesn't just take the other guys to school, it drags them behind the gym and gives them a whuppin'.
Figuratively, of course. The Focus is far too classy for such vulgar behavior. The mod interior may be a little starshippy for some, but from the soft-touch, one piece dashboard to the comfortable, well-bolstered seating and deep-dish steering wheel, it stands at the top of its diminutive heap. Outfit it with that parking assist system, an ultra-clear Sony stereo and the feature-laden MyFord Touch infotainment system – with a much-welcomed, simplified interface in this installation – and Mister Sulu will feel right at home. Then again, he is only 5' 6" tall.
With globalization comes the realization that not everyone in the world is as large as we tend to be here. It's somewhat ironic that just as furrin automakers like Volkswagen and Hyundai have started catering to our unique needs by adding more room to their small car offerings, the new Focus remains decidedly compact (as does the similarly designed-in-Germany 2011 Chevy Cruze) and actually loses three inches of rear legroom compared to the old model – two of which are bestowed upon the driver. With a six-foot one-incher like me behind the wheel, the back seat is about as useful as the one in a Mazda Miata – which doesn't have one.
It's funny, because the car rides like a much bigger one. The Focus doesn't bounce over bumps, it neatly absorbs them as each corner of the independent suspension does its own thing in perfect harmony with the rest. Miles Davis would be proud.
West Texans and Utes looking for a tender to their F-150 pickups will also be happy to learn that this little guy plows down the highway at 80 mph like it has a Rhino sitting on its hood. In fact, it feels as if the Focus would require a hit to the side of it by something that large to veer it off course.
Intentionally guide the Focus into a turn, however, and it eagerly obliges with quick, communicative steering and a trick torque-vectoring front axle that keeps it from plowing through guardrails by lightly braking the inside front wheel. This creates a pivoting effect similar to sticking a ski pole into the snow, and works even better, especially in a car.
It's all wonderful stuff, but with the "say what now?" $27,240 tally on my tester it should be. I could name many cars that offer less discriminating drivers much more on paper than a loaded Focus does for several thousands less. A couple of them are even parked in Ford's own showrooms.
But cars are not made from paper. There's a reason that people in other countries are happy to pay a premium for premium vehicles this size, and it already costs $4 a gallon in some states.
The new world is small, and that goes for its cars. Thankfully not all of them are cheap, too.
----------
2012 Ford Focus Titanium
Base Price: $23,490
As Tested: $27,240
Type: 5-passenger, 5-door hatchback
Engine: 2.0L inline-4-cylinder
Power: 160 hp, 146 lb-ft
Transmission: 6-speed automatic
MPG: 27 city/37 hwy
Fox Car Report is on Twitter. Follow us @foxcarreport