Electric DeLorean Coming in 2013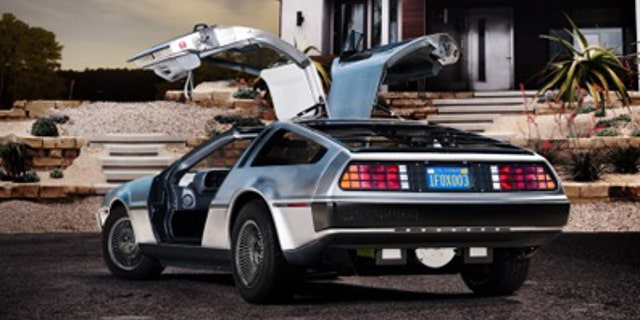 Where this car is going you still need roads, but not gasoline.
The DeLorean Motor Company of Humble, Texas has announced plans to build all-electric version of the iconic, stainless steel gull-wing sports car made famous in the "Back to the Future" films of the 1980's. Company president Stephen Wynne owns the rights to the DeLorean name and currently sells parts for the original DMC-12 along with restored and updated versions of the car at a starting price of $57,500.
Wynne tells FoxNews.com that he got the idea for the battery-powered DeLorean after seeing the success of the Tesla Roadster, and thinks it would be a fitting tribute to the movie version of the car which famously needed 1.21 gigawatts of electricity to travel through time. To create it, he teamed up with aptly-named Flux Power of Escondido, California, a battery manufacturer that has branched out into the business of developing electric cars.
Flux Power CEO Chris Anthony says that he is aiming for the electric DeLorean to have the same, if not better performance than the conventional version of the car. To achieve that goal, several parts on the car are being redesigned to reduce weight in an effort to balance out the heavy 32 kWh battery pack that he expects to use in the production car. In particular, the DeLorean's unique fiberglass underbody has been re-engineered with a lighter, stronger composite. The final weight of the car should be only about 200 pounds more than the original.
Click here to read about the electric Tron Lightcycle from Parker Brothers Choppers.
A prototype of the electric DeLorean has been tested on both the street and track over the past three months and its development is continuing. With a 200 hp electric motor, accelerating from 0-60 mph takes less than eight seconds and Anthony hopes for a real-world range of 100 miles between charges. With the battery packs installed both in the front and rear of the car, weight distribution and handling are said to be markedly improved over the original, which had its four-cylinder engine mounted behind the rear wheels.
Wynne hopes to sell the electric DeLorean for $90,000 starting in 2013, just two years before the events in "Back to the Future II" took place. Despite being converted to us a Mr. Fusion device to power its flux capacitor, the movie car still primarily ran on gasoline, so the new one may actually be ahead of the game. It even has navigation and and iPod connectivity, two things Doc Brown couldn't even dream of back in the day.
Then again, it can't fly. At least not yet.
Click here for more from FoxNews.com Autos.