DeltaWing Technologies reveals four-seat street car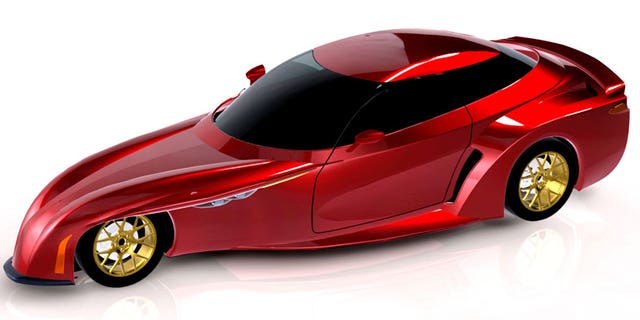 Aiming to prove that prototype racing is relevant to road car development, DeltaWing Technologies has unveiled a rendering of a superefficient, street legal sports car based on the radical, needle-nose racer it campaigns in the Tudor United SportsCar Championship.
The two-door, four-passenger, rear-engine coupe features the same narrow-front, wide-rear layout of the competition car, but with a larger cabin and more conventional tail than the dorsal-fined racer.
Exact specifications haven't been detailed, but the racecar uses front tires that are just four-inches wide, and the street car's nose is so pointy that the headlamps had to be located behind the front wheels at a point on the body that's wide enough for them to meet lighting regulations.
Taking advantage of the low aerodynamic drag provided by the unique shape, the street car has been engineered to be 35 percent lighter, 35 percent less powerful, and 35 percent less thirsty than the traditional cars it would compete against.
According to DeltaWing Technologies chairman Don Panoz, it should be able to accelerate from 0-60 mph in six seconds and hit a top speed of 130 mph using an engine that produces just 85-110 horsepower, while delivering fuel economy as high as 70 mpg with a gasoline motor. Diesel, natural gas or electric powertrains could bring even greater efficiency, and the car could be modified to work with any of these.
Panoz says that the technical design work is 95 percent finished, right down to where the air conditioning system fits in the chassis, and that it's not a cozy 2+2, but can accommodate four average size adults. The styling, however, is less set in stone.
Although his namesake brand has recently restarted production of its conventional, high priced, low volume sports cars, Panoz is looking to team up with a major automaker on the DeltaWing, which he sees as more of a mass-market proposition.
He's pitching it as a way to help meet the 54.5 mpg fleet fuel economy standards coming in 2025, while still offering fun to drive cars, and its final exterior design will be dictated by whoever takes him up on the offer. To sweeten the deal, DeltaWing has also developed a two-seat GT version that promises even better performance with similar efficiency, but has yet to be publically shown.
As then-owner of the American Le Mans Series (ALMS,) Panoz was instrumental in bringing the DeltaWing to the track. It was originally envisioned as a new type of IndyCar, but when that series passed on the idea, Panoz worked with the car's creators to steer it towards prototype racing, where it debuted at the 2012 24 Hours of Le Mans race using a Nissan engine.
Nissan later left the project and hired away the DeltaWing's chief designer, Ben Bowlby, to help it develop its own car based on the same basic layout, while Panoz took over DeltaWing Technologies and continued the project. It has sice fielded an updated car in the ALMS in 2013 and in the newly-formed Tudor United SportsCar Championship this year.
The two companies are now locked in a legal battle, with DeltaWing accusing Nissan, among other things, of violating contracts and misappropriating confidential information. Meanwhile, the Japanese automaker is preparing to enter its new DeltaWing lookalike, the ZEOD RC hybrid, in the 24 Hours of Le Mans this June and has shown its own concept for a three-seat, street-legal car based on the design that it calls the BladeGlider.
Regardless of how things shape up in the courts, the DeltaWing appears to be the shape of things coming down the road soon.