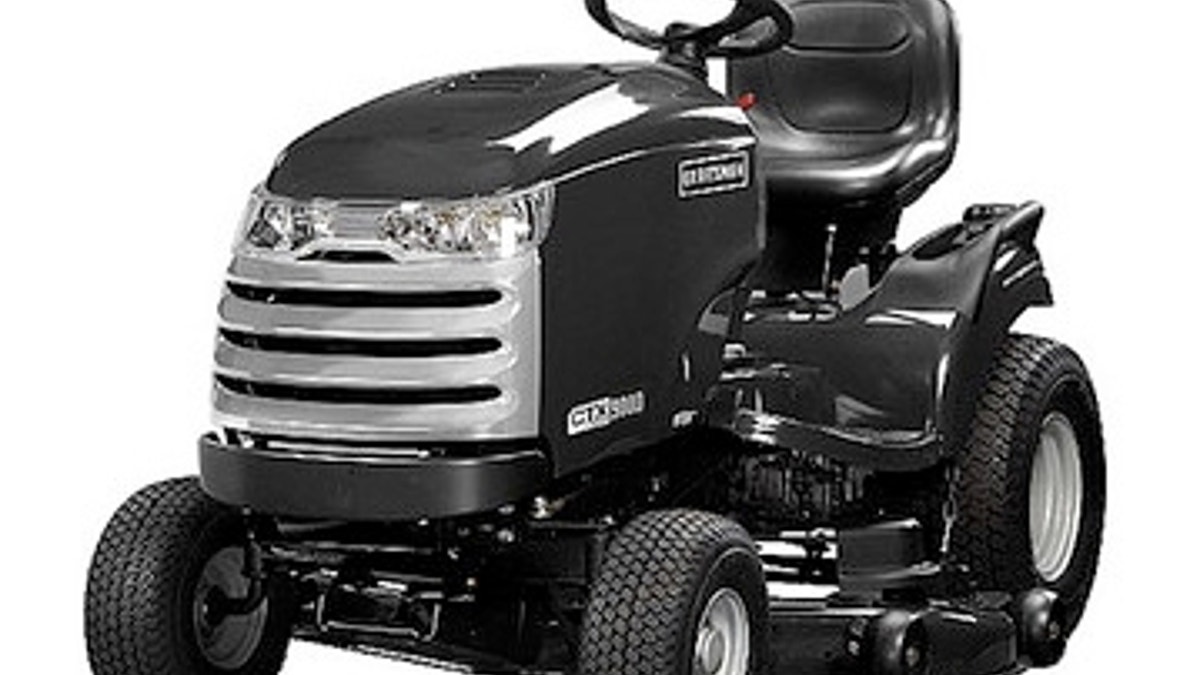 In a town where the cars are the stars, a tractor with a top speed of 8-miles-per-hour is ready for its closeup.
Equipped with cupholders, power steering and other fancy trappings , a new line of premium riding lawn mowers from Sears Holdings Corp's Craftsman division will debut next month at the Detroit auto show.
It's rare for a non-automobile company to use the show as a launch pad for vehicles not sold at a car dealership, but Craftsman hopes the early January debut can turn car buffs on to a new generation of tractors that come with more advanced technology.
"A lot of people, when they think about mowing, they think about using the tractor as a chore," Craftsman General Manager Kris Malkoski said in an interview on Thursday. "This is a premium tractor -- more of a luxury."
Priced between $3,000 and $6,500, Craftsman's new CTX lineup carry price tags that are as much as double that of more economic mowers.
The move to launch a family of tractors at a car show rather than a conventional lawn and garden show could greatly increase visibility for the brand as it aims to move up market to better take on rivals like Deere & Co, Cub Cadet and Toro Co. Craftsman generates $2.5 billion in annual revenue from power products, including drills and garage door openers.
About 750,000 people attend the Detroit show, including thousands of journalists from dozens of countries. For years, automakers have been using the venue to unveil next year's models or test receptivity to moonshot concept cars.
At times, those automakers have even showed off products that are not part of typical product line, such as when Ford Motor Co unveiled electrified bicycles or Honda Motor Co featured its ASIMO humanoid robot.
"WHAT'S NEXT?"
However, the Detroit auto show's decision to give Craftsman a platform promises to raise eyebrows of automotive purists who think auto shows should stick to cars.
"It's an automobile show, stupid, not motorcycles or garden implements," former General Motors Co product czar Bob Lutz said. "What's next? Plumbing and bathroom fixtures? A Toto-toilet stand? An Art Van furniture stand?"
FoxNews.com Autos is on Twitter. Follow us @FoxCarReport
Lutz will be launching vehicles at the auto show for Via Motors, which is planning to build extended-range electric pickup trucks and sport utilities that operate like the Chevrolet Volt. These vehicles are based on GM models such as the Silverado truck or Tahoe SUV, but will be sold under the Via brand name.
He is on the Via board of directors.
Joe Rohatynski, a spokesman for the auto show, said the deal with Craftsman is purely a marketing partnership and not intended to rival the 40-plus vehicle launches it plans for the show. Craftsman will be in a concourse with other vendors like the History Channel and Hot Wheels, instead of on the show floor.
But Craftsman's Malkoski sees the event as a significant debut of high-end products by a brand that has largely been associated with lower-priced mowers. The new tractors' 8-mile-per-hour top speed is at the top of the mower industry, she said.
Other features include press-button adjustments for blade height and attachments that quickly convert the mower into a hauler, aerator, sweeper or snowplow. It goes on sale in February at Sears stores in the United States.
"We were so excited about the launch of this line that we said 'how can we take this tractor to the level that great cars are on?' Malkoski said.
The CTX line will be built in New York and Georgia by Briggs & Stratton Co.
'A WHOLE DIFFERENT LIGHT'
"The idea is to put this Craftsman brand in a whole different light," Michael Bernacchi, a marketing professor with University of Detroit Mercy, said. "They're certainly looking to capitalize on the wow factor ... and the curiosity factor."
Craftsman's not the only one looking for a boost.
The Detroit auto show in recent years has scaled back following a dramatic downturn in vehicle demand and the bankruptcies of two domestic automakers. In recent years, some automakers -- including Porsche AG and Nissan Motor Co -- didn't even participate in the show, although they will return for 2012.
Like many auto shows around the world, Detroit organizers have courted a litany of emerging players in the global automotive business. The list includes Chinese auto makers yet to sell models in the United States, and alternative-energy vehicle makers with plans to sell battery-powered or hybrid cars, like Lutz's work with the Via brand.
Wes Raynal, editor of AutoWeek magazine, said Detroit organizers have to this point largely avoided following its peers into the world of having a broad range of transportation products on the show floor. But he's encouraged by the change.
"If you go to other shows around the world, you'll see all kinds of different modes of transportation," he said. "Some are there because they are just fans of the internal combustion engine and love wheeled toys, no matter what the toy's purpose."
He referenced the Tokyo auto show, in particular, where visitors can see scooters, bikes and other non-automotive transportation options.