Canadian super speeder could be on the run in U.S.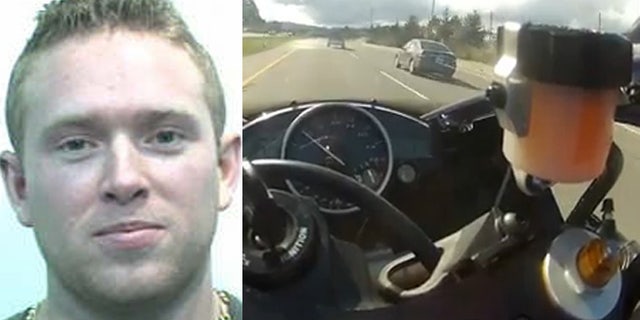 Canadian police searching for a motorcyclist wanted for riding 186 mph on a public highway may turn to the United States for help in tracking down the speedy scofflaw.
Investigators in the city of Saanich on Vancouver Island have been looking for Randy George Scott since last week, when he was charged with a criminal count of dangerous driving after several sworn witnesses fingered him as the man behind a YouTube video of a high-speed run down a busy stretch of the Trans-Canada highway that was posted to the site in April.
Scott's mother, the legal owner of the motorcycle seen in the clip, has already been issued several moving violations amounting to $1,449 under statutes that hold the registered owner of a motor vehicle responsible if it is used in an illegal act.
Saanich Police Sgt. Dan Jantzen describes Scott as an unentrenched individual without a steady job who has remained out of sight since the arrest warrant was issued. He's had previous brushes with the law in town, but as he has yet to be contacted directly by law enforcement regarding these new charges, Scott is not technically a fugitive at this point.
But Jantzen tells FoxNews.com that recent postings made to Scott's Facebook page indicate that the 25-year-old appears to be aware of the allegations made against him, and the department is set to widen the net. If a crack isn't made in the investigation soon, he'll be contacting the relevant border services personnel to see if Scott went to the United States, which is just a short ferry ride from Vancouver Island.
A priority case in the otherwise low crime municipality of 115,000, Scott is listed on Saanich's most-wanted list and police are asking anyone on either side of the border with information on his whereabouts to contact the department.
Of course, the way this guy rides, police may have to start looking in Mexico soon.