Canadian cops chase 186 mph speeder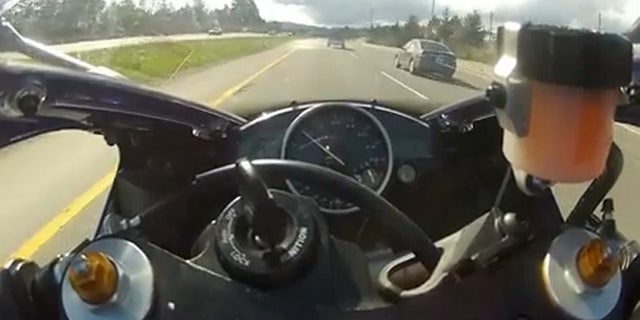 Police on the lookout for this scofflaw had better not blink.
25-year-old Randy George Scott of British Colombia is apparently on the run from Canadian law enforcement after allegedly posting a video of himself riding a motorcycle down a busy highway at speeds reaching at least 186 mph.
The video, which was uploaded to YouTube in April, is shot from the rider's perspective and clearly shows the speedometer of what is reported to be a Yamaha R1 sport bike as it splits lanes and weaves in and out of traffic on a stretch of the Trans-Canada highway on Vancouver Island where the speed limit is 50 mph.
The video, posted by user Joe Blow, is still live and has been viewed over 800,000 times.
Saanich police Sgt. Dean Jantzen told the Times Colonist that several witnesses came forward with information linking the video to Scott, whose whereabouts are currently unknown. He faces a criminal charge of dangerous operation of a motor vehicle that carries a maximum penalty of five years.
The bike is registered to Scott's mother, who has been issued $1,449 in traffic tickets.
"This is an egregious example of someone who really is disregarding all norms of traffic safety," Jantzen told the paper. "You can hardly put words to it."
There are many videos on YouTube showing similar stunts using a variety of cars and motorcycles, including several where Yamaha R1s are seen hitting 186 mph.
Earlier this month a Japanese man was tracked down and arrested after posting a video of himself driving a Lamborghini 97 mph in a 37 mph zone in the city of Hiroshima.