Bollinger Motors unveils four-door version of its electric SUV
Electric off-road vehicle startup Bollinger Motors only introduced its first two-door pickup/SUV in July, but it has already unveiled its next model.
The Hobart, New York-based company is planning a four-door follow-on to its back to basics-styled battery-powered B-1 truck.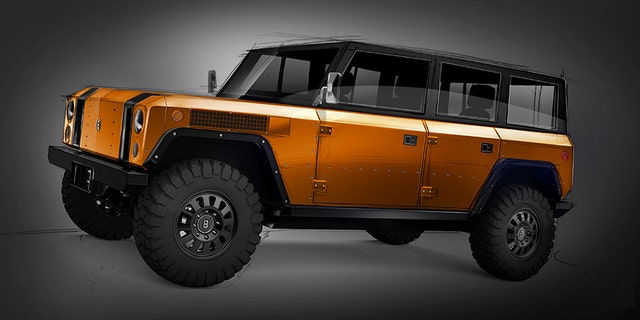 The four-door's wheelbase and overall length are both stretched nine inches, making room for the rear doors and additional cargo space. The resulting vehicle is just five inches shorter than a Jeep Wrangler Unlimited, its closest conventional competitor.
In either configuration, the B-1 is powered by two electric motors that give it all-wheel-drive and a combined 360 hp, and has a custom designed low range transmission for each. Its standard ride height is around 15 inches, but a pneumatic suspension system allows it to be raised or lowered by five inches.
The B-1 was designed with a modular roof and removable rear seat that allows it to be converted from an SUV into a pickup. It's not settled if the four-door will have this feature, but it will be available as a convertible. Bollinger says its floor-mounted 60 kWh or 100 kWh batteries will provide 120-200 miles of range in either truck.
Bollinger showed a working prototype at the B-1's public debut in New York City in July, but the vehicle is still in development. It is hoping to start selling both models as soon as 2019.