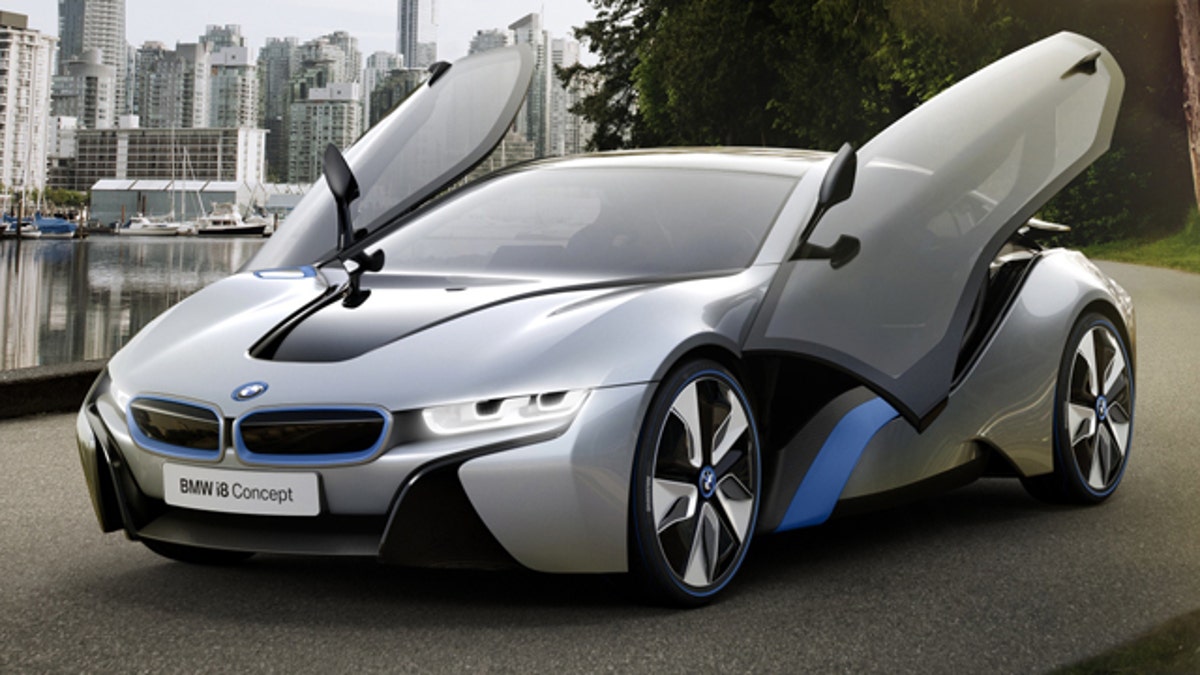 BMW has given the world a glimpse at its future, and it's electric.
The German automaker has unveiled two concepts that presage its upcoming lineup of "i" branded electrified cars, the i8 supercar and i3 compact.
Although the cars are aimed at starkly different market segments, they share quite a bit of technology in their construction. Most notably a design that BMW is calling "LifeDrive" architecture, which splits the car into two major sections: a lower aluminum framework that houses the drivetrain and a carbon fiber shell for the passenger compartment, both aimed at keeping the weight of the vehicles to a minimum.
The i8, which was previously hinted at by the Vision EfficientDynamics concept, is a plug-in hybrid 2+2-seater. It is powered by a combination of a front-mounted 3-cylinder internal combustion engine driving the rear-wheels and an electric motor connected to the front wheels that draws its energy from a battery pack located in a tunnel running down the center of the car. With a combined output of around 350 hp, the i8 can accelerate to 60 mph in less than 5 seconds, hit a limited top speed of 155 mph and deliver up to 78 mpg in European testing, according to BMW.
Each motor has the ability to operate independently or in tandem with the other. In all-electric mode, the i8 is effectively a 130 hp front-wheel-drive car with a range of approximately 20 miles, perfect for cruising through an urban center. On the open road, it can work either as a rear-wheel-drive car powered solely by the 220 hp turbocharged 3-cylinder, or tap into the electric motor for all-wheel-drive and maximum performance. Scissors-style doors with windows that extend below the belt line help to give it visual appeal on par with its speed.
In contrast, the i3 is a 4-passenger, all-electric compact with the same electric motor as the i8 – here rated near 170 hp – located under the luggage compartment of the hatchback and driving the rear wheels. The two front doors of the i3 are complimented by smaller rear-opening 'coach' doors to ease entry to the back seat.
BMW pegs the range of the i3 at 93 miles per charge, which it says will take 6-hours on a 240-volt charger. The capacity of the battery pack has not been revealed. An extended-range plug-in hybrid version similar in concept to the Chevrolet Volt is also in the works.
BMW has not released pricing or official release dates for either car, but they are widely expected to hit the market sometime in 2013. The i8 and i3 will make their public debut at the Frankfurt Motor Show in September.