Bikers made motorcycle boots that are slicker than Nike Jordans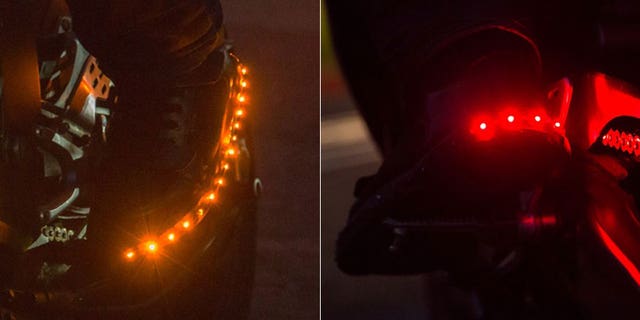 NEWYou can now listen to Fox News articles!
Traditional motorcycle boots make the wearer look like a one-percenter. Motorcycle shoes (aka shorty boots) look good, but might not be comfortable for all-day wear, and they definitely lack new tech. Thankfully, a company called Integrated Tech Apparel has brought the old motorcycle boot into the modern age. These look like high-top sneakers, but they have lights built into the heel that act as turn signals and as a brake light. Recently funded on Kickstarter, they should ship to backers in February 2017.
Called Roame Zeros, these motorcycle shoes connect wirelessly to your bike. When you activate the turn signal on your bars, the boots light up to mirror them, which means greater visibility on the road.
Related: Walk this way: Sneakairs are smart sneakers meant to replace your map
Don't be fooled by the Roame's 90's throwback aesthetic. They're not just simple nubuck -- though the leather used is abrasion-resistant so the shoes can survive a bit of road-rash. Even the straps are positioned for safety and durability -- the ankle strap holds laces away from the chain, while the lower strap staves off shifter rub.
To keep them as tough as boots, the Roame Zeros feature D30 shock-absorbing padding around the ankle and toe. D30 is light and flexible but turns rigid on impact, making it perfect for a lightweight but protective shoe.
But of course, the feature that literally makes the Roame Zeros stand out is their connectivity. LEDs around the sole of the shoe light up in conjunction with the bike's signals: red lights on the sole correspond to the brake, while yellow lights function with the turn signals. To take advantage of the wireless signal lights built around the sole of the shoe, riders need to add a wireless relay box to the turn-signal light system on their motorbike. Tech Apparel says this is easy, and they'll be including instructions and a wireless transmitter box with each pair.
Roame Zeros are fully funded, but you can still grab a pair for $300, saving $100 over the projected final price. According to the creators, the sizing is similar to Nike Jordans, but unlike those famous sneakers the Roame Zeros first run will only be in one color -- black.