Best deals on American-brand cars for July Fourth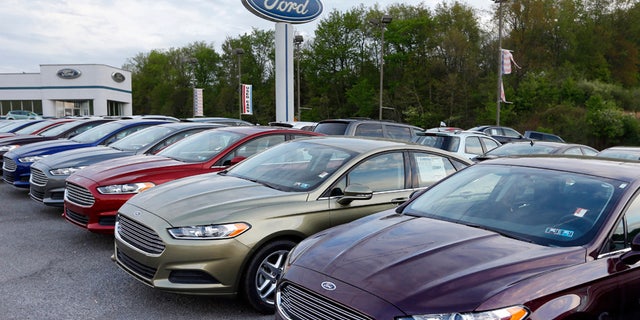 Independence day conjures images of parades, flags, BBQ, and car sales. Indeed, this national holiday weekend is perennially one of the best times to buy a new car. Typically, the customer rebates are large, interest rates small, sales staffs eager, and free balloons plentiful.
To size up the buying opportunities, our analysts have studied recent nationwide transactions, then layered in current available incentives to predict the average savings for this holiday shopping weekend. Among the many discounted models, we narrowed our focus to those that meet Consumer Reports' stringent criteria to be recommended, meaning they scored well in our testing, have average or better reliability in our latest subscriber survey, and performed well in government or insurance-industry safety tests, if evaluated.
In the spirit of the patriotic holiday, we elected to highlight models from domestic manufacturers, finding good choices from Buick, Cadillac, Chevrolet, Chrysler, Ford, and Ram. Here we find a wide variety of appealing models, although it is worth noting that some, like the Ford F-150, will soon be replaced, and others (including Buick Enclave, Chevrolet Traverse, and Ford Flex) are late in their model lifespans.
See all current Best New Car Deals, or use our New Car Selector to create your own list of vehicles by sorting and filtering by the factors that matter most to you.
More From Consumer Reports
The corporate cousin of the Chevrolet Traverse and GMC Acadia, the upscale Buick Enclave uses the same 3.6-liter V6 engine and six-speed automatic. Expect 15 mpg in mixed driving on regular fuel. A recent freshening included improvements to the transmission, ride comfort, and interior quality. We like the Enclave's firm, comfortable, and quiet ride, and found its handling agile and secure. The third-row seat is roomy enough for adults—not something to take for granted. Fit and finish is excellent. Forward-collision and lane-departure warning systems are available for 2014.
Cadillac has long chased BMW, and the ATS luxury sedan is as close as an American sedan has ever come to the 3 Series. The ATS is an absolute blast to drive. Its sharp handling and eager performance give up nothing compared with the best European sports sedans. We actually prefer the lively steering in the Cadillac over that in the latest BMW 328i we tested. The ride is taut and controlled without being punishing or harsh. Braking performance is outstanding. Interior fit and finish is impressive, and the front seats are very comfortable. But the CUE infotainment system, with its flush buttons, is very convoluted and frustrating to use. Try before you buy.
The Malibu stands out for offering an attractive discount on an already affordable, and appealing, midsized sedan. Refined for 2014 with suspension tweaks and incrementally increased rear-seat space, the Malibu is a comfortable, very quiet midsized sedan. A new 2.5-liter four-cylinder with a start/stop system is the base engine for 2014. A smooth-shifting six-speed automatic is standard. Compared to firmer peers, the Malibu ride is cushy and handling is sound, although our testers feel it gets soggy at its limits. Controls are simple and straightforward. Reliability has been average for all versions.
Related to the Buick Enclave and GMC Acadia, the Chevrolet Traverse is a three-row crossover SUV with generous space, a quiet cabin, and surprisingly agile handling. Power is decent from the direct-injected 3.6-liter V6 engine but at 16 mpg overall, fuel economy falls somewhat behind the curve compared to other, more recently designed three-row SUVs. But it does have a slightly higher than average tow capacity, adding to the vehicle's versatility. Overall, the Traverse is a great choice for a family who might otherwise consider a large truck-based SUV.
A large, American-style sedan, the Chrysler 300 is big on style, luxury, and power. The cabin is plush, with numerous padded surfaces, well-finished leather, and believable fake-wood trim. Front and rear seat space is generous, with truly adult-scale accommodations. The 5.7-liter V8 is punchy, but fuel economy is only 18 mpg overall with the five-speed automatic. But the 3.6-liter V6, with its smooth eight-speed automatic, stately ride, and responsive handling, is a bargain luxury sedan and our preferred choice, as highlighted here. The V6 model averaged a good 22 mpg overall in our tests. Inside, the cabin is roomy and nicely trimmed. The Uconnect touch-screen infotainment system is one of the best in the industry. Reliability of the V6 has been average; the V8 has improved to above average.
A full-sized SUV with a full-sized discount, the Ford Expedition is a tool for big jobs. It is offered in standard and EL, for extra length, configurations. The EL stands outs for its hefty discount, and it is capable of seating eight, toting a huge amount of cargo, and generous towing capacity. The roomy third-row seat folds flat into the floor or seats three adults with ease. The coarse-sounding V8 produces 310 hp, and it is mated to a six-speed automatic transmission. Our tested EL felt sluggish and returned just 13 mpg overall. Handling is relatively responsive for such a large vehicle, but braking distances are long. An updated 2015 Expedition launches in the fall. Consequently, the outgoing model has huge savings available.
The popular Ford F-150 is brash, bold, and ready for duty. Available in numerous configurations, the F-150 can be built for mild weekend chores or a hard-working commercial life. We tested two versions of the Ford F-150 pickup: one with the 5.0-liter V8 and the other with an EcoBoost turbocharged V6. Performance numbers for the two engines were nearly identical overall. But the V8 sounds better. Both of our trucks got the same fuel economy—15 mpg overall. Don't be swayed by numbers-touting advertisements; towing capacities vary by wheelbase, axle ratio, and drivetrain. An all-new, aluminum-intensive F-150 is just months away, meaning the respected outgoing truck may have significant negotiation room until then.
With a distinctive boxy shape that combines elements of a SUV, minivan, and station wagon, the Flex is a very functional and versatile vehicle. The base V6 engine has been updated over the years in an attempt to improve acceleration and fuel economy, but it still falls short on refinement. The Flex also has the frustrating MyFord Touch interface, which adds a layer of complication to formerly simple controls. On the plus side, the ride is comfortable, and the cabin is quiet and spacious. Rear-seat room is cavernous with a usable third-row seat and generous cargo space. Maneuverability is hampered by a large turning circle and limited rear visibility. When loaded with features, the Flex can get pretty expensive relative to other three-row SUVs, but discounts and incentives are easy to find.
In a class generally known for bland styling and a lack of driving excitement, the Ford Fusion is a fresh, charismatic newcomer. The Fusion looks upscale and stylish, and it handles like a really good European sports sedan. We bought three Fusions: top-trim Titanium, a mid-trim SE, and the SE Hybrid. All versions provide a composed, civilized ride that's as good as cars costing twice as much. The cabin is blessedly quiet. The Titanium version is the best-handling midsized sedan we've tested. But, at 22 mpg overall, our 2.0-liter Titanium gets 4 mpg less than the larger 3.5-liter V6s in the Honda Accord and Toyota Camry. The fuel economy trade-off for the looks and agility may be worth it for a driving enthusiast.
The smart Mustang money is on the V6 coupe. With a low base price and 305 horsepower on tap, it delivers a lot of bang for the buck—especially with a generous discounts available. With the next-generation Mustang just months away, Ford is already putting a bundle of cash on the hood. The refined and punchy V6 attained an impressive 24 mpg overall in our tests, including 35 mpg on the highway. Despite its old-school, solid-axle rear suspension, the Mustang feels agile and athletic and maintains an even keel winding through twisty turns. Quick, well-weighted steering conveys a decent amount of road feel. A rolling piece of Americana, the Mustang boldly waves the flag and boasts big-time incentives.
With its last freshening, we feel that the Ram 1500 is the most civilized full-sized pickup on the market. Its coil-spring rear suspension helps lend a cushioned ride and handling is competent enough for such a big vehicle. Our Big Horn Crew Cab, with its smooth, effortless 5.7-liter V8 and slick eight-speed automatic, averaged 15 mpg. The base 4.7-liter V8, mated to a six-speed automatic, is underwhelming and has no mileage advantage. An available V6 is plenty capable. The spacious cab is luxury-car quiet and the Uconnect Infotainment system, with its eight-inch touch screen, is easy to use. Reliability has been average.
When buying a car, in addition to research and reviews, Consumer Reports offers subscribers access to the Build & Buy Car Buying Service at no additional cost. Through this service, a nationwide network of more than 7,000 participating dealers provide upfront pricing information, as well as a certificate to receive guaranteed savings off MSRP (in most states). The pricing information and guaranteed savings includes eligible incentives. Consumer Reports subscribers have saved an average of $2,919 off MSRP with the Build & Buy Car Buying Service.
—Jeff Bartlett
Copyright © 2005-2014 Consumers Union of U.S., Inc. No reproduction, in whole or in part, without written permission. Consumer Reports has no relationship with any advertisers on this site.