Audi's Traffic Light Assist tells how long until the signal goes green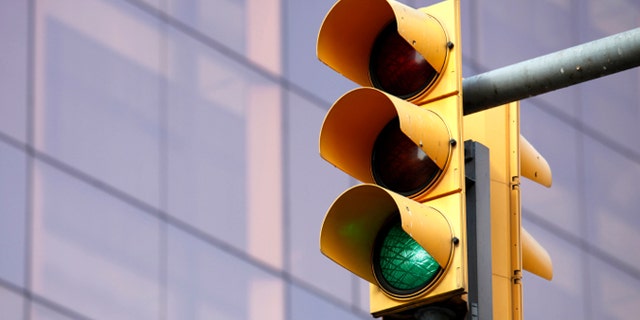 Ever wonder how long it will take a traffic light to change? Audi has developed a solution, and we took a ride through the Las Vegas strip during the CES 2014 in an A6 sedan equipped with Traffic Light Assist to check it out.
The Audi technology is integrated with the city's traffic signal system, monitoring the light change data. It can then be combined with the vehicle's speed and road traffic patterns to predict exactly how long a red light will last. A traffic light icon with a countdown shows up in the center display to alert the driver of the time remaining. This helps take the guess work out of how long a driver needs to sit at a light. And, with some cars, the stop/start engine features sometimes needs a slight heads-up to get going before the light turns green to minimize the hesitation when it is time to go.
The system worked perfectly in our demonstration.
One snag to getting this off the ground is the time it will take to reach out to U.S. cities to get them to come on board with allowing Audi and other automakers access to their traffic light data. At some point, when a few cities agree and the system is set up, Audi will build this feature into its lineup to have it ready to go. The goal is within a few years.
More From Consumer Reports
This has a potential safety implication as it can help reduce red-light running, as drivers won't get caught in a yellow-to-red changing light. Further, it is yet another step toward smarter roadways, enabled by vehicle-to-infrastructure and vehicle-to-vehicle communication.
See our complete CES 2014 coverage.
—Liza Barth
5 cool safety innovations coming to your future car
Ford expands in-car app offerings through AppLink
Bosch demonstrates driverless car parking
Self-driving Navia shuttle heading to communities near you
General Motors announces wide availability of 4GLTE access
Toyota fuel-cell car to go on sale in 2015
5 trends in automotive electronics coming to your next car
Kia showcases the big-screen car cabin of tomorrow
Jaguar/Land Rover unveil a smart-phone-friendly infotainment system
Chevrolet Corvette Stingray can now capture track heroics in real-time video
Solar-powered Ford C-Max Energi hints at future for cars
Copyright © 2005-2014 Consumers Union of U.S., Inc. No reproduction, in whole or in part, without written permission. Consumer Reports has no relationship with any advertisers on this site.