$450,000 Ford GT recalled for fire risk after one burned on the street
Ford is recalling 194 of its GT supercars in North America to fix a problem that can cause a hydraulic fluid leak after one of the $450,000 cars was badly burned on a German street.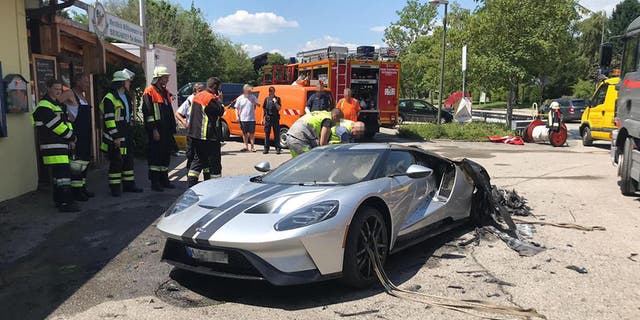 The issue concerns the hydraulic system that raises and lowers the GT's rear wing, which may leak fluid onto the exhaust pipes and cause a fire.
Ford said it knows of no accidents or injuries caused by the issue.
Dealers will reprogram the cars to prevent "excessive pressure in the valve block assembly" and update the hardware in some vehicles.
The recall affects 2017-2018 model year vehicles built between Dec. 20, 2016 through July 31, 2018.
With a 647 hp twin-turbocharged V6 and a top speed of 216 mph, the GT is the fastest Ford production car ever made.
The automaker worked with the German owner to determine the source of his car's fire in June, which happened after just 43 miles of driving, and promised to replace it, despite the in-demand GT's limited four-year production run.