2017 Ford F-150 Raptor Test Drive
I'm in a Ford F-150 doing 70 mph with one hand on the wheel while having a quiet conversation with the passenger beside me. It's not an uncommon situation in today's refined trucks.
Except this time I'm doing it in the middle of the California desert, bounding over knee-high dunes and winding between dry scrub trees, with a smile on my face as wide as the horizon ahead of me.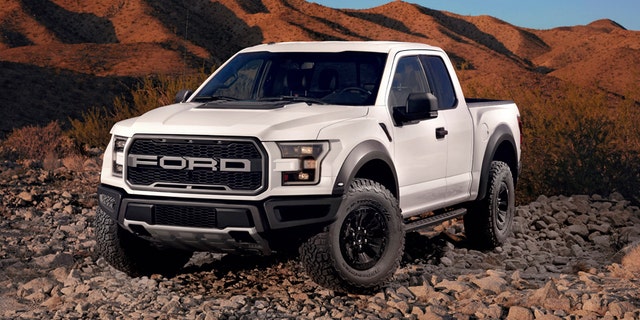 This is life in the 2017 F-150 Raptor, a second take on one of the most surprising automotive success stories of the past decade.
Unveiled during the dark economic days of 2009, the original Raptor was nothing short of astonishing: a Baja 1000-ready pickup you could trade in your Crown Victoria for on the way home from work. It had the jacked-up, wide-body look of a modified race truck and a unique suspension that made the roughest terrain feel like freshly laid pavement.
It was a novel project of what's now known as the Ford Performance division, and the folks behind it figured they'd sell about 5,000 in a good year. Turned out they were off by a multiple of four — in the right direction.
Customers in China were so desperate to get their hands on one — it was sold only in North America and the Gulf States of the Middle East — that some paid more than $150,000 to import them on the gray market. It's no surprise that Ford will officially be exporting it there this time around.
Despite its runaway success, Ford put the Raptor on hiatus after the 2014 model year to focus on launching its radical new aluminum-bodied F-150. But it didn't put it out to pasture. It used the break to build an even better one.
It was time well spent.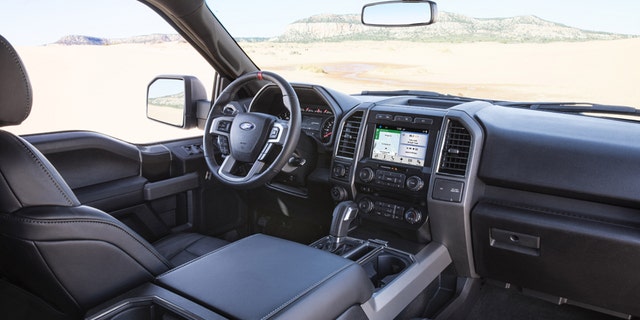 The 2017 Raptor sticks to the original template, but it dials everything up to 11. Well, 10, if you're counting the gears in its new automatic transmission, which is mated to an also-new 3.5-liter twin-turbo V6 engine that shares the castings for its aluminum block and heads with the one in the $400,000 Ford GT. Putting out 450 hp and 510 lb-ft of torque, it is the most powerful motor ever stuffed under the hood of an F-150.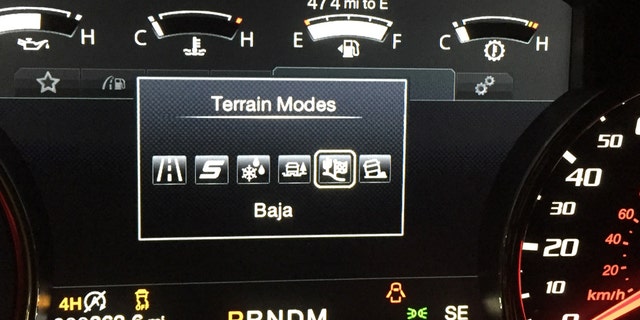 The ponies make their way to the Raptor's custom tread 35-inch tall BF Goodrich knobbies via a computer-controlled drivetrain. Mud and Sand, Rock, Sport … there are six modes to choose from. You just pick from a menu on the instrument cluster and it sorts it out the transfer case and differentials for you. Or, if you're one of those, you can fiddle with each to configure it to your tastes.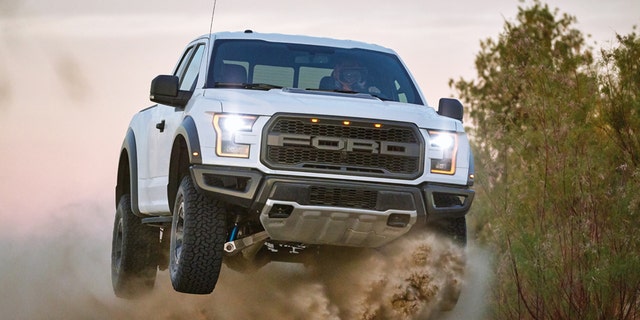 Out in the Anza-Borrego desert, on the same trails Ford used to develop the Raptor, "Baja" is the aptly named mode of choice. It's a high-range 4x4 setting with the option of locking the rear axle if the sand gets too deep. The throttle response and transmission logic are tweaked to match it, as is the anti-lock braking system, which allows for some lock-up to let the tires plow into the sand for shorter stops when jackrabbits, coyotes and those pesky motocross riders cross your path.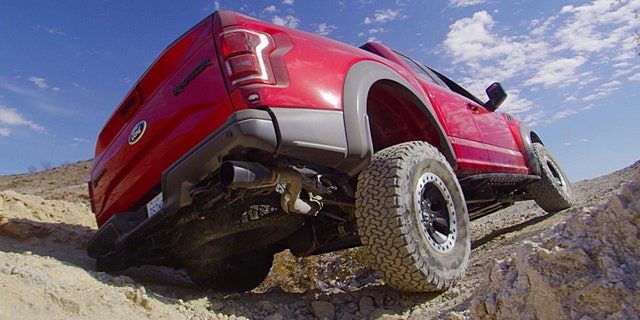 As before, the Raptor's real standout feature is its suspension, which now delivers a Mr. Fantastic-like 13 inches of front and 13.9 inches of rear wheel travel. To tame those stretchy springs, the Raptor sports a set of bespoke Fox Racing shocks that are 3 inches in diameter and provide nine different levels of damping, depending on wheel position.
They're firm at first, to keep the truck from bouncing down the highway, loose in the middle to get up and over things, and stiff under full compression to prevent bottoming out. You can leap a couple of feet in the air without doing that, and you need to work really hard to do it at all. In fact, over 50 miles of eye-opening whoops with a Ford engineer in the truck egging me on, I never did.
When I hit 80 mph on one long bumpy stretch, I asked him how fast he thought we could take it in Ford's other "off-road" F-150, the FX4. He said we'd probably have to give up at 20 mph.
As great as the old Raptor was, it always felt like it could use a little more power. This truck does not, but I'm sure the aftermarket tuners will soon prove that it can handle quite a bit more. It's that good.
The fact that the new Raptor weighs 500 pounds less than the old one certainly doesn't hurt its performance, especially when you have to crawl up and over things. The Raptor scurries up steep rockslides about as well as an oversized mountain goat can be expected to. A front Torsen differential is available to enhance its bouldering abilities, and an optional 360-degree camera system comes in handy on tight trails, since the Raptor is broad enough to require marker lights for the street.
There, it's a no-compromises truck, just as refined as any F-150, which is very. It doesn't wander around like off-road specials often do, and you can get it with commuter-friendly adaptive cruise control and Ford's new Pro Trailer Backup Assist, which does the steering for you while you use a rear video display and a knob on the dash to point the truck and trailer where you want them to go. Fuel economy rises a whopping 23 percent over the last Raptor…to 16 mpg combined. (No one cared then, and they won't now.)
The only real shortcomings are its payload and tow ratings, which max out at 1,200 and 8,000 pounds. But those numbers are disappointing only when compared to the best F-150s, which can carry and pull over 3,000 and 12,000 pounds. The Raptor excels at a different kind of hauling.
As remarkable as everything else about the Raptor is the price, which starts at $49,520 for a SuperCab model. You can spend more on a Mustang, or an Explorer, and it doesn't even make it the most expensive F-150. Even a loaded four-door SuperCrew checks out under $65,000, and it seems like a steal once you spend some time behind the wheel in its natural environment.
Some of its buyers will. Others will simply like the way it looks, or how it soaks up the potholes and frost heaves on the way to work. The same reasons everyone buys ordinary trucks and SUVs today.
With the Raptor, they'll get something extraordinary.
----------
2017 Ford F-150 Raptor
Base price: $49,520
Type: 2- or 4-door, 5-passenger pickup
Engine: 3.5-liter tubocharged V6
Power: 450 hp, 510 lb-ft torque
Transmission: 10-speed automatic
MPG: 15 city/18 hwy