2017 Chrysler Pacifica Hybrid test drive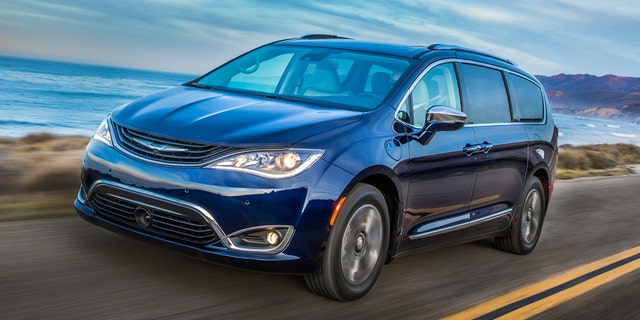 NEWYou can now listen to Fox News articles!
It's both fitting and surprising that Chrysler is the first to sell a hybrid minivan in the U.S.
The automaker created the minivan segment in the 1980s and has led it ever since, but it's built only one hybrid vehicle — the Aspen SUV — in its entire history. And that was just for a single year, eight very long years ago.
You'd figure that Toyota, which is the hybrid king and sells a fair number of minivans itself, would have been the one to do it. In fact, it did, just not here. It offers a couple in Japan. Honda has one there, too.
Maybe they know something Chrysler doesn't about the U.S. market, but that didn't stop it from doubling-down. The 2017 Chrysler Pacifica Hybrid isn't just a hybrid, it's a plug-in hybrid. It has two electric motors, a V6 engine and a big battery pack that lets you take the kids to soccer practice and back, emissions-free.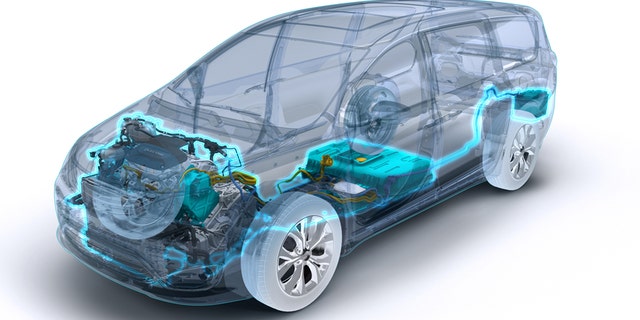 That's assuming the round trip is less than 33 miles away, which is how far it can go on a charge, according to the EPA. That may not sound like much, but most people on most days don't need to go any farther. For those who do, once the battery's run down, the Pacifica switches over to hybrid mode, which is good for 32 mpg combined. That figure may not be eye-popping, either, but it's 45 percent more efficient than any other minivan, including the regular Pacifica.
2017 CHRYSLER PACIFICA TEST DRIVE
A minivan is the perfect platform for a hybrid powertrain, because no one expects much from one. It is the antithesis of a performance car, and should be. If the Pacifica Hybrid had come out when gas was $4.00, it might have fended off the crossover onslaught and put the minivan back on its family car pedestal. Nevertheless, it could be the best buy in premium people-carriers today.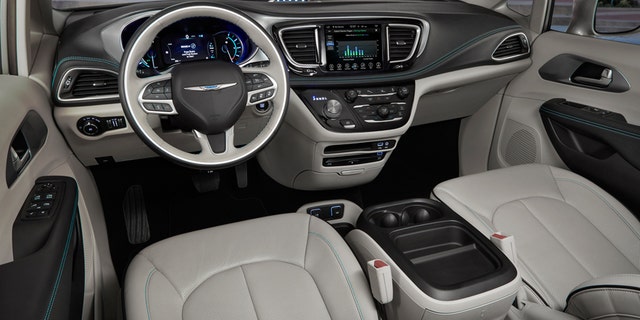 Chrysler is playing up the tech angle by offering the Pacific Hybrid in only two leather-upholstered, luxed-up trim levels that range from $43,090 to $46,090. Those prices are roughly $2,500-$3,000 more than the closest conventional Pacificas, which isn't much of a premium for electric drive capability and will pay for itself in four years at the pump alone. But the Hybrid's battery pack is large enough to qualify for the full federal electric car tax rebate of $7,500, so they actually end up costing $4,500-$5,000 less than the standard models.
Both trims have leather upholstery, reclining seats in all rows, power sliding doors and hatchback, and navigation. The top of the line Platinum adds adaptive cruise control, automatic emergency brakes, lane departure prevention, a 360-degree parking camera and a dual-screen entertainment system for the second row with a Blu-Ray disc player, built-in games, WiFi and HDMI inputs for console video games. No one will care if you're not there yet, because it's better than being home. The couple of hundred pounds extra that the Hybrid powertrain adds does nothing to take away from the Pacifica's excellent ride quality.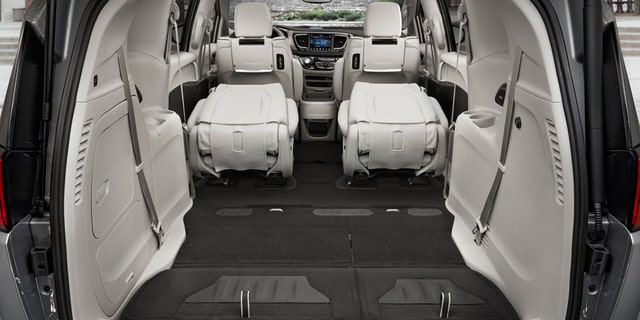 One signature Pacifica feature missing from the Hybrid is its fold-into-the-floor Stow 'n Go second row seating, because the battery fills the compartment the seats usually hide in. I think it's a fair trade, plus they threw in more thickly-padded captain's chairs as a bonus. The Hybrid is also not rated for towing, but it's a minivan. How much stuff do you need to bring along?
Step lightly on the accelerator when there's a charge in the battery and the Hybrid pulls away smoothly, with just a soft electric motor whine. There's nothing to drown out the sound of your children whining. You'll have to use the radio for that. Fortunately, the Alpine speaker-equipped unit is a good one.
The Hybrid is not 100 percent electric in this mode, though. Floor it long enough and the V6 will kick in to provide the drivetrain's maximum 260 horsepower, but it otherwise stays out of the picture until the battery is drained. I drove the Hybrid many miles without ever needing the gasoline boost.
After that, the drivetrain does the typical hybrid shuffle, switching between electric and gasoline motors as needed, with a mix of sounds and silence coming from under the hood. A two-hour visit to a 240v fast charger or 14 hours plugged into a 120v outlet is needed to charge the battery up again. There's an app that helps you find them, and lets you remotely check on the status of your vehicle.
Bucking the plug-in hybrid norm, you can't save that charge to use around town where it's most efficient, or when you need to sneak into the driveway at night. It runs through it first, whether you want it to or not. Chrysler says this is one less thing for busy parents to worry about, but it comes across as one less thing for its engineers to worry about. Chevy did the same thing when the Volt launched, but added a charge-holding feature in its second year.
Unlike the Aspen Hybrid, the Pacifica Hybrid definitely deserves one of those. Chrysler may have been out of the electrification game for a while, but clearly the folks in the engineering department have been keeping up with the times, just waiting for their big chance to build one of these.
Lucky for them, no one else did.
----------
2017 Chrysler Pacifica Hybrid Platinum
Base price: $46,090
As tested: $47,855
Type: 7-passenger front-wheel-drive minivan
Power: 260 hp
Transmission: Electrically-variable automatic
Electric range: 33 miles
MPG: 32 mpg combined