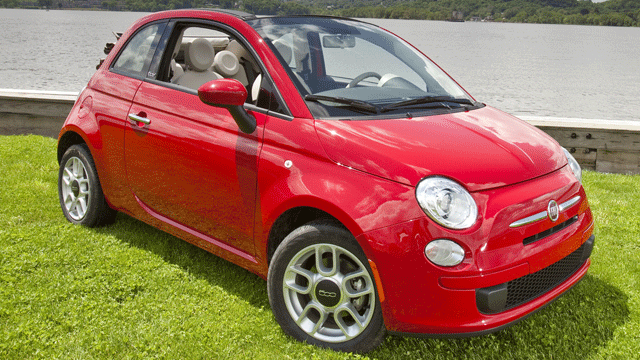 Driving an Italian convertible is one of the great joys in life. Less so when it's raining, but even then it's not always that bad.
The 2012 Fiat 500C is the drop-top version of the company's new bella macchina subcompact, and a retro-modern take on post-war Italian economy car design. In a world of New Beetles and new MINIS, not to mention 1960's-inspired Mustangs and Camaros, tapping into nostalgia was an easy move for Fiat upon its return to America, after pulling up stakes a quarter century ago.
Introduced in 1957, the original 500 was the product of a nation where the materials to make cars and the fuel to run them were expensive and in short supply – sounds a little familiar, no? It was small and frugal because it had to be, but bellissimo because it was Italian. If there's one place on earth where style always trumps substance, it's the land of Fellini.
Good taste is one thing, but there's no accounting for bad timing. So I won't blame Fiat for the May deluge that hit the greater New York metropolitan area as its first batch of Cincquecento Cabriolets came ashore. Nevertheless, a 120-mile drive from the wet, cobbled streets of Soho to the even wetter, windy roads of the Hudson River Valley weren't what any of us had in mind when we signed up.
Thankfully the true beauty of the 500C is that it's not all that different than the hardtop. Less of a true convertible than a rolling sardine can with the center of its roof peeled off, if not for the heavily insulated fabric top used to cover the opening, and a smaller glass rear window, you wouldn't notice the difference between the two. Since much of the car's structure remains intact, it wasn't necessary to put in a lot of bulky reinforcements, so interior space remains the same as the donor car. That's uncommon in a convertible, and notable for one with very little room to spare.
Smaller than any car on the road today – save for the barely there Smart Fortwo – the 500C doles out most of its volume to the front passengers, although it does technically seat four. A relatively high roof allows six-foot-plus drivers to fit with little or no complaint with the top up, but I won't say as much for those stuffed into the rear. In keeping with the overall theme, the front of the dashboard is painted the same color as the exterior. Bakelite-style controls for the audio and climate controls further help to take you back in time, while jumbo cupholders custom made for the U.S. market return you to the present. Visibility is mostly good, aside from the blind spot created by the roof pillar over your left shoulder and the view to the rear when the roof is opened and stacked right in your line of sight.
For a starting price of $20,000 – four grand more than the coupe and cheapest of all convertibles, except for that pesky Smart again – the 500C Pop model comes well-equipped with power windows and mirrors, Bluetooth, iPod connectivity and seven airbags, even though one could probably fill the entire interior. Options include excellent baseball mitt-grade leather upholstery, a removable navigation system and Bose audio, the latter of which comes standard on the upscale Lounge trim level, priced at $24,000. With all of the features and colors taken into account, there are over 500,000 permutations of the 500c that can be configured. Unlike a lot of import brands, Fiat is actually encouraging its customers to live up to their name and make custom orders from the Toluca, Mexico plant where our 500s are built - the former home of the similarly old-school Chrysler PT Cruiser.
The Pop is fitted with a five-speed manual transmission and a six-speed automatic is available and standard on the Lounge. Both are matched to a 101 hp 1.4-liter four cylinder engine featuring Fiat's heralded high-tech, but low cost MultiAir variable intake system. Set to be the savior of Chrysler's corporate average fuel economy in the coming years, MultiAir is a big part of the reason that Uncle Sam gave his blessing to the marriage of the two brands. That said, the tiny 500C has EPA rating of 38 mpg highway, 32 mpg with the automatic. Surprisingly low in a world where 40 mpg is quickly becoming common and even a big car like the Hyundai Sonata can crack 35 mpg.
For all of its British cheekiness, when it comes to the drive a MINI Cooper is very German and to the point in the way it goes about its business, belying its BMW engineering. The 500C is more like a big hug from little mama Fiat, with a layer of softness coating everything it does that makes you feel warm and fuzzy all over. The ride quality is astonishingly plush for a car so small, but the real question is: Can she cook?
The figures noted above indicate that Fiat didn't game the powertrain to chase big fuel economy numbers. Instead it put the little amount of power that is on tap to good use, delivering a lively feel around town. But don't get too excited, it takes some time getting to highway speeds and passing other cars when its there (a high-performance Abarth version of the 500 is on the way next year for you aspiring F1 drivers.) Normally I'd recommend that you go for the stick in a car like this, but the automatic is so good that it may be the way to go, especially if you are one of the young urbanites that are likely to buy the 500C. Combined with rear park assist, otherwise spots ignored by other drivers are yours for the taking.
Whatever its up to, the little soprano knows how to sing. The engine and exhaust notes are as stirring as they should be in an Italian car. The 500C's corporate cousins at Ferrari would be so proud.
Of course, these traits are exactly the sorts of things that persuaded you to buy a Fiat last time around, and look where that got you. Well, if you're worried that you'll need to call Tony to have the 500C fixed again and again, fuggedabout it, or at least don'tworryabout. The car comes with 3 years or 36,000 miles worth of free maintenance and roadside assistance and a 4-year or 50,000-mile bumper-to-bumper warranty. Its Fiat's way of saying, "America, this time we're here to stay!"
Then again, a lot can happen in four years. It was only that long ago that Chrysler was sold to its last knight in shining armor and Fiat was just coming out of its own brush with financial disaster. For both of their sakes, hopefully the sun will shine on them this time around.
Sadly, I can't say the same happened to me on the test drive. But that didn't stop me from smiling the whole way.
----------
2012 Fiat 500C
Base Price: $20,000
Type: 2-door, 4-passenger convertible
Engine: 1.4-liter 4-cylinder
Power: 101 hp, 98 lb-ft torque
Transmission: 5-speed manual, 6-speed automatic
MPG: 30 city/38 hwy (man), 27 city/32 hwy (auto)