2012 Dodge Challenger 392 SRT8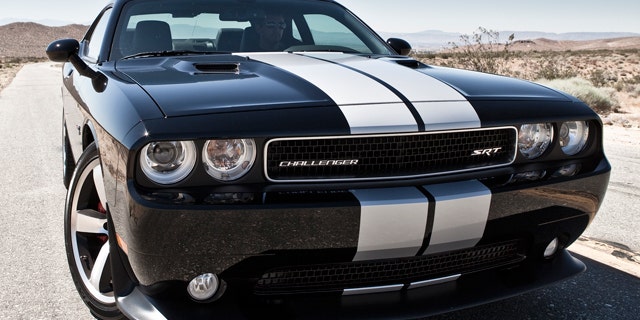 Have you ever wondered what kind of car Keith Stone drives? You know, that ultra-smooth dude from the cheap beer ads?
Sadly, I have. But while I still don't have the answer, I now know what he should be driving.
The 2012 Dodge Challenger 392 SRT8 is everything that lovable burnout is: brash with a smoky 1970's air. The parents of the actor who plays Mr. Stone, Mitchell Jarvis, even met while singing in a Christian group called The Challengers. Far out, man.
But don't judge a book by its retro paper bag with ballpoint pen doodles on it cover. In reality, Jarvis is an accomplished Broadway musical actor in his own right, and the Challenger hides some seriously high-tech equipment under its old-school skin.
Sure, the 392 cubic-inch V8 follows the "no replacement for displacement" mantra of muscle car lore, but the latest iteration of the motor comes with a cylinder deactivation system that lets it run on just four cylinders when you're taking it easy, which makes it good (but not great) for 23 mpg highway.
Even at idle the 392 SRT8 pumps out a deep, subwoofer exhaust note that sounds like a distant temblor, but step on the loud pedal and it turns into an overdriven howl that's more NHRA than NASCAR, despite the Sprint Cup-style splitter on the front of the car. Fully unleashed, the 392 cranks out an even 470 hp and 470 lb-ft of torque, making this the most powerful production car wearing the crosshair grille today.
A six-speed manual transmission with a pistol grip shifter is also available for those looking for more of a, um…challenge at the strip, but the car I tested was fitted with a 5-speed automatic. Initially I was disappointed to find that out, but with this much torque on tap a two-speed PowerFlite would probably suffice. Besides, Dodge says the automatic-equipped 392 SRT8 is quicker and surprisingly 10 pounds lighter than the one with the stick.
Inside you get basically the same cabin that was by far Chrysler's best when it was introduced, but is starting to look dated compared to the resurgent automaker's latest offerings. That said, the heavily-bolstered seats have no peer and feel like they could survive a meteor strike.
Paddle shifters behind the excellent, leather-wrapped steering wheel are new for this year and suggest that the 392 SRT8 might be ready to brawl in places that aren't a quarter-mile long. A redesigned suspension with two-mode active dampers backs this up, and aims to improve the somewhat clumsy handling the Challenger has been known for since its debut in 2009.
It's tempting to want to compare the Challenger to the Ford Mustang or Chevy Camaro, but it is a full step larger than either of those and a couple of hundred pounds heavier, too. Still, with the extra helping of power compared to a Mustang GT or Camaro SS the 392 SRT8 can definitely hang between stoplights. Just don't go looking for any Shelby GT500s.
In the twisty stuff handling is markedly improved, but only moves the 392 SRT8 into sports sedan territory. Remember, the Challenger is based on the four-door Dodge Charger and is only slightly smaller. It's much easier to balance than before and doesn't wallow around as much, but the slow steering becomes an issue as the turns get tighter.
When your pals start to lose you on a mountain road, solace comes from the knowledge that you can fit many more cases of cheap beer in the Challenger's extra large trunk and three adult friends in the backseat with whom to share it …after you've called it a night, of course.
That time might come a bit later than usual, as the Challenger is a sublime cruising machine. Order one in Header Orange clear coat with black stripes down the middle and for $45,820 you will truly be too cool for any school you frequent.
But that's not the Keith Stone way, now is it? Better to paint it black and stay low-key.
Will it still look as smooth?
Always.
----------
2012 Dodge Challenger 392 SRT8
Type: 2-door, 5-passenger coupe.
Base Price: $45,820
Engine: 6.4-liter V8
Power: 470 hp, 470 lb-ft torque
Transmission: 5-speed automatic
MPG: 14 city/23 hwy