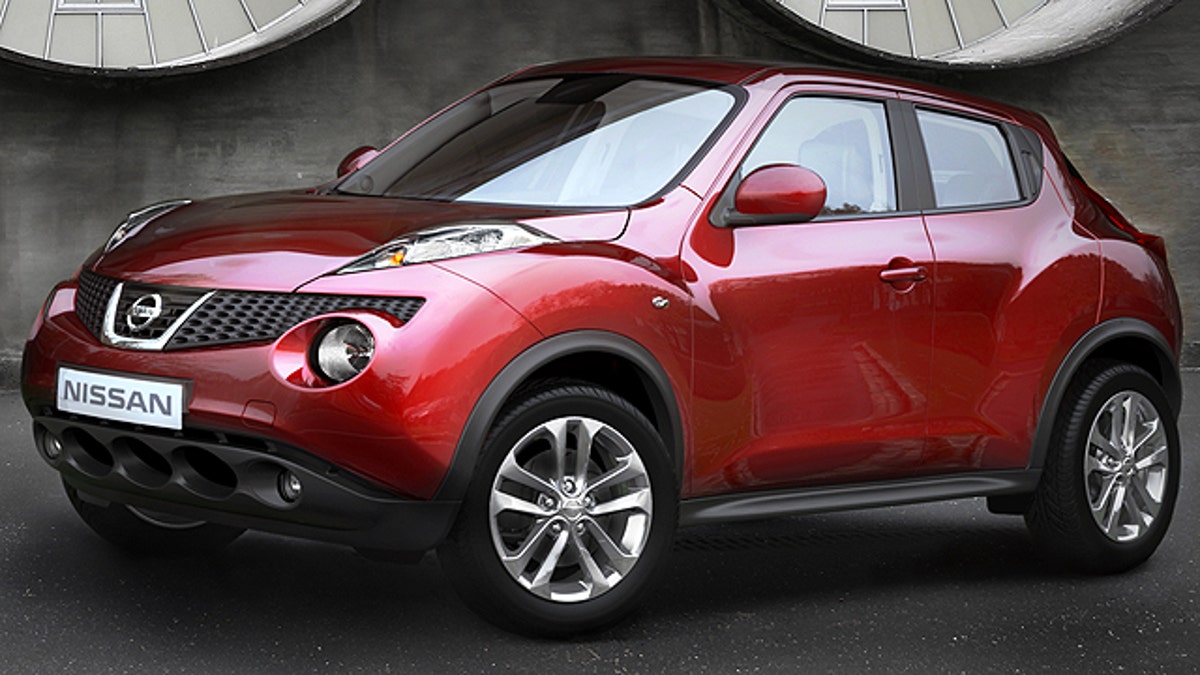 The Nissan Juke could've been the new Pontiac Aztek, but it's not.
Don't ask me how. I lack the artistic sensibility to understand why an amalgam of such disparate shapes and styling elements can be brought together to create an aesthetically-pleasing cohesive whole in one instance and an utter nightmare in another.
Granted this "cute 'ute" isn't cute in the traditional sense, but like a Picasso, Kandinsky or your kindergartener's work in Crayola it is cutting edge in an irrationally exuberant sort of way. The designers even tempted fate by using the same turn signals over headlights over fog lights arrangement as its misspelled predecessor from GM had, while stealing cues from cars across Nissan's lineup, including the electric Leaf and GT-R supercar. But put enormous wheel arches -- like the Juke has -- on anything and any indiscretions are often forgiven.
Look, you may not like it, but, believe me, you won't ignore it. Hang around one long enough and it will eventually win you over like the frog prince it resembles, especially if you take the trouble to get inside.
The cabin isn't as oddball as the exterior, but it is just as much fun. The body-colored center console is shaped like the gas tank of a motorcycle. There's a floating visor over the instruments. The plastic on the dashboard is hard, but its curves are soft and the finish of the material makes it look appealing enough to lay your head on, although that's not advisable. Higher-end models come with a leather steering wheel that is so similar to the one in the 370Z sports car that it is probably the same, and front buckets that are as comfy as anything in Nissan's lineup, if you can live without electric adjustments (heating is available.)
Small it is – about the size of a first generation Toyota Rav4 four-door - but room is fine up front. Even back seat passengers are provided with a decent amount of space to work with, as long as the driver's last name is Keebler. No matter, the tiny, hidden rear doors will discourage anyone too far over the inseam limit from trying to get back there in the first place.
Cargo capacity doesn't exactly fall into the "utility" range – the Juke will hold only about 10.5 cubic feet of stuff with the seats up – but owners will likely treat this as a two-seater most of the time, and with the 60/40 split bench in the back folded down you can more triple its capacity when needed.
Three trim levels are available -- S, SV and SL -- which are priced between $19,740 and $25,330. All Jukes come with a plucky 188 hp 1.6-liter turbocharged four-cylinder engine that can be matched to a six-speed manual or continuously variable automatic transmission (CVT). Front-wheel-drive is standard, but a surprisingly advanced all-wheel-drive (AWD) system is an option, paired only with the CVT. My tester was equipped with the latter.
Less about off-roading and more about keeping you on the road, the AWD is able to vary the distribution of torque from 100 percent front to an even 50/50 fore/aft split. That's typical, but what's interesting is a trick rear differential that can push its full portion of the power to the outside wheel to help rotate the car through turns, kind of like using a rudder. All it takes is a good jab at the gas pedal in the middle of a jug handle to feel how it eliminates the understeer normally associated with powerful front and even four-wheel-drive cars. If you do go for that sort of thing, the Juke can be locked in front-wheel-drive mode for increased fuel economy, which is 27 mpg city/32 mpg highway on CVT-equipped two-wheel-drive models and 25 mpg city/30 mpg highway for those equipped with AWD.
The CVT itself will likely prove to be a bigger hurdle for potential Juke buyers than the Juke's edgy design. There's nothing wrong with it, but CVTs are just…different. From a standstill there's a bit of a pause as it and the turbo wind up and conspire to get things moving. Once they do, you can live with the steady moan of the engine as the CVT does it's magic, playing slide guitar with its "gear" ratios to accelerate the car rather quickly. For those who can't get past this sensation, however, there is a Sport mode that does its best to emulate a good old six-speed transmission with fixed gears, and you can even "shift" it yourself.
Find a road as curvaceous as the car is and all of these parts come together in a magical way. The Juke's steering is spot on and its suspension is taut enough to keep it from flailing about, but compliant to the point that those dirt roads you keep passing by become very enticing. This short wheelbase baby has the turning circle of a lazy susan and the handbrake lever is just a hand's drop from the steering wheel. You can't help from instinctively grabbing at its nice textured grip now and then, and a quick yank hangs out the tail as if the road turned to ice and your ethnicity to Finnish.
When you need to warm things up inside you'll notice that the climate control system has a small display at knee level that doubles as a performance computer. A nifty little Easter egg, it has a torque meter, a turbo boost gauge and a G-force meter. Unfortunately, none of them have numbered gradients, so they're not actually useful for anything other than drawing your eyes from the road, but did I mention how cool they are?
As you might gather from its shape, wind loves the Juke, but not in the best of ways. It can get pretty noisy inside on the highway and a stiff breeze across the bow will give it a noticeable shove. The close proximity of the front and rear wheels also tends to make it a tiny little bucking bronco over high-frequency bumps, but it always stays planted, straight and true.
Minor warts and all, you will be hard-pressed to find a car so utterly enjoyable to drive around in as the Juke, especially in its price range. A car hasn't made me smile as much as this one did since the Ferrari 458 Italia -- and that costs 10 timesas much.
Fox Car Report is on Twitter. Follow us @foxcarreport
It's as if Nissan managed to capture the spirit of your first car, marry it to your dream car and put it in to a package that real people can actually afford. Simply put, he Juke is the embodiment of what car ownership is all about, and bless it for that.
This isn't to say that everyone has to go out and get one. Families of five or more need not apply. But if you can't find a place in your heart for this wonderful little bundle of joy then it must be two sizes too small – your ticker, not the Juke. If that's the case, maybe you should buy a house on Mount Crumpit and let all of us happy little Whos enjoy ourselves down here.
I'll make sure there's an Aztek parked in the driveway when you do.
----------
2011 Nisan Juke SL AWD CVT
Base Price: $25,300
As Tested: $27,180
Type: 5-Passenger, all-wheel-drive crossover
Engine: 1.6L turbocharged 4-cylinder
Power: 188 hp, 177 lb-ft torque
Transmission: Continuously variable automatic
MPG: 25 city/30 hwy