2011 Mitsubishi Outlander Sport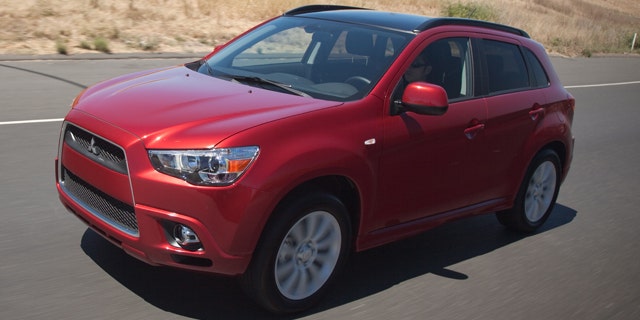 Mitsubishi is an automaker going through a transitional phase.
Once known for its rugged off-road trucks and sports cars, and more recently for bread and butter sedans and crossovers, the small (in the U.S.) Japanese outfit is in the process of reinventing itself as a leader in electrified vehicles.
Its battery-powered i-MiEV subcompact is already one of the best-selling electric cars in the world and heading our way next year as just the i. The company's first hybrids are also in the works and rumor has it that even the next all-wheel-drive rally-inspired Lancer Evolution performance compact will mate an electric motor with its high-power turbocharged engine.
For the moment, however, the company's hopes ride on something a bit more pedestrian: the Outlander Sport.
The name is both descriptive and misleading. A shortened version of the company's mainstay Outlander CUV, the two-row crossover is not particularly sporty. Despite an exterior design that apes the Evo's the $19,305 Sport is equipped with a relatively puny 2.0-liter four-cylinder engine that produces only 148 horsepower. For comparison, two of its main rivals on price and size -- the base models of the Hyundai Tucson and Kia Sportage – deliver 165 hp and 176 hp, respectively.
The Sport also has an optional Continuously Variable automatic Transmission (CVT.) to supplement its standard 5-speed manual. Popular in hybrids and over at Nissan for their theoretically economical nature, the decision to use this 'gearless' gearbox is a sure indicator that the mission of the Sport is fuel economy and not speed. Unfortunately, so equipped, it's only able to beat its more powerful rivals by 1 and 2 mpg combined at 27 mpg. Still, a win is a win.
The test car that I spent a week with was an almost fully loaded Sport SE with all-wheel-drive, and a combined EPA rating of 26 mpg -- an impressive efficiency retention given its added capability. Along with Mitsubishi's FUSE Bluetooth and USB connectivity system, which is standard on all Sports, it was also fitted with a 710-watt Rockford-Fosgate stereo, 40GB hard drive navigation and keyless entry.
Nevertheless, the interior of the Sport lets down its aggressive body in the same way that its powertrain does. The overall impression is retro rental car. I usually like the type of simplicity seen here, but the materials used and lack of trim don't impress. A soft-touch toupee covering the face of the dashboard comes across as a particular afterthought.
Push off and things don't improve much. Under acceleration the engine strains with an unpleasant drone that has proven to be the bugaboo of CVT-equipped powertrains. There's lots of sound, but not much fury. This is not a quick car. Get comfortable with the right lane.
The Sport seems to be. Its overly-cushy suspension doesn't exactly inspire brisk driving, and things get pretty noisy on the highway. Several times I found myself concerned that I was speeding, only to check the speedometer and find out that I was several miles under the limit. In a full-size pickup truck I drove recently the opposite was true. If you're concerned about your kids hooning it up when you're not around, buy them one of these.
Then again, perhaps this is partially by design. Befitting Mitsubishi's legacy as 12-time winner of the off-road ultra-endurance Paris-Dakar rally, the all-wheel-drive system in the Sport is fully-adjustable. You can set it to front-wheel-drive only for ultimate fuel efficiency, leave it in all-wheel-drive in bad weather or lock it in 4x4 for the really…well, not so really rough stuff. The stock tires are far from up for the task of mud bogging, but that cushy suspension does an admirable job soaking up largish rocks, even if the trade-off is some serious head toss. You won't want to enter a race through the Sahara, but a bit of "outlanding" down gravel roads is definitely in the cards.
There are a couple of other highlights worth mentioning, and one literal bright spot. The leather-wrapped steering wheel feels great in your hands and has paddles behind it that allow you to enter a fantasy world where the CVT has six gears. Seats are cloth-only, but as soft as the suspension and the fronts are heated in the top-level Sport SE. I rarely make it more than an hour before my lumbar region starts complaining, but it was apparently pleased with the Sport. Most impressive is the panoramic glass roof that comes bundled in a $1,800 premium package with the high-end stereo. Nothing makes a so-so car more enjoyable than turning it into a convertible, and this gets you halfway there without the cowl shake.
As it stands, the Sport is already outselling the mothership Outlander and could be Mitsubishi's best-seller anytime soon. Its handsome looks are apparently bringing lots of people into showrooms, while its low starting price, frugality and 10 year/100,000 mile warranty are sending them home in new cars. One rumor has it that a much more powerful turbocharged version is on the way next year to kick up sales even more, while another puts a plug-in hybrid powertrain under the hood.
Two very divergent roads, but in this case, either would be a good choice.
----------
2011 Mitsubishi Outlander Sport SE
Base Price: $23,775
As tested: $27,575
Type: 5-door, 5-passenger crossover
Engine: 2.0L inline-4
Power: 148 hp, 145 lb-ft torque
Transmission: CVT automatic
MPG: 24 city/29 hwy