White House Says No to ATF's Emergency AK-47 Regulation Proposal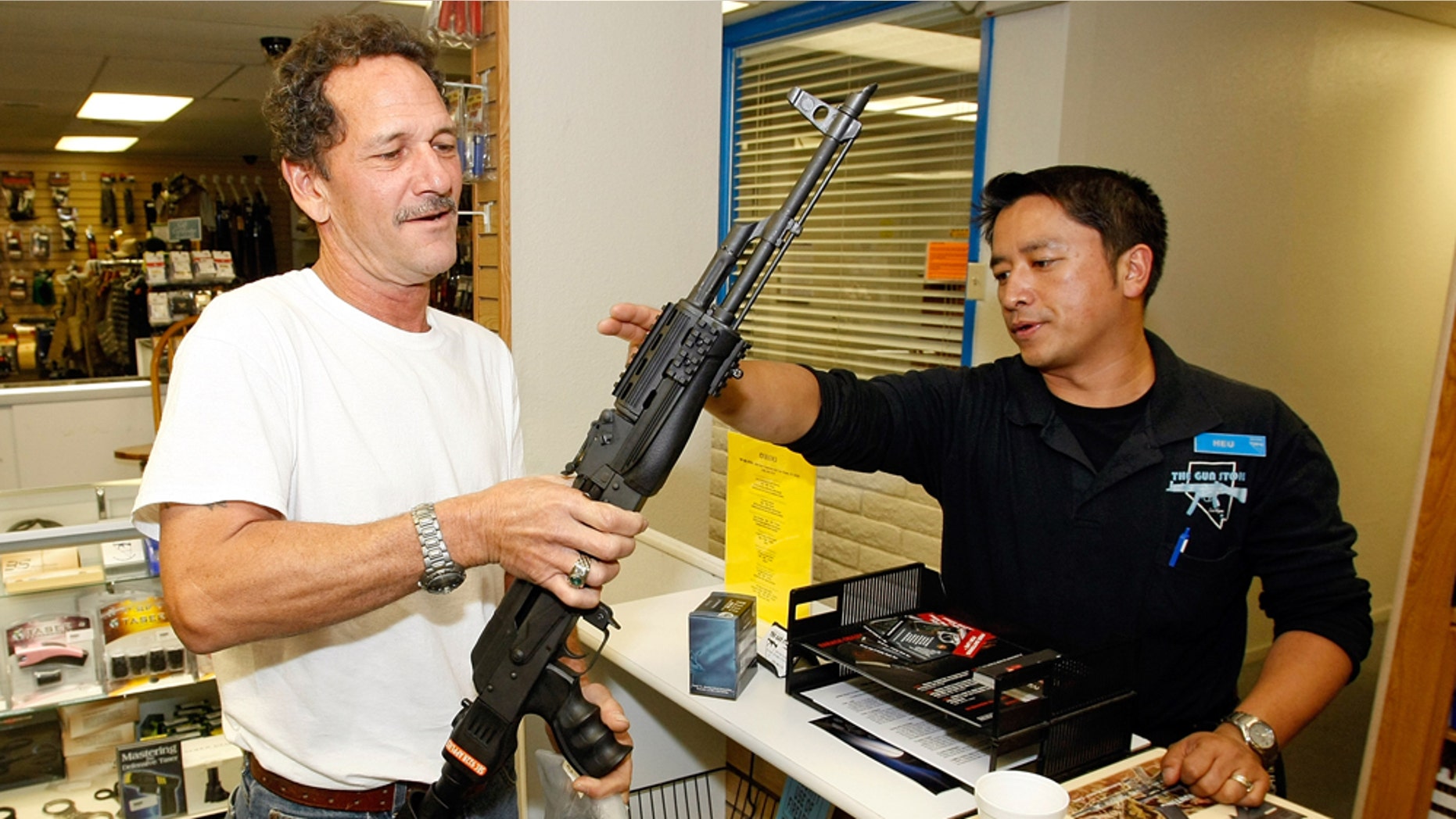 The White House rejected a proposal by the Bureau of Alcohol, Tobacco, Firearms and Explosives that would have tracked the bulk sale of thousands of high powered rifles from border states that end up in Mexico.
The Obama Administration the proposal will go through a public review. It will undergo a standard, three-month review.
The agency wanted to require gun dealers in California, Arizona, New Mexico and Texas to report the sales of two or more rifles to the same customer within a five-day period, but is not proposing any ban on sales. A similar requirement already exists for handguns.
"It's not against the law, and it's not going to be against the law, for you to buy 40, 50, even 100 of these weapons and put them in the bumper of your car and drive them around or even down to the border," ATF spokesman Scot Thomasson said. "This would just allow us to put out an investigative lead at the time of the sale."
Instead, the U.S. agency proposed requirement that firearms dealers near the Mexican border report multiple purchases of high-powered rifles, will undergo a standard, three-month review period, opening it to public comment.
Last month 20 people were federally indicted for allegedly participating in a ring that bought more than 700 guns to be smuggled into Mexico for use by a drug cartel. In that case, several times individuals bought dozens of AK-47s as well as .50 caliber high powered rifles capable of shooting down airplanes, even after rifles they purchased earlier had been seized.
For example, on Dec. 9, 2009, Douglas, Ariz., police officers found nine AK-47 rifles hidden in a car bumper. The guns were tracked back to Sean Christopher Steward, who had bought them in a batch of 40 AK-47 type rifles at Lone Wolf Trading Co., in Glendale, Ariz., the day before. Just five days after this seizure, Steward bought 43 more AK-47 rifles and pistols, according to court records. Altogether, after the seizure, Steward bought at least 143 more weapons, mostly AK-47s from Lone Wolf before his January 2011 indictment.
In another case, on Feb. 20, 2010, an Isuzu Rodeo was seen on Tohono O'odham Nation land in Arizona driving toward the border. The driver abandoned the vehicle but was later found by law enforcement. The Isuzu was found with 41 firearms wrapped in plastic, including 37 AK-47 rifles and pistols purchased by Uriel Patino between in the past month at Lone Wolf Trading Co. After this seizure, Patino purchased another 159 weapons, mostly AK-47s from Lone Wolf, before being arrested, according to court records.
Indeed, almost all of the hundreds of guns identified in the indictment were sold by the Lone Wolf Trading Co., which was also identified in a Washington Post investigative series last year as the top seller of weapons found at Mexican crime scenes.
The shop is in a cookie cutter strip mall off a busy Phoenix area street that also has a brake shop and a grocery store. Target practice posters outlining the human body hang on its windows facing outward. Dozens of assault rifles blanketing the walls behind the glass counter, and the handguns are displayed beneath the glass. According to court records, the store would have been paid several hundred thousand dollars for the weapons which were legally sold.
Owner Andre Howard, who also runs a helicopter flight instruction business, has repeatedly refused to speak with The Associated Press. In a written statement, he said federal agencies "have limited resources of money and manpower" to tackle cartels.
Howard cooperated with law enforcement during the investigation, calling agents when individuals purchased dozens of AK-47s at a time, according to a federal official familiar with the case, speaking on condition of anonymity because the investigation is ongoing.
Robert Bowman, a 66-year-old Glendale resident, was at Lone Wolf Trading Co. on Feb. 4 to buy some ammunition and said he was disappointed to learn that the store would sell AK-47s in bulk.
"It will change my thinking about doing business here," said Bowman, a former Army drill instructor who owns his own construction business.
"If it were my business and some guy came in and wanted 20 AK-47s, I'd say, 'I'll sell you two — one for the right hand and one for the left hand — but I won't sell you 20,'" Bowman said. "I'm a business owner myself, and I will not conduct business if I don't like where the money's coming from."
The regulation may well still be approved, albeit a few months later.
White House Office of Management and Budget spokeswoman Meg Reilly said the Administration called the ATF last week, informing the agency its proposal — which had been published in the Federal Register in December — was not deemed an emergency, which would have cut short public review.
"Our objective is to ensure that any information collection in this area is as informed and effective as possible, and public comment is critical to that outcome," said Reilly.
Reilly said that to speed things along, the White House allowed for the review clock to start when ATF posted the notice in December, so it's almost concluded, with Feb. 14 being the last day for the public to send comments.
New York Mayor Michael Bloomberg, a proponent for the reporting requirements, said his coalition of more than 550 mayors strongly disagreed with the Administration.
"The White House decided that the illegal trafficking of thousands of semiautomatic assault rifles from the U.S. to Mexico is not an emergency," he said. "These guns are fueling violence that has claimed more than 30,000 lives and putting our law enforcement officers at risk. ATF recognizes the emergency but we need the White House to give the agency the support it needs do its job effectively."
But Chris W. Cox, executive director of the NRA Institute for Legislative Action, said the ATF had made "a blatant attempt to circumvent the legislative arena and to abuse the 'emergency rule' process."
Since 2006, the ATF has seized more than 10,000 firearms and nearly one million rounds of ammunition destined for Mexico, where laws and regulations make it very difficult for people to legally own guns. Authorities in Mexico say most of the guns used in police assassinations and cartel bloodshed originate in the United States and have pressed the U.S. to reduce the flow of weapons south.
Mexican Ambassador to the U.S. Arturo Sarukhan said Wednesday that Mayor Bloomberg and his coalition have "shown steadfast support and leadership on this critically important issue."
"We are therefore hopeful that the Administration will move decisively and swiftly to address our concerns on this pressing subject," said Sarukhan.
Based on reporting by The Associated Press.
Follow us on twitter.com/foxnewslatino
Like us at facebook.com/foxnewslatino