Venezuelan papers barred from mentioning corruption allegations against Hugo Chávez's brother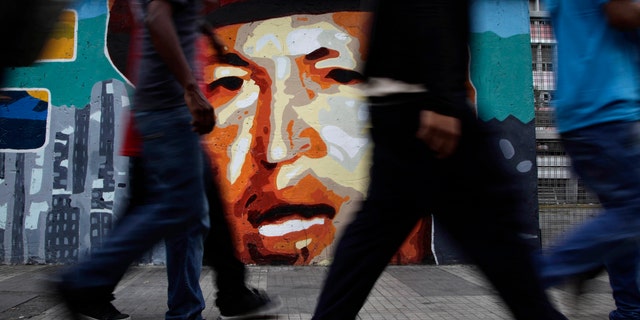 NEWYou can now listen to Fox News articles!
Three newspapers in Venezuela have been ordered to cease publishing any reports of corruption or graft aimed at the brother of the country's late President Hugo Chávez.
A court in Barinas, Chávez's home state, ordered the newspapers Los Llanos, La Prensa and La Noticia not to publish any information about allegations of corruption by Governor Adán Chávez that have not been officially submitted to the court.
That includes statements made by politicians, political leaders or any citizen.
Chávez is the older brother of the late socialist leader and has been governor since 2008. According to polling done by an opposition political party, Chávez is viewed unfavorably by 80 percent of Barinas' residents.
The order barring any reporting on alleged corruption comes only weeks after Venezuela's National Assembly began investigating reports of 16 different cases of embezzlement in Barinas' public works department.
"In Venezuela, there is a clear attempt to censor the private media," Héctor Villamediana, director of La Noticia, told Argentinian newspaper La Nación. "The judge issued the injunction, but forget that all complaints are already the office of the comptroller, the prosecution or the courts themselves. They are public facts."
The government of President Nicolás Maduro has cracked down on negative reporting of Chavista loyalists in recent years as the country's economic situation has tanked amid declining oil prices and financial mismanagement.
Earlier this year, a judge imposed a 4-year prison sentence on Correo de Caroni director David Natera Febres for defamation and libel. The newspaper was sued for publishing a series of articles about corruption at state mining enterprises in 2013.
The prison sentence was followed only days later by the shuttering of the regional newspaper El Carabobeño after 82 years in business.
A front page editorial in Thursday's final print edition of El Carabobeño said the paper hasn't been sold newsprint by the government agency that imports supplies in a year.
Press groups called the disappearance of the paper's print edition a blow to press freedom, while the government claimed that even state-run papers have had to cut back because of the country's bad economic situation.
Venezuela's media landscape has been remade since Chávez launched the country's socialist revolution more than a decade ago. News outlets critical of the government have been disappearing under what press freedom groups call a concerted campaign of sanctions and intimidation.
The Associated press contributed to this report.