Venezuela blocking medicine, humanitarian aid from US groups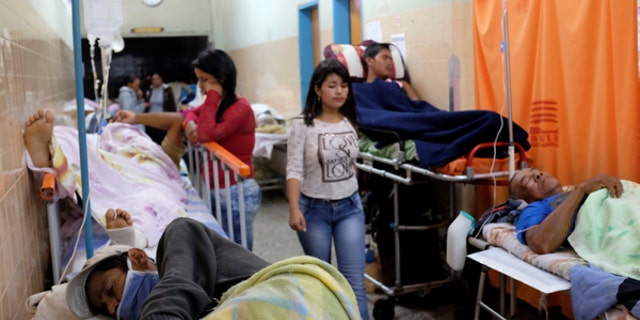 For the last two years Norma Camero Reno has been shipping a steady supply of desperately needed medicines from the United States to Venezuela. Reno and other members of her nonprofit, Move Foundation, pack painkillers, cold medicines and other supplies to be distributed to hospitals, health clinics and churches throughout the beleaguered nation.
Two weeks ago, however, that all changed.
Reno, a Venezuelan-born, Tampa-based lawyer and founder of the foundation, said that for years her organization faced very little pushback from the government of Venezuelan President Nicolás Maduro when sending packages of food and medicine to the country. But when she arrived in the small, Venezuelan coastal city of Barcelona two weeks ago, Reno discovered that none of the recent medicine shipments had made it to her contacts in the country.
While the group has in the past had to deal with Venezuelan officials confiscating food shipments, this was the first time that medicine has been stopped from being delivered.
"They are stopping everything from going in," Reno told Fox News. "They are taking everything for themselves."
Venezuelans have struggled in recent years to get their hands on all types of medical supplies – from over-the-counter painkillers to infection-fighting antibiotics – as the country grapples with widespread shortages and soaring inflation rates brought on by economic mismanagement from the socialist government in Caracas. The lack of equipment like respirators has become so dire that babies are dying in maternity wards from commonplace infirmities that are now considered life-threatening.
Social media has erupted with pleas from many Venezuelans for groups to send prescription medicines to fight illnesses from diabetes to cancer.
Amid the shortages, the Maduro administration has banned numerous items sent to the country from aid agencies and families living abroad. Along with firearms, gas masks and bullet-proof vests, Venezuela has banned innocuous items like antacids, latex gloves, Gatorade and Neosporin.
Along with Move, numerous other organizations have been thwarted in their attempts to send supplies to hungry and ill Venezuelans. Many of the items that the nonprofit Sanando, which has operated in Venezuela for over 10 years, sends to the country are now banned. Caritas, an international NGO linked to the Catholic Church, told Fusion that it has tried three times in the past month to get an import permit to bring medicines and food into Venezuela, but has so far been ignored.
Lilian Tintori, the wife of jailed opposition leader Leopoldo López, wrote a letter last week to Maduro, urging the Venezuelan leader to open a "humanitarian channel" to allow civil society groups to bring medical supplies into the country.
"You can open a humanitarian channel that will enable international aid to reach those who most need it," Tintori said during a press conference. "This is something that will help Venezuelans, and is separate from politics."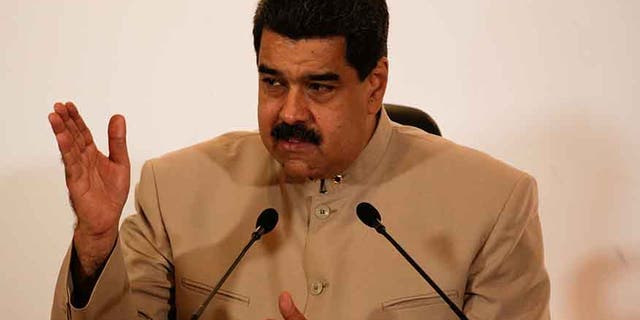 Home to the world's largest oil reserves, Venezuela was for decades an economic leader in the western hemisphere and, despite a massive gap between rich and poor, was a major destination for neighboring Colombians and other Latin Americans fleeing their less prosperous and more troubled homelands.
But in 1999 with the rise to power of late leader Hugo Chávez – whose social and economic reforms initially endeared him to the poor but also set up an unsustainable system of state spending – Venezuela's economy began to creep toward a crisis.
The situation has been exacerbated by Maduro, Chávez's successor, who took power in 2013, and by a plunge in global oil prices in 2015.
A widespread protest movement in cities across the country against the Maduro regime has entered its third month and claimed more than 60 lives amid a violent government crackdown.
Reno told Fox News that her organization has at the moment halted its medical supply shipments to Venezuela as they don't want the goods ending up in Venezuelan government hands.
"We are not going to be able to send anymore boxes until something happens," she said.
The something she is referring to is the July election that will choose the 545 delegates to a special convention charged with rewriting Chavez's 1999 constitution. Reno said that if pro-government forces win the bulk of the delegates, she will have to stop sending supplies altogether.
"I am going to quit because it takes too much money and time to be giving supplies to have them taken by those thieves," she added.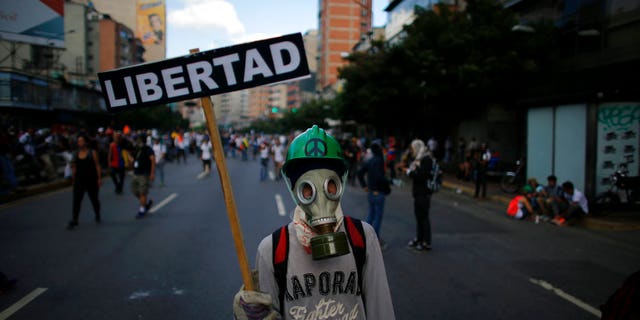 Prospects that things will improve in July aren't looking good. Last Friday was the deadline for candidates to register for the July election, but the opposition has all but ruled out participating in what it considers a ploy by officials to avoid elections the government would surely lose. The U.S. and several foreign governments have also condemned the proposal for a new charter as anti-democratic.
"Any participation in this process is an act of complicity with the constitutional fraud and whoever partakes will be declared a cohort of the fraud, coup, repression and assassination of Venezuelans who have fallen in the peaceful protests for the sole reason they were exercising their legitimate right to demonstrate," the opposition Democratic Unity alliance said in a statement this week.
Polls taken before the protests kicked off this spring show that around 80 percent of Venezuelans favored Maduro's removal this year. Experts contend that if the opposition was to compete and win the election, or even come close in polling and gain the support of a growing number of disaffected government supporters, it would have an almost unfettered hand to remove Maduro and purge the courts and other institutions stacked with loyalists.
"I think the opposition is making a big mistake," Francisco Rodriguez, chief economist at New York-based Torino Capital, who helped mediate Vatican-sponsored talks last year between the opposition and government, told The Associated Press. "The only way you can win an election with 20 percent support is getting your opponent to not participate, which is essentially what's happening."