Venezuela's Maduro announces referendum, tries to quell unrest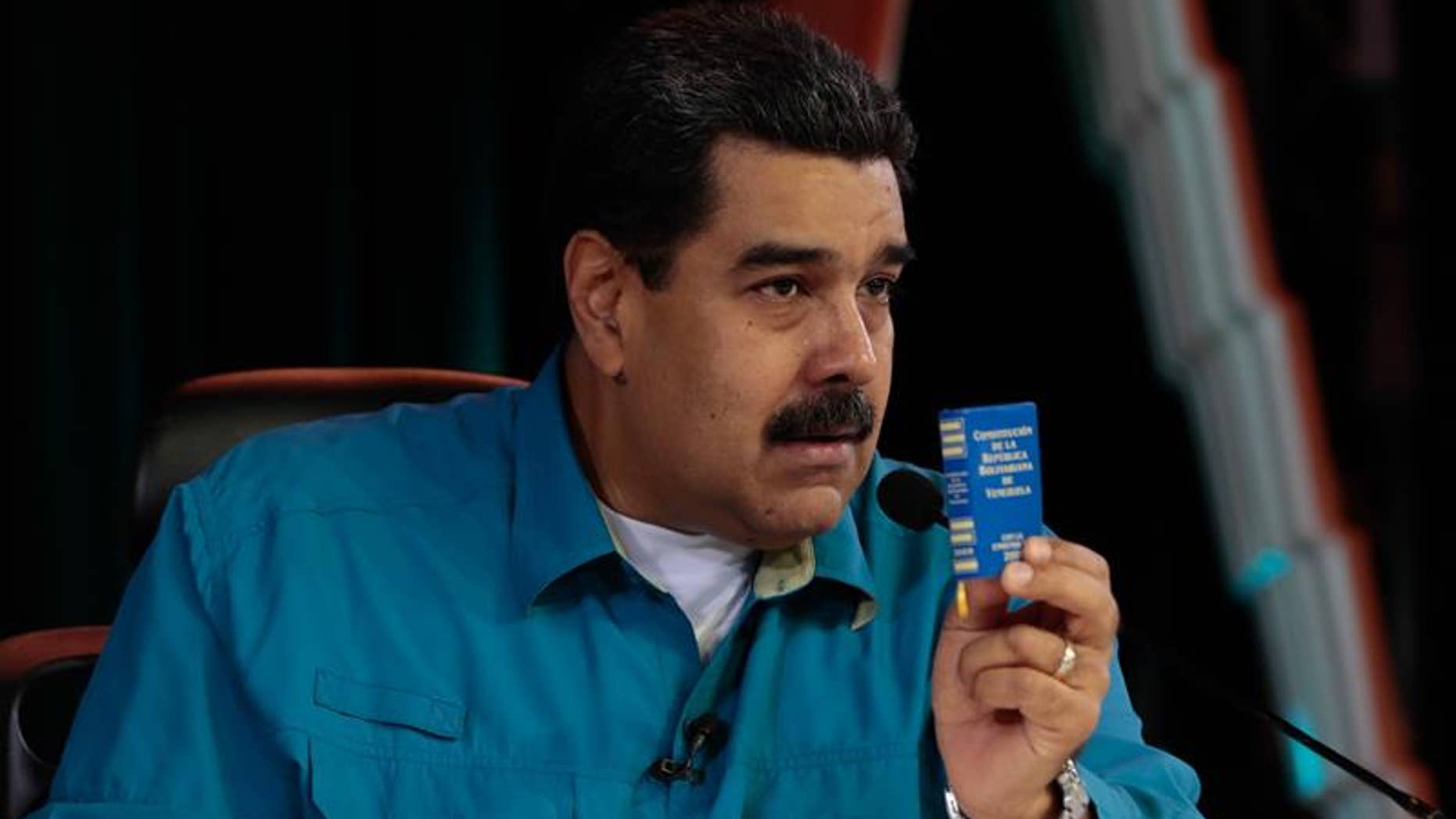 CARACAS – Venezuela's President Nicolas Maduro pledged on Thursday to hold a referendum on a new constitution he has proposed to try and quell two months of anti-government unrest that has killed at least 62 people.
His comments came after criticism from opponents and some within his own government that his plan to create a new super-body, known as a constituent assembly, to rewrite the national charter was anti-democratic.
Chief state prosecutor Luisa Ortega had said creating the assembly without a plebiscite, as happened in 1999 when Maduro's predecessor Hugo Chavez rewrote the constitution, threatened to "eliminate" democracy in Venezuela.
VENEZUELA OPPOSITION SLAMS GOLDMAN SACHS FOR $2.8 BILLION BOND PURCHASE
Maduro said on state television: "I shall propose it explicitly: the new constitution will go to a consultative referendum so it is the people who say whether they are in agreement or not with the new, strengthened constitution."
There was no immediate reaction from Venezuela's opposition, which now has majority support after years in the shadow of the ruling Socialist Party whose popularity has plunged during the OPEC nation's brutal economic crisis.
Foes are likely to try and turn any referendum into a vote on Maduro himself. They have been calling for the next presidential election, slated for late 2018, to be brought forward.
The government has said elections for the new constituent assembly will be held in late July, although opposition leaders say the process is skewed to ensure a pro-Maduro majority.
STOSSEL: IN VENEZUELA, BECAUSE SOME BELIEVE SOCIALISM IS THE ANSWER TO INEQUALITY, PEOPLE STARVE
There was no word on when the plebiscite would be held.
Earlier, authorities announced that gunmen had killed a judge involved in the sentencing of Venezuela's best-known jailed political leader, Leopoldo Lopez.
The judge, 37-year-old Nelson Moncada, was shot and stripped of his belongings as he tried to get away from a street barricade on Wednesday night in Caracas' El Paraiso district, the scene of regular clashes, the prosecutor's office said.
This week has seen widespread violence around the Venezuelan capital, with security forces repeatedly breaking up marches by opposition supporters towards government offices downtown, and skirmishes continuing into Thursday night.
Maduro, 54, calls his opponents coup-mongers seeking his violent overthrow with U.S. support akin to the short-lived ouster of his predecessor Hugo Chavez in 2002.
Ortega, the chief prosecutor, launched a blistering attack on Maduro from the steps of the pro-government Supreme Court, criticizing its ruling this week endorsing the assembly plan.
"It seems that participative and protagonistic democracy, which cost Venezuelans so much (to get), is being eliminated," said Ortega, who broke with Maduro a few weeks ago.
"This sentence is a backward step for human rights," she added, before reading extracts from a past Chavez speech.
In further political drama, the Supreme Court ordered opposition leader Henrique Capriles on Thursday to avoid roadblocks in the Miranda state that he governs, or face jail.
Miranda includes part of the capital, Caracas, and the volatile towns of San Antonio de Los Altos and Los Teques, where anti-government street barricades have been common.
Capriles, a 44-year-old lawyer, narrowly lost a 2013 vote to Maduro after Chavez's death from cancer and has been at the forefront of this year's protests, calling for civil disobedience.
Authorities have already barred Capriles from running for new political posts for 15 years, over allegations of "administrative irregularities" that he denies, potentially hobbling another bid to run in 2018.