Single fatality in Hoboken train crash was a young working mother from Brazil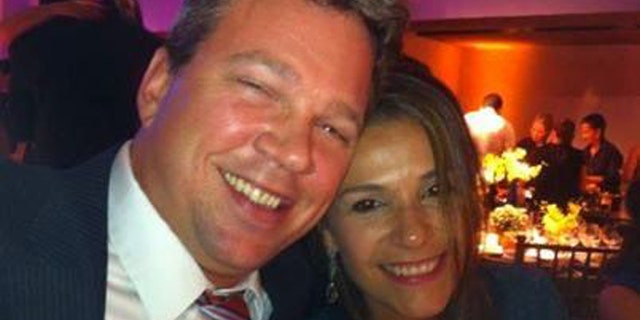 NEWYou can now listen to Fox News articles!
Fabiola Bittar de Kroon, a corporate lawyer, was in a rush to make her train and barely had time to talk to employees at the daycare center that took care of her daughter before she rushed off to the Hoboken Terminal.
A short time later, a train traveling too fast crashed through a barrier and into the platform she was on, killing de Kroon amid falling debris and injuring more than 100 other people.
Daycare director Maria Sharp said de Kroon, who had recently moved to the United States from Brazil with her husband and daughter, was very involved, always wanting to know how her daughter was growing academically.
"You just saw a smile on her face every time she came to pick up her daughter," Sharp said, "and that's what I keep seeing."
De Kroon, 34, worked for the software company SAP in its legal department in Brazil until earlier this year, when she moved to New Jersey after her husband got a job with an international liquor company.
SAP spokesman Andy Kendzie said the company was "shaken by the news" of the train crash and de Kroon's death. He said the company expressed its deepest condolences to de Kroon's family and friends and to all of those affected by the "tragic event."
Cecilia Marques, a former co-worker at a company that specialized in travel to Brazil, said she was saddened and shocked by the news of de Kroon's death.
"I am speechless and feel like the world stopped for some moments," Marques said. "I had the privilege to get to know and work with Fabiola for some years, and I can say she was a great, talented, big and genuine heart."
Federal investigators are trying to determine what happened during the minutes before the crash and are looking to determine how fast the train was going.
Their investigation will seek to answer many questions, including whether a system designed to prevent accidents by overriding the engineer and automatically slowing or stopping trains that are going too fast could have helped if it had been installed on the line.
A device containing information on the train's speed and braking was recovered from the locomotive Thursday night and will be examining it Friday, NTSB vice chairwoman T. Bella Dinh-Zarr said Friday morning on ABC's "Good Morning America."
More than 100,000 people use New Jersey Transit to commute from New Jersey to New York City each day. The NJ Transit portion of the Hoboken station remained closed on Friday, slowing the morning commute for those making connections there.
De Kroon, a 2011 master's degree graduate from Florida International University's College of Business, previously lived in Florida but was a Brazil native, according to her Facebook account.
Dolf Wiemer, a former LG Electronics co-worker who lives in Brazil, said he knew the couple well and in April had visited them before they moved to the U.S. De Kroon was excited about the change and her husband's major career move, Wiemer said.
The de Kroons, he said, were "an international couple not avoiding any adventure by even moving countries in (pursuit) of a better (life)."
"Even if this means that you have to follow your partner and have to get used to other cultures and ways of living," he said. "It is tragic that she had to be in such a bad place at that time while pursuing their dreams of life."
Based on reporting by The Associated Press.