Russian foreign minister meets with Kim Jong Un as Pompeo meets with North Korean official
NEWYou can now listen to Fox News articles!
Russian Foreign Minister Sergey Lavrov met with North Korean leader Kim Jong Un on Thursday in Pyongyang just hours before North Korean intelligence chief Kim Yong Chol was set to meet with Secretary of State Mike Pompeo in New York.
Lavrov's visit to the hermit kingdom was his first since 2009. The foreign minister invited the North Korean leader to visit Moscow in an effort to ease pressure on the Korean peninsula.
"Come to Russia. We would be very happy to see you," Lavrov told Kim in a televised meeting.
Kim told Lavrov he hoped to boost cooperation with Russia, which has remained largely on the sidelines in recent months as Kim has made a major diplomatic outreach to the U.S. as well as to South Korea and China.
NORTH KOREAN EX-SPY CHIEF DINES WITH POMPEO IN NYC
"As we move to adjust to the political situation in the face of U.S. hegemonism, I am willing to exchange detailed and in-depth opinions with your leadership and hope to do so moving forward," Kim told Lavrov.
Since January, the North Korean dictator has turned his nuclear threats against U.S. to reaching out to Washington, D.C. and Seoul. Kim has indicated he was willing to relinquish his nuclear arsenal in exchange for security guarantees from the U.S.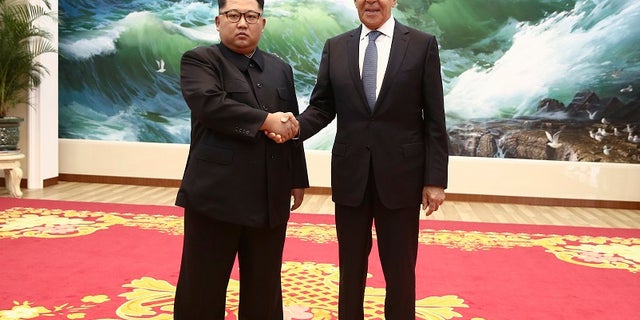 But continuing differences between the two countries led Trump to abruptly cancel the planned summit last week, and then quickly announce that it might still be held as scheduled on June 12.
Lavrov's visit to Pyongyang suggests that Russia wants to become involved and make sure North Korea informs it of its intentions and is mindful of Moscow's concerns.
NORTH KOREA AND KIM JONG UN: MEET THE KNOWN KEY PLAYERS IN THE REGIME
"We welcome the contacts that have been developing in the recent months between North and South Korea, between North Korea and the United States," Lavrov said in comments to the media. "We welcome the summits that already took place between Pyongyang and Seoul as well as planned meetings between North Korean and U.S. leadership."
On Wednesday, Kim Yong Chol, Kim's infamous right-hand man and a vice chairman of the ruling Workers' Party, met with Pompeo after he arrived at JFK International Airport in New York. Pompeo and the North Korean official dined together. Kim Yong Chol, believed to be 72, and Pompeo's talks will largely focus on rescheduling the summit.
Fox News' Nicole Darrah, Katherine Lam and the AP contributed to this report.