Rescuers find 10 survivors at Italian hotel two days after avalanche
NEWYou can now listen to Fox News articles!
Survivors pulled out of the rubble of an avalanche-crushed hotel in central Italy were met with cheers of joy and relief as rescue crews continued to dig out in search of others on Friday.
Ten people were found alive two days after the massive snow slide buried around 30 people at the four-star Hotel Rigopiano. Crews pulled out five of the 10, including four children, and were working to save the other five people, Civil Protection Chief Fabrizio Curcio said.
AT LEAST 30 FIREFIGHTERS REPORTED DEAD IN IRAN HIGH-RISE BUILDING COLLAPSE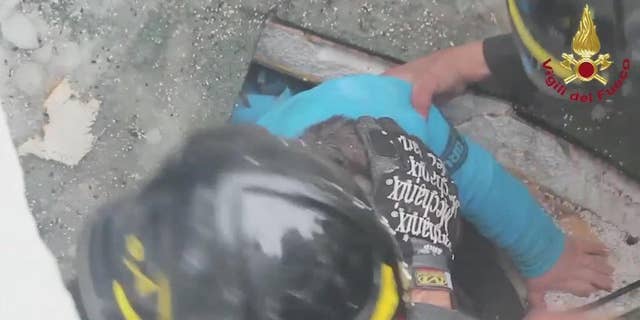 Video released by rescuers showed a boy, wearing blue snow pants and a matching ski shirt, emerging from the structure through a snow hole. Emergency crews mussed his hair in celebration.
"Bravo! Bravo!" they cheered.
Next came a woman with a long ponytail wearing red snow pants, appearing fully alert. Both were helped to a stretcher for the helicopter ride out.
SEARCH FOR MISSING MALAYSIA AIRLINES FLIGHT 370 ENDS
"This first news has obviously repaid all the rescuers' efforts," said Italy's deputy interior minister, Filippo Bubbico.
The woman and boy were identified as Adriana Vranceanu, 43 and Gianfilippo, 8, who were reunited with husband and father Giampiero Parete, at the hospital in the nearby city of Pescara, ANSA news agency and state-run RAI radio said. Parete had survived Wednesday's avalanche because it had struck when he was out getting medicine from his car.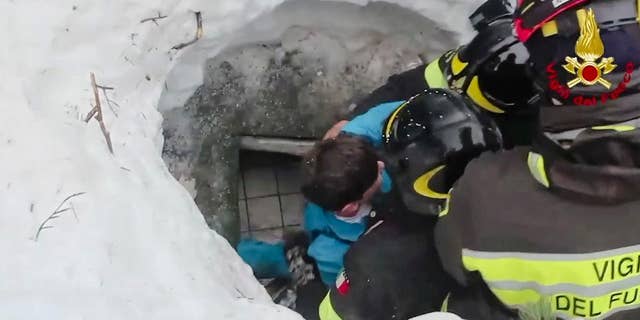 Rescuers said the mother indicated her 6-year-old daughter Ludovica was also alive amid the debris nearby. Rescue workers immediately set to work to find her, too.
Their rescue was met with exhilaration since at least four people had already been found dead after the avalanche hit Wednesday afternoon and dumped up to 16½ feet of snow on the luxury hotel, 112 miles northeast of Rome.
About 30 people were trapped inside the hotel in the Gran Sasso mountain range when the avalanche hit Wednesday after days of winter storms that dumped nearly 10 feet of snow in some places. The region was also rocked by four earthquakes on Wednesday but it was not clear if any of those set off the avalanche.
The number of survivors has been uncertain throughout the emergency, including exactly how many people are buried inside the hotel.
Rescue crews said one group of survivors had been found in the hotel's kitchen area, and had survived thanks to an air pocket that formed when reinforced cement walls partially resisted the avalanche's violent power.
"It's probable that they realized the risk and took protective measures," Romano said.
Those being rescued were in remarkably good condition and were being flown to area hospitals, rescue workers said.
Two bodies were recovered on the first day of searching and RAI state TV reported that two other bodies had been located but not yet removed.
The operation has been hampered by difficulty in accessing the remote hotel. Workers have been clearing a 5.5-mile road to bring in heavier equipment, but the mountain road can handle only one-way traffic and is covered not only by 10 feet of snow but fallen trees and rocks.
Prosecutors have opened a manslaughter investigation into the tragedy and are looking into whether the avalanche threat was taken seriously enough, according to Italian media.
Farindola Mayor Ilario Lacchetta said the hotel had 24 guests, four of them children, and 12 employees onsite at the time of the avalanche.
An Alpine rescue team was the first to arrive at the hotel on cross-country skis after a journey of more than 4 miles that took two hours. They found Parete, a guest who escaped the avalanche when he went to his car to get something, and Fabio Salzetta, a hotel maintenance worker, in a car in the resort's parking lot.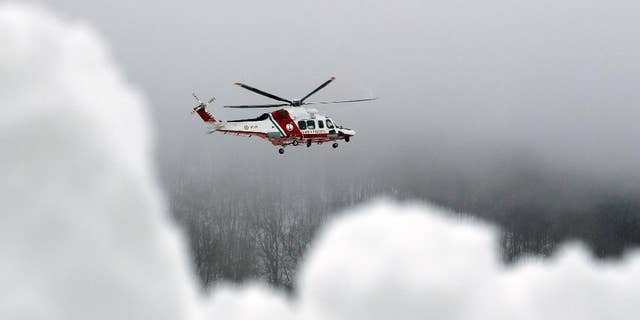 Parete was taken to a hospital while Salzetta stayed behind to help rescuers identify where guests might be buried and how crews could enter the buildings.
The mountainous region of central Italy has been struck by a series of quakes since August that destroyed homes and historic centers in dozens of towns and hamlets. A deadly quake in August killed nearly 300 people. No one died in strong aftershocks in the region in October, largely because towns had already been evacuated.
The Associated Press contributed to this report.