Philippines scales back ships in disputed territory, says it won't risk war with China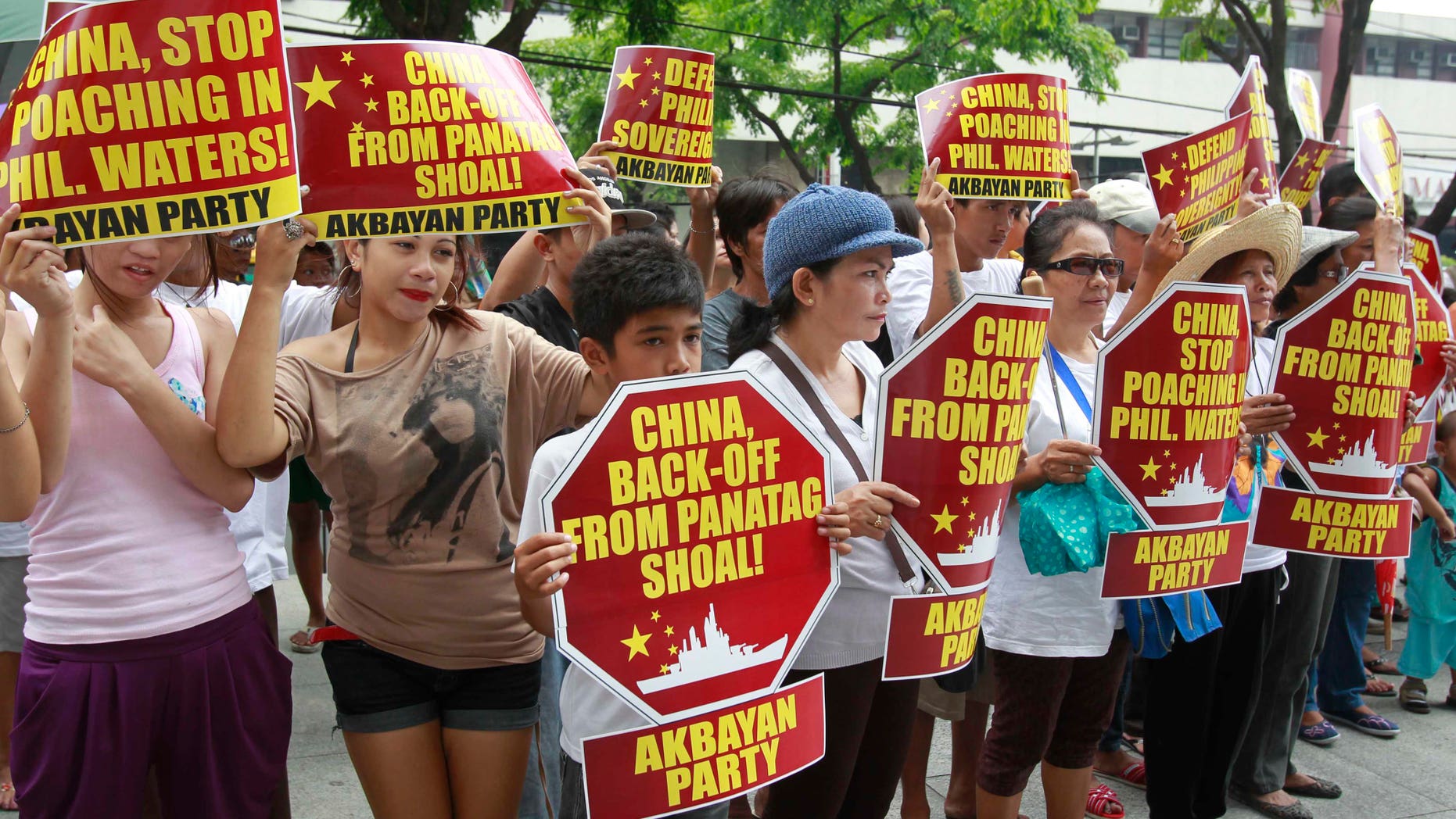 MANILA, Philippines – Philippine President Benigno Aquino III said Monday he won't risk a war with China over a disputed South China Sea shoal where the countries have been locked in a tense naval standoff for a week.
Aquino said Manila will assert its sovereignty over Scarborough Shoal off the northwestern Philippines but has pulled out a warship and replaced it with a coast guard vessel to "de-escalate the situation."
He told reporters the Philippines will continue talks with China to resolve the impasse, which began last Tuesday when two Chinese ships prevented a Philippine warship from arresting several Chinese fishermen who were accused of illegal entry and poaching.
The Chinese fishermen slipped away from the shoal over the weekend, but two Chinese maritime surveillance ships continued to face off with the Philippine coast guard vessel over which side should leave the uninhabited horseshoe-shaped shoal, Philippine officials said.
Aquino, paraphrasing the late British Prime Minister Winston Churchill, said, "It's better to jaw, jaw, jaw than to war, war, war."
Chinese and Philippine diplomats failed to end the dangerous impasse after resuming talks on Monday.
"No breakthrough," Chinese Embassy political officer Bai Tian told reporters after the talks at Manila's Department of Foreign Affairs.
The Philippines lodged another protest with China on Monday, accusing one of the Chinese ships and an aircraft of harassing a Philippine-registered yacht to force it to leave the Scarborough area. Several French citizens are on the yacht, which has been conducting archaeological research in the shoal, Philippine Foreign Affairs spokesman Raul Hernandez said.
"The Philippines demanded that the Chinese ships and aircraft cease the harassment of and fly-bys ... so that the boat can complete its work," Hernandez said in a statement.
Chinese Embassy officials did not immediately reply to the protest.
China and the Philippines, along with several other nations, are also locked in a long-simmering territorial dispute over the Spratly Islands, another group of islands in the South China Sea. Analysts fear the rifts could become a flash point for armed conflict.