No Second Car In Crash That Killed Cuba Dissident Oswaldo Paya, Driver Says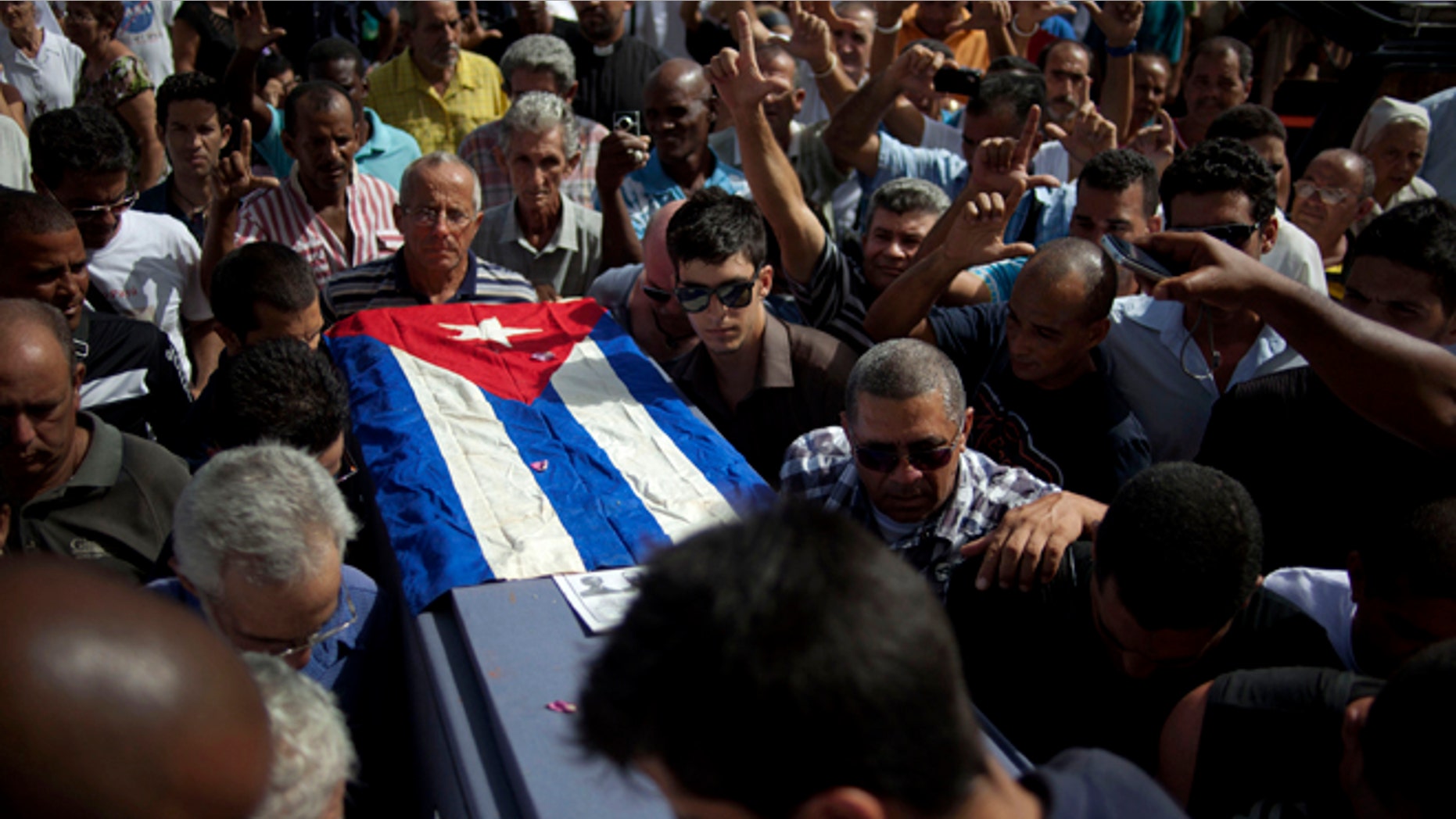 Two Europeans traveling with Cuban dissident Oswaldo Paya said Monday that no second vehicle was involved and dismissed claims that the crash which killed Paya was not accidental.
In a video recording shown to international journalists summoned to a news conference, Spanish citizen Angel Carromero backed up investigators' report last week saying he slammed on the brakes after unexpectedly entering an unpaved construction zone.
"I braked because I saw the hole and the sand. I lost control of the car because we had entered an area with gravel. ... No vehicle hit us from behind," said Carromero, who was driving the car when it crashed July 22 in the eastern province of Granma.
Investigators said Paya died instantly from severe head trauma, and another dissident, Harold Cepero, died later at a local hospital. Authorities said they were not wearing their seatbelts and were sitting in the subcompact rental car's rear, which sustained the brunt of the impact when it skidded into a tree at high speed.
Carromero discounted early reports, which circulated among dissidents and were picked up by some foreign media, alleging that a second vehicle was pursuing them and might have even forced them off the road. Dissidents and Paya's family demanded a transparent investigation.
"I ask the international community to please focus on getting me out of here and not use a traffic accident, which could have happened to anyone, for political purposes," Carromero said.
Swedish citizen Jens Aron Modig, who was riding in the passenger's seat, said he was sleeping at the time of the accident but confirmed the story. In an appearance before reporters, he also denied accounts alleging he had sent text messages to people in Sweden saying the vehicle was being followed.
Carromero and Modig, members of center-right political parties in their home countries, entered Cuba on tourist visas but acknowledged working with dissidents. Modig said he first came to Cuba in 2009 to meet with dissidents, and on this trip they were to meet with Paya, give him 4,000 euros ($4,900) for his opposition work and help organize dissident political youth groups.
Cuba calls the government opponents "counterrevolutionaries" and accuses them of accepting foreign funding to undermine the Communist government.
Modig offered an apology for bringing money to the dissidents.
"I understand that these activities are not legal in Cuba and I would like to apologize for having come to this country to realize illicit activities," he said, according to a Spanish translation of his comments.
Cuban authorities have suggested that Carromero could face prosecution in relation to the crash.
The Spanish Embassy said last week that it was awaiting word from prosecutors. Modig said Monday he did not know when he might return to Sweden.
Paya, 60, was a leading government opponent who in the late 1990s and early 2000s headed up the Varela Project petition drive, which gathered thousands of signatures urging political opening.
It was considered the biggest nonviolent challenge to decades of Communist government, and the European Union selected recognized Pay with its Sakharov human rights prize in 2002.
Based on reporting by the Associated Press.
Follow us on twitter.com/foxnewslatino
Like us at facebook.com/foxnewslatino