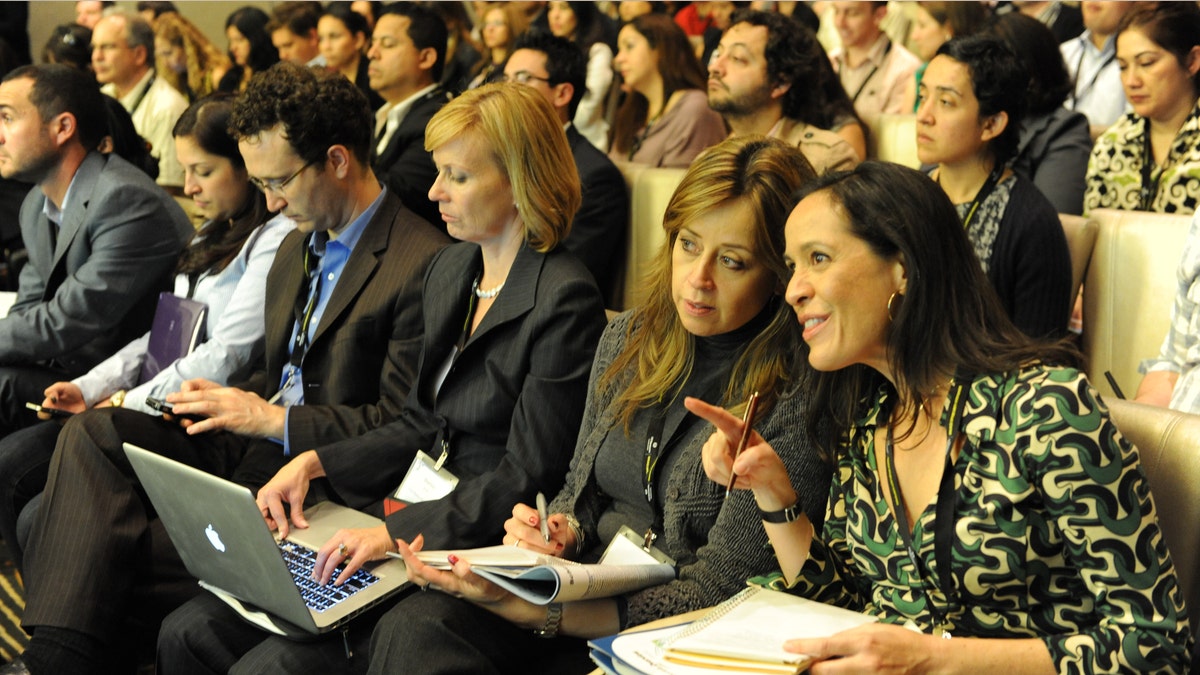 With corporations, media companies and politicians looking to the Hispanic community to fuel future growth, a forum capable of bringing Latino leaders together in one place would be a force to be reckoned with.
That Latino hotspot may be Hispanicize.
"What makes it unique is that this is the first time that anybody's tried to fully unite all of the producers of media," Hispanicize director Manny Ruiz told Fox News Latino. "It's like SxSW meets Latino."
An entrepreneur with a background in journalism, Ruiz founded Hispanicize three years ago as a public relations conference. Since then, it's exploded into a four-day business and cultural event, where Latino directors showcase their films, celebrities bestow their clout and rising star bloggers rub elbows with PR representatives eager to reach an ever-expanding base of Latino consumers.
"You walk into an event like this and you might be sitting next to an actress, or the actress might be sitting next a social media expert," Ruiz said of the conference, which begins April 10 and runs through the 13th. "It's really a cool environment."
Brands and organizations working with Hispanicize to unlock the potential of the Latino market include Unilever, Disney, State Farm, BlackBerry, Google Hispanic, the United Farm Workers and many others.
But for Ruiz, Hispanicize isn't just about attracting big names—it's about providing a place for Latinos to help each other's enterprises succeed.
"Everybody's been writing about the new Latino century, that we're having an influence. But Latinos are still very much stuck in the barrio, as far as opportunities. We don't know how to find them, we don't know how to grab them. I hope to be part of that solution," Ruiz said. "I think the ultimate success would be if I could make irrelevant the fact that my last name is Ruiz."
Eva Longoria Gets a Master's Degree for Obama
To honor some of the trailblazing Latinos whose accomplishments provide models, Hispanicize will offer "Latinovator" awards this year. "Dog Whisperer" César Millan, broadcast journalist María Elena Salinas, media mogul Nely Galán and music producer Emilio Estefan are among this year's winners.
Lance Rios, founder of Being Latino, headed panels last year on connecting with Facebook and targeting Latinos in both English and Spanish, and is doing it again.
"It was a great networking opportunity," he said—and he expects this year to be even better. "Nothing will be able to compare to this event in terms of bringing together social media, marketing, live events, the film component – it's going to be the premiere event within the Hispanic space."

Rios, whose media enterprise now partners with Hispanicize, says one of the events he's most looking forward to isn't a panel, but rather a film screening with a Miami twist.
Hispanicize will close with a viewing of the 1983 gangster film "Scarface" at a Miami waterfront mansion. Sponsored by Hatuey, a Cuban-style beer popular in South Florida, the event will benefit Artes Miami, Inc., a nonprofit cultural center.
"We're going to end with a bang, literally," Ruiz said. "We don't want to be known as grandma's conference."
You can follow Hispanicize 2012 on twitter at #HISPZ12.
Follow us on twitter.com/foxnewslatino
Like us at facebook.com/foxnewslatino