France starts demolishing massive refugee camp known as the 'Jungle'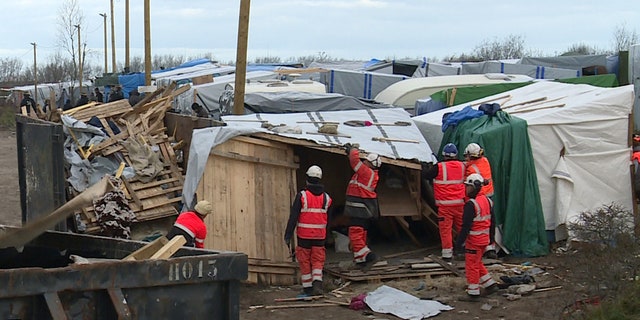 CALAIS, France – Under the eye of hundreds of riot police, workers began pulling down tents and makeshift shelters in the sprawling camp in Calais on Monday, dismantling the fragile structures that have served as temporary homes for migrants hoping to make their way to a better life in Britain.
A flashpoint on the edge of the Channel, the camp sprang up less than a year ago in the port city, which has both ferries and the Eurotunnel rail route to Britain. It has grown explosively in past months amid Europe's migrant crisis, fueling far-right sentiment in both Britain and France. Some 4,000 people are estimated to live in the camp — down from 6,000 in December.
Calais has lived with migrants in its midst for years, but the current camp on the city's edge sprang up around a day center opened last April by the state — and after small camps inside the city were bulldozed. The dismantling of the dense southern portion of the current camp would be the largest such operation the city has known.
Scores of riot police stood guard, keeping journalists and volunteers out as helmeted workers tackled the shelters one by one.
Prefect Fabienne Buccio, who had ordered the camp evacuated and dismantled earlier this month, showed up as the operation began. Her office decried "intimidation" tactics by some activists who she said were manipulating migrants into refusing to accept government offers of shelter.
"Really three houses out of four — I mean three huts out of four, or three tents out of four — were already totally abandoned with a lot of garbage inside," she said. Migrants, she said, "had the time necessary to gather their belongings. The rest was good enough to throw away."
However, cameras zooming into huts captured scenes of daily life fully intact.
The start of what is likely to be a weeks-long operation came four days after a court ruled that shelters could come down — but not common areas like houses of worship, a school, a women's center and library, much of it built with the help of French and British volunteers appalled by conditions in the makeshift camp.
Humanitarian groups and migrants who had contested the state decision to level the most populous sector of the camp appealed the ruling on Friday with the Council of State, but any decision is likely to take weeks or months, long after the camp is gone.
French authorities are offering to relocate uprooted migrants into heated containers installed last month nearby, or at centers around France where they can decide whether to apply for asylum. Many have resisted the move, fearing it will hurt their chances of reaching Britain, and some migrant advocates say there isn't enough space in the new area.