Fort Hood Gunman Requested Leave Minutes Before The Shooting, Army Confirms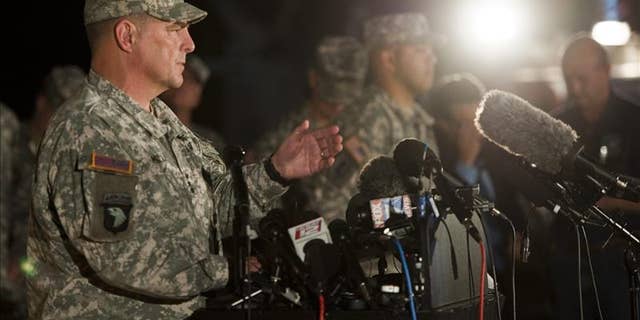 Investigators say the rampage that left three dead and 16 wounded last week at Fort Hood was related to the shooter's request for leave from the Army post.
Army spokesman Chris Grey did not indicate during a brief news conference Monday whether Spc. Ivan Lopez was granted the leave.
The revelation Monday came days after friends and family of the Army specialist told Fox News Latino that he was upset that he had been granted only a 24-hour leave to attend his mother's funeral in November of last year. That leave was then extended to two days.
U.S. Army spokespeople have not publicly commented on the family's claim.
Grey said the shooting spree Wednesday covered the equivalent of two city blocks as Lopez drove from one area to another on the Central Texas base randomly firing at soldiers.
Authorities had previously said the shooting was preceded by a verbal altercation Lopez had with other soldiers in his unit.
Grey said Lopez fired more than 35 shots while driving from one building on the sprawling Texas Army base to another during an 8-minute rampage. It ended when – Grey said – Lopez got out of his car and was confronted by a female military police officer who fired her gun but did not strike him.
Lopez then turned his .45-caliber pistol to his head and killed himself, Grey said.
Several outlets reported last week that Lopez had apparently become enraged after an employee wouldn't give him a leave of absence form.
A relative of one of wounded soldiers, Sgt. Jonathan Westbrook, told ABC affiliate WAPT that her brother was working in the Human Resources Department when Lopez came in asking for the form. When the supervisor asked Lopez if he could come back the next day, he looked exasperated and walked off, the sister told ABC. Within a few minutes Lopez was back and started shooting.
Ten of the 16 wounded have been released from hospitals.
In another attack at the base in 2009, 13 people were killed by Army psychiatrist Nidal Hasan, who had said he was angry about being deployed to Afghanistan and wanted to protect Islamic and Taliban leaders from U.S. troops.
Lopez, an Army truck driver, did a short stint in Iraq in 2011 and told medical personnel he had suffered a traumatic brain injury. The 34-year-old was undergoing treatment for depression and anxiety while being evaluated for post-traumatic stress disorder, base officials said.
But officials said Lopez did not see any combat in Iraq and had not previously demonstrated a risk of violence. He seemed to have a clean record that showed no ties to potential terrorists.
In reflecting on Lopez's state of mind and moods in the last several months, relatives and friends last week recalled that he had been upset over not getting the time he wanted to go to his mother's funeral.
The policy on bereavement leave has gone largely unexplained. That's because much of it is up to the discretion of the soldier's commander, say former Army commanders and representatives of organizations concerned with soldiers' rights.
Members of the military get 30 days of ordinary leave every year, but the death of a close relative counts as "emergency" leave which isn't counted toward that figure.
Often, the American Red Cross acts as "the conduit of information between the U.S. military and family members of servicemen," the group's communication director for service to the armed forces, Peter Macias, told Fox News Latino.
Requests for comment about the specific instance of López's leave to Fort Hood command went unanswered.
The encyclopedic "Leaves and Passes" section of the Army regulations doesn't specify a length of time for bereavement emergency leaves.
According to a Department of Defense instruction document on "Leave and Liberty Policy and Procedures" dated June 2009, "Commanders may authorize up to 30 days of emergency leave."
The document goes on to say that "Swift and sensitive action on emergency leave requests is essential. Nevertheless, care must be taken to ensure that an emergency does exist and that the Service member's presence can resolve or alleviate the situation.
The process that led to the initial decision to grant such a short leave for López, or even if his leave was in fact that short, may remain unclear unless Lt. Gen. Mark Milley, Fort Hood's commander, or others in the chain of command eventually address it.
"I'm sure that the leaders at Fort Hood are asking themselves those questions," said Joe Davis, a national spokesman for the Veterans of Foreign Wars in Washington, D.C.
"With the death of an immediate member of the family," retired general John Keane told Fox News Latino, "we were always pretty liberal about the amount of time the soldier got. We'd bring him home out of combat if we had to."
He added, "Good gosh, we live in this world too."
The Associated Press contributed to this story.